Ikea countertop desks use kitchen counters from the Swedish brand for a minimalist setup that looks great. Most Ikea countertops can be used as desks with legs from the same brand or third-party sellers.
Have you ever wanted to create a distinct desk for yourself without knowing where to get the desktop part? Ikea sells kitchen countertops that also make great desktops given their durability and especially for how they look.
The 4 Ikea countertops you can use for desks
Countertops for butcher block desks at Ikea can be selected depending on your preferred type of wood. Oak, birch, walnut, and ash countertops are available from Ikea.
Karlby
Ikea's Karlby countertop is made from walnut and veneer. Its layered construction offers a distinct look and makes the counter durable. Ikea Karlby desk setups benefit from a 25-year warranty on this popular countertop.
The Ikea Karlby countertop is available in 74 x 1 1/2" and 98 x ½" sizes.
Barkaboda
Straight-grained walnut and veneer are used by Ikea to create the Barkaoda countertops. Ikea Barkaboda desks are distinguishable by a dark and rich natural wood color. This countertop also comes with a 25-year warranty.
The Ikea Barkaboda countertop is available in 74 x 1 1/2" and 98 x ½" sizes.
Pinnarp
Thinner walnut and veneer strips are used to create the elegant Pinnarp Ikea countertop. If you want to create your Pinnarp countertop desk, you will have a setup that combines light and dark-grained wood. No 2 Pinnarp countertops are the same due to the unique grains of the wood.
The Ikea Pinnarp countertop is available in 74 x 1 1/2" and 98 x ½" sizes.
Mollekulla
Oak and veneer are used to create the Ikea Mollekulla butcher block. This is the type of Ikea countertop for desks that are used in light setups given its bright wood color.
The Ikea Mollekulla countertop is available in 74 x 1 1/2" and 98 x ½" sizes.
Skogsa
The Ikea Skogsa countertop for desks uses oak and veneer pieces glued together that resemble a large puzzle. Each piece of wood has natural grains facing a different direction and the final result is a unique Ikea desktop for desks that lasts at least 25 years.
Ikea also makes laminate countertops that can be used for desks. The Saljan, Ekbacken, and Lilltrask countertops are an affordable alternative to hardwood Ikea countertops for desks. These 3 options can be considered for an affordable Ikea countertop desk.
Ikea countertop desk ideas
Now that you know the types of countertops Ikea makes you can apply them to your desk you can look at inspiring setups that exclusively use one of these butcher counters. Ikea countertop desk ideas listed below make up for some of the most aesthetically pleasing minimal setups you can build at home.
Karlby Ikea countertop desk
This Ikea countertop desk of 98 inches uses a clean setup plan. It features a wooden Ikea countertop as a desktop that holds heavy speakers and a monitor, together with a mouse and a mechanical keyboard. The cherry in the cake is its Herman Miller office chair.
2. Barkaboda Ikea countertop desk idea
Ikea's Barkaboda countertop is used as a desk in this setup together with the Linnmon shelves. This countertop desk is highly a top choice when creating a hardwood desk setup that doesn't cost too much. You can also make the most of its storage options by keeping all of your personal belongings out of sight.
3. Bright Ikea countertop desk Idea
There are 2 types of Karlby countertops for kitchens you can use for a desk. This is the bright option which also looks fantastic. The setup works even when the countertop isn't fixed with screws as the heavy butcher block firmly sits in place.
4. Ikea countertop desk ideas with wall storage
The 98″ Karlby countertop is used to create a contrasting effect with this bright setup. The bright walls of the room complement the countertop which tends to look good both during the day and in the evening when it's combined with RGB illumination.
5. Butcher block desk close-up
This is how a butcher block desktop looks like from above. Distinct grains are seen on each piece that has been put together to assemble the wooden top. One of the main benefits of these hardwood countertops is that it looks unique as no 2 tops are the same.
6. Countertop desk for DIY projects
An Ikea desk with a walnut tabletop is ideal for all of those looking to elevate their work or gaming environment. You can use one of these butcher block counters on almost any piece of furniture with a level. You don't necessarily need to buy desk legs if you want to put Ikea desk hacks into practice such as making the most of drawer units you already have.
7. Laminate countertop desk ideas
Shopping on a budget can still surface elegant kitchen countertops you can use as desks, even from Ikea. This laminate Saljan countertop desk looks amazing and nobody will ever know just how cheap the setup is given its twice as affordable as a hardwood Ikea countertop for desks.
8. Ikea kitchen countertop desk
Ikea Barkaboda countertop is used for various types of desks. Programmers, gamers, or general office workers are highly satisfied with this countertop. As Karlby, it also benefits from a warranty of over 2 decades which goes to show the quality of the wood Ikea uses in these kitchen countertops is superb.
9. Ikea L desk with hardwood countertop
You can combine multiple Ikea countertops to create a unique working space. This setup initially started as an L-shaped desk which was then mirrored to create an Ikea U-shaped desk, all made using the brand's wood countertops initially designed for kitchens. You can use various types of legs for such a setup but you have to look no further than the Swedish brand's units with drawers to use as legs and to gain extra storage space.
10. A modern idea for a countertop desk in small spaces
If you're after a countertop desk that folds to save space, you might look into the 74 x 1 1/2" Ikea Karlby countertop setup above. This computer desk is ideal for small spaces such as those in city-center apartments. You can also save a bit of money by attaching one side of the countertop directly to the wall and only buying 2 metal legs as pictured above.
11. Laminate gray countertop for an Ikea desk
Laminate countertop desks are cheap but they look good and they're easy to clean. This setup uses white, black, and gray to create a minimalistic theme that looks modern. You can create this setup yourself with 2 Ikea drawer units, a laminate countertop, and 8 short supporting metal legs. Alternatively, you can also place the legs under the drawer units.
12. Double desk with Ikea countertop as a desktop idea
Long 98-inch Ikea countertops can be used for dual desks. This setup holds multiple monitors and a gaming desk from Secretlab. You can recreate this setup at home for under $1000 with the gaming chairs and the monitors. Alternatively, you can get a Secretlab gaming chair alternative that is cheaper.
13. A minimal setup on a countertop desk
This Ikea countertop is used in the kitchen where it resits food prep. However, you can use it as a desktop when you want a beautiful walnut counter for your desk. It looks impressive with good computer accessories such as this 60% mechanical keyboard.
14. Multi-monitor butcher block desk
It can be difficult to see a butcher block counter on a busy desk. However, this setup shows Ikea's countertops have good weight capacity as they hold so much gear. You can recreate this gaming countertop desk with an Ikea Karlby and with an Autonomous gaming chair.
15. RGB countertop desk idea
Your Ikea Karlby countertop can look even more distinct if you decide to go with a different stain on it yourself. While this is rare, you can also achieve a new tint or a new color impression on the Karlby countertop by using RGB illumination such as on this desk.
16. Clea 2-user countertop desk idea from Ikea
You can use a long countertop from Ikea or 2 small countertops to create a dual desk at home such as this one. The ideal setup for 2 users features extra drawer storage as well as a large work surface that shines when it comes to aesthetics. Sometimes its about the simple setups and you don't need to invest in fancy gear to get the desk you deserve.
17. Kitchen countertop computer table idea
Some users prefer computer tables to computer desks. Computer tables are just regular tables used for computer work. This long Ikea countertop is adapted with a central foot to prevent Ikea Karlby. All of its pieces can be purchased directly from Ikea or from other retailers. One of the main objectives when creating this desk at home is to balance the countertop properly so that the table stays in place even when typing at high speed.
18. Classic inspiration for a countertop desk
It took us a while to find a traditionalist or a classic countertop desk from Ikea put into practice that is easy to recreate. This setup used an Ikea countertop over classic pieces of furniture. It can also be recreated with systems such as Ikea Ivar if you don't have them at home. The smart part about it is that it allows sufficient leg room between the pieces of furniture so that no extra space is needed for a desk in the small room.
19. Compact Ikea countertop desk with A-legs
Ikea countertop desks with A-legs are very popular in Pinterest and Reddit. Most users find them the easiest to put in practice at home. This setup can also work for the office where there's sufficient space for the legs. While storage space is limited on the legs, the elegant all-wood countertop and legs make for a timeless desk design.
20. Ikea Pinnarp countertop gaming desk idea
Ikea Pinnarp desks are also popular as are Karlby desks. This setup showcases the layered construction of the Pinnarop countertop which looks elegant and timeless. You can add it to almost any desk legs or you can add it to standing desk legs which allow you to adjust this countertop by height.
21. Minimalist Ikea laminate countertop desk
A laminate Ikea countertop is used for this setup. Even an Ikea office chair is added to keep things simple. This classic desk design is ideal for almost any line of computer work and the added ergonomics of the Ikea chair makes it even better for long hours of sitting.
22. Ikea Mac setup with countertop
An alternative countertop on A-style legs from Ikea is seen in this example. The Lilltrask countertop is ideal for almost all of those looking to brighten up their work space as an alternative to dark wood desks.
23. Ikea L-desk setup idea
Similar laminate Ikea countertops are used on this L-shaped desk. It uses shelves and drawer units instead of legs to create a large working space, suitable for offices or for home offices where extra desk space is needed. Creative work often requires extra desk space and you can customize your setup with a couple of long Ikea countertops, normally designed for the kicthen.
24. White countertop Ikea desk idea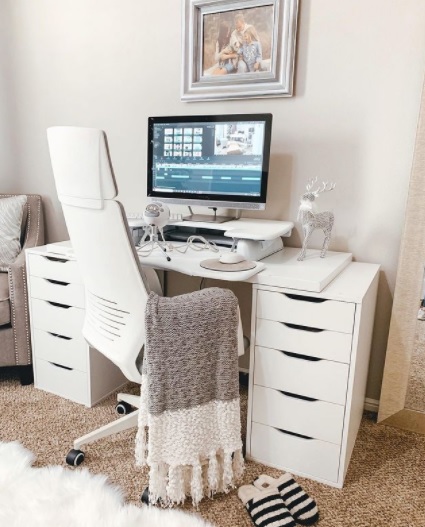 This simple white desk can be achieved with Ikea countertops and drawer units. Customization options are endless here and you might simply upgrade the countertop to create an entirely new work space when you get bored of the same old setup.
25. Karlby Ikea kitchen countertop desk setup
This Ikea countertop desk Pinterest users often pin uses a simple Karlby countertop. It looks different as the user knows how to integrate ambient light to create a new work mood. Using new or different sources of light works when you're stuck on ideas on how to make your countertop shine.
26. Floating kitchen countertop desk from Ikea
One of the most original Ikea countertop desk ideas comes with this floating desk example. The main pieces of storage attach directly to the wall and you add your Ikea countertop on top to create a unique working space. The user also wanted to clearly show the home floating desk has no legs and ambient lights have been added to highlight this and to create a gaming-style desk that looks entirely different to almost any other typical Karlby desk setup.
27. Built-in countertop desk from Ikea
The kitchen countertop desk integration here used multiple design elements such as a mid-century office chair and classic shelves on a floral wallpaper background. This setup also makes the most of existing space and creates a desk from nothing instead of cluttering a small room with an extra desk.
28. Elegant wooden countertop desk
The final kitchen countertop desk idea from Ikea comes with this setup that prioritizes storage. To make the most of its wooden aesthetics, the user combines the countertop of the desk with wooden speakers which look fantastic and which probably sound just as good. If you want to ensure your countertop desk from Ikea remains scratch-free for years, you can also use a similar keyboard pad for the ultimate protection.