This post exemplifies some of the best mid-century modern offices you can recreate without too much fuss. Finding furniture with inspiration from this design trend isn't as complicated as it used to be but it still takes longer than finding any type of office furniture.
The mid-century office designs have their roots in the mid-century decor trends of the US in the period between 1945 and 1969. After the Second World War, this office furniture design trend began to gain popularity in North America. The final results were so avant-garde they can even be used today with nobody faulting the furniture is not looking modern.
20+ Mid-century modern office designs
Over the years, mid-century offices started to come back, like any trend in furniture or fashion design. You can now find new modern mid-century office furniture and create your own setup either at home or at work that's going to get you plenty of compliments and questions.
Mid-Century Modern Office imagined by the simplest standards
Our first mid-century modern office setup idea comes from Herman Miller. The brand is known to manufacture some of the most creative pieces of furniture. You can use the desk and the office chair as an example in creating your own home office setup with the mid-century '50s inspiration.
2. Mid-century modern office with a mid-century office chair
This setup used multiple pieces of furniture and decor elements with a mid-century appeal. The idea here is to match most pieces such as the desks, the shelves, and even the wall decor in an ambiance that has visual coherence. This wasn't the case with the Herman Miller setup above as modern principles rarely recommend matching office furniture for some reason.
3. Mid-century modern home offices in a similar mid-century decor
An entire mid-century room? How about an entire mid-century apartment decor idea? This mid-century studio flat has a matching office space that can be recreated at home. The chairs here resemble those of Arne Jacobsen, a Danish architect of the mid-century current also responsible for the modern egg chair we now buy at major furniture retailers without knowing where its design actually comes from.
4. A few ideas on how to integrate plants next to a mid-century modern desk
This simple decor is emphasized by plants. You can create your own home decor with a mid-century vibe without making it look without a soul with integrated plants. From what we've seen so far, plants are rarely recommended by detectorists or architects in their setups but for your home office, this modern decor idea can work wonderfully.
5. A cool mid-century modern home office idea bordering minimalism
This modern office idea is at the crossroads of minimal setups and mid-century design influences. It's so simple that it's genius. A mid-century office chair with a low back and distinct bold lines is attached to a straight-angle desk proving these two design concepts work wonderfully together. Unlike other mid-century modern desks, this one also comes with a few drawers. It looks and acts as a practical piece of furniture for your work time.
6. A mid-century modern office lounge area
Inspired by the Charles and Ray Eames chair and Ottoman, this mid-century setup is now recreated in its hundreds. Many furniture brands copy this design and buying one is more expensive than you think. First designed in 1956, this office chair and Ottoman look like no other and it elevates your modern office space with that charming mid-century allure. Prices for such a setup can often be above the $1.000 mark.
7. Mid-century modern office furniture setups you can replicate at home
Mid-century modern home offices are some of the nicest to look at. Whenever you visit a friend's home who also tends to use it as a workplace you rarely see a clean setup, much less a setup with post-WWII design inspiration. This simple setup uses an old typewriter buy you can easily replace it with a laptop or even a monitor since the desk also comes with a monitor shelf. The chair is an absolute 10 out of 10 for design inspiration and it works with an industrial decor as pictured above.
8. Simple loft mid-century modern office setup
Even if you're limited on space, especially when designing a modern office at home, it doesn't mean you need to throw all design expectations away. This is one of the inspiring setups that can easily pass as one of the most daring designs of a loft as it's placed right under the windows. The natural light coming into the room is matched by white mid-century modern office furniture to create a unique space that is uplifting.
9. Mid-century modern office with shelves and matching chair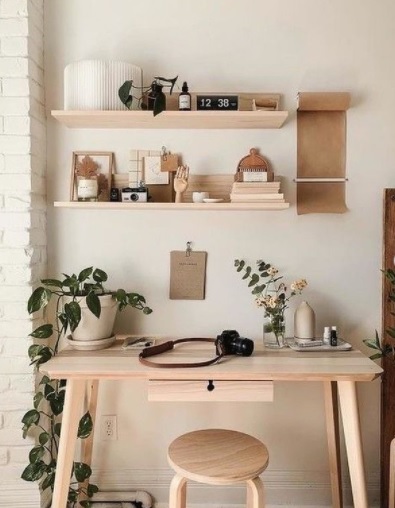 Another interesting example of how mid-century modern home offices can go further with matching elements is found in this example. The color of the desk, chair, and shelves are the same but this doesn't make the setup look uninspired. On the contrary, it makes the setup stand out and you can replicate it easily at home if you manage to find a similar table, which is harder than it sounds. Luckily, chairs such as the one pictured above are a bit easier to find.
10. One of the most common mid-century modern desks in use
@midcenturymoderninterior
This type of desk and modern mid-century office inspiration has been the most popular on Pinterest, Reddit, and the web in general. It stands out as one of the mid-century desks that were never really out of trend as it was continuously available from the '50s until today. The office chair in this modern office has made its comeback over the past 10 years and it's now widely accepted in corporations as an office desk chair.
11. Clean mid-century modern office setup
Another ultra-simple mid-century modern office that is clearly a work of art is seen in this setup. The classic mid-century modern table is used as a desk. But the office chair is the main star here. You will find it a bit difficult to recreate as this type of office chair is quite difficult to find as new. However, your best place to start looking is online. However, you might not find it the most ergonomic office chair and this is why this modern office is mainly recommended for part-time work.
12. This is an example Mac mid-century office desk setup
Mid-century modern office décor ideas tend to gravitate around this type of desk, with or without drawers and storage. It was one of the most popular desks and nobody knew it would remain in style as there's a demand for it today. In fact, Ikea, Jysk, Amazon, and other furniture retail giants sell versions of this table in their thousands per year. The chair is fantastic as well, even if it's far from what we call ergonomics today.
13. A bright office always helps put the furniture in the spotlight
It's always amazing what good natural light can do for the modern office. It's like nothing else even if your office has the latest tech and gadgets. This is one of the simpler mid-century modern offices you can get inspiration from but if you manage to create such a large window at home in your office, you are surely going to have a workspace you won't really want to leave from. The same '50s chair as those above is present here, but with a transparent construction.
14. A mid-century modern office workspace
If you seek a mid-century modern office for your employees, you can use a few practical ideas to create a workspace that looks good that's also practical. Separate video call areas can be designed in style. Even the office chairs you were sure don't work in a modern interpretation of mid-century decor can work as seen in this example.
15. All items and mid-century office furniture accessories listed by Jysk
Jysk is one of the growing furniture retail giants with a Scandinavian design influence. However, their setup is one with potent roots in the mid-century office design of the past century. The good news is it practices some of the lowest prices on the market and its pieces of furniture and decor might be the top choices for a budget home mid-century modern office.
16. A vintage approach to a mid-century office
An alternative route for a modern space is to look for actual mid-century office furniture. It will take a while to find affordable pieces in good condition. But in the right setup, they can all work together in creating a modern work place.
17. A gem of a desk for a simple mid-century office
Almost impossible to accurately describe, the modern mid-century decor has its critics and its fans. What we can tell for sure is some of its results are memorable and all tend to impress when they use simple principles. Such design ideas and principles are seen in the mid-century office idea above. Its mid-century modern office desk is one of the best we've seen and we're sure the idea is going to live on with a few tweaks at dedicated mid-century office brands.
18. Minimalist mid-century office decor
This might be something out of the Bauhaus design principles. This setup is ideal for a truly modern office where there's no room for clutter, pieces of paper, and books lying around. This is a clean design that impresses even those who like vintage offices.
19. A special mid-century modern office design
We come back to matching mid-century office furniture pieces again. This setup uses wood with the same grain pattern elegantly. It can be a setup for an office space where you receive guests or where you want to hold interviews or other client meetings. It has a high-class appeal about it and while it costs more, it's the type of modern office setup you can end up using for life.
20. A simple office design and a minimalist room decor transcending previous architecture influence decades
Some argue this isn't a mid-century modern office idea at all. Others say it entirely represents this decor current. However, we know that it looks fantastic and you can recreate it at home. It's expected to see standing desk brands offering a desk with a similar design over the next year as they pass the initial stages of their existence and as they try to stand out from what is surely becoming a crowded market. This can also be an inspire mid-century modern office design on a budget.
21. A smart integration of mid-century modern office décor
If you want to have a modern office with that mid-century design influence you see in California even today, you can use the office setup picture above as a good example. It combines modern design aspects with Scandinavian elements and mid-century modern details to create a wonderful workspace that doesn't lack character. Luckily, this setup is also one of the most prominent options when it comes to practicality as you can use it to replace shelves and other office store pieces of furniture. This decor also works for a few personal display items if you like them in your office. It's also the setup least likely to be purchased as it stands as you'll need to go down the custom route to recreate it at home.