If you're after a long computer desk, you need one that is around 60 inches in length. This size desktop offers all the workspace you need and it can be one of the few office solutions to store all of your documents, monitors, laptops, and other computer accessories.
A long desk for office work might not be easy to fit inside your house or even in some workplaces. But you can find the top solution for you from one of these listed below. Before you jump to the list, here's how we define a long desk and an extra-long desk in the first place.
Short computer desk
A short computer desk is made with a compact size. It typically has a length of around 40 inches (101 centimeters). These desks are made for small spaces and small computers such as laptops or a compact monitor.
Medium-length computer desk
A medium-length computer desk has a desktop of around 55 inches (140cm). These are the best-balanced option between workspace and compactness.
Long computer desk
A long computer desk has a desktop of around 60" in length (152cm). These are best for students or professionals who need more space for books, laptops, displays, speakers, printers, and other office stationary.
Extra-long computer desk
An extra-long computer desk has a length of up to 65" (165cm) and it is normally used in wide-open spaces or large office rooms at home.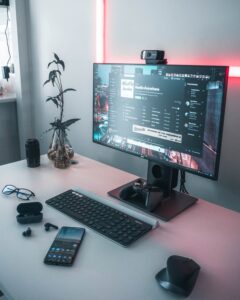 1. CubiCubi Computer Desk 63″
With a length of 63 inches, this extra long computer desk is ready for some of the most demanding tasks at the office. It easily holds one or 2 monitors, a laptop, and a printer. But you can simply use it as a minimalistic setup that has everything you need at the office within easy reach.
Made with an elegantly engineered wood desktop, the desk is quite sturdy. It sits on powder-coated black steel legs which means it holds high weight as expected. After some research, most users agree it's the type of desk that could hold around 200lbs.
But the desk also stands out as one of the splice board designs. It easily separates the center work area from the lateral possible storage area for a more distinct look.
Pros
Made with thick 1.6" metal legs
Vintage-inspired design
Included iron hook for backpacks or headphones
Cons
Not made with a real hardwood desktop
2. Decoholic Modern Computer Desk 63"
With a similar 63" desktop, this large computer desk is one of the leaders in terms of durability. It's made for MDF fans. The long desk is made from a single-piece desktop that can easily be wiped for a clean working space. It even features a waterproof finish which makes it a bit more suitable for busy users.
The desktop measures 63" x 23.6 inches and it offers sufficient workspace for all of your daily tasks. It comes with an elegant sandalwood or oak finish, depending on the type of look you're going after. The darker sandalwood finish would suit bright rooms for better contrast.
Based on thick still legs, this is also one of the large desks that support the high maximum weight. It has been tested to a maximum of 300lbs.
Pros
Fireproof construction
Made with a distinct sand finish desktop
Anti-rust legs
Cons
3. Zinus Jennifer Computer Desk
With very similar dimensions, the Zinus Jennifer extra-long computer desks are worth a look at a budget as well. It boasts a length of 63in which recommends it for work, studying or gaming purposes. As a long gaming desk, it can fit multiple monitors and even heavy desktop gaming setups.
Some of the noise around this desk has been made on the premises of its looks. While it also comes in a white and natural wood finish, the desktop is also available in a dark espresso color. This makes it a stealth option often paired with all-black computer chairs. For those who need a dark long computer desk, this might be the right choice.
Pros
Widely popular in an espresso finish
High weight capacity of 300lbs
1-year manufacturer's warranty
Cons
4. Bon Augure Industrial Office Computer Desk
Made with X-shaped legs and a metal frame, the Bon Augere Long Desk is our favorite for weight support. It handles up to 330lbs, making it one of the top performers for heavy machinery such as large printing equipment.
Made from engineered wood, this long computer desk has a length of 60 inches, placing it right behind some of the largest computer desks in its class. It also comes with a vintage look which makes it timeless. But you can certainly consider it for any room as its engineered wood desktop comes with an oak finish.
Pros
60" length x 23.62" width x 30.12" height dimensions
Made with a thick 1.18" desktop
It doesn't wobble
Cons
It has a back frame panel which means you can't sit on both sides of the desk
5. Foluban Rustic Computer Desk
If you need a computer desktop that looks like a table, you can easily choose the long Foluban. This desk is made with a 60-inch MDF desktop which recommends it for all types of computers and computer accessories. It has been rated to 350lbs, which places it in a select category of high weight capacity computer desks.
The Foluban long desk for office manages to achieve such high weight resistance by using a thicker desktop. It's the only entry on our list to come with a 1.58" tabletop thickness.
Pros
Made with a classic rectangle table shape
Designed for typing and writing positions
Based on a minimalist design
Cons
Which long computer desk is right for you
This being said, you get to choose one of these extra-large computer desks to rely on for years to come. Since they come with no moving parts and high weight capacity, these desks are perfect as an investment as you surely don't need to upgrade them anytime soon.