Thin and elegant aesthetics are important for gaming laptops that don't look like gaming laptops. The days of bulky designs are over as more people are looking for gaming laptops that look normal since they need one product to do it all. This article looks into a few good examples of such computing machines and the reasons why you might want to swap your old bulky and heavy gaming laptop for something a bit more 21st century.
Have you ever wondered if a gaming laptop looks weird in a business meeting? The short answer is yes, gaming laptops look weird in a business environment as it can make you appear unprofessional or at least ill-prepared for that event.
Before we dive into the gaming laptops that look normal recommendations, you need to have a closer look at the aspects that set these computers apart from the rest of the bulky crowd.
| | |
| --- | --- |
| What to look for in gaming laptops that don't look like gaming laptops | Range |
| Weight | 3.6lbs to 5lbs |
| Thickness | 0.6" to 0.8" |
| Screen size | 14" to 15.6" |
| Keyboard design | Non-backlit or backlit with RGB-off function |
| Chassis materials | Aluminum or other metal |
| Video card | Nvidia GeForce RTX 2060 to Nvidia GeForce RTX 3060 |
| RAM | 8GB to 40GB |
| Memory | 512GB to 1TB |
Things to consider when buying a gaming laptop that doesn't look like one
Does a thin gaming laptop look elegant? It surely does and gaming laptop thickness is what influences its look the most together with its design.
A gaming laptop that doesn't look like one is typically 0.7" thin and it comes with a metal chassis with a display of up to 15.6". It typically has a minimalist keyboard without obtrusive RGB illumination.
How thick should a gaming laptop that doesn't look like one be? After hours of research, we found out that most of these setups have a thickness between 0.6 and 0.78 inches. At the maximum limit, a 1" gaming laptop thickness is about the maximum range you can stretch your purchase to.
A thin laptop can still be heavy. Light gaming laptops are somewhat of a mismatch but they do exist. 2021 thin gaming laptops are impressive when you think about the norm just 3-4 years ago.
Stay away from fancy keyboards
Even a thin lightweight gaming laptop can be ruined by an obnoxious keyboard that is too bulky or which comes with all types of illumination issues such as poor backlit aesthetics. Some would even recommend staying away from backlit keyboard gaming laptops altogether if you want a gaming laptop that looks normal.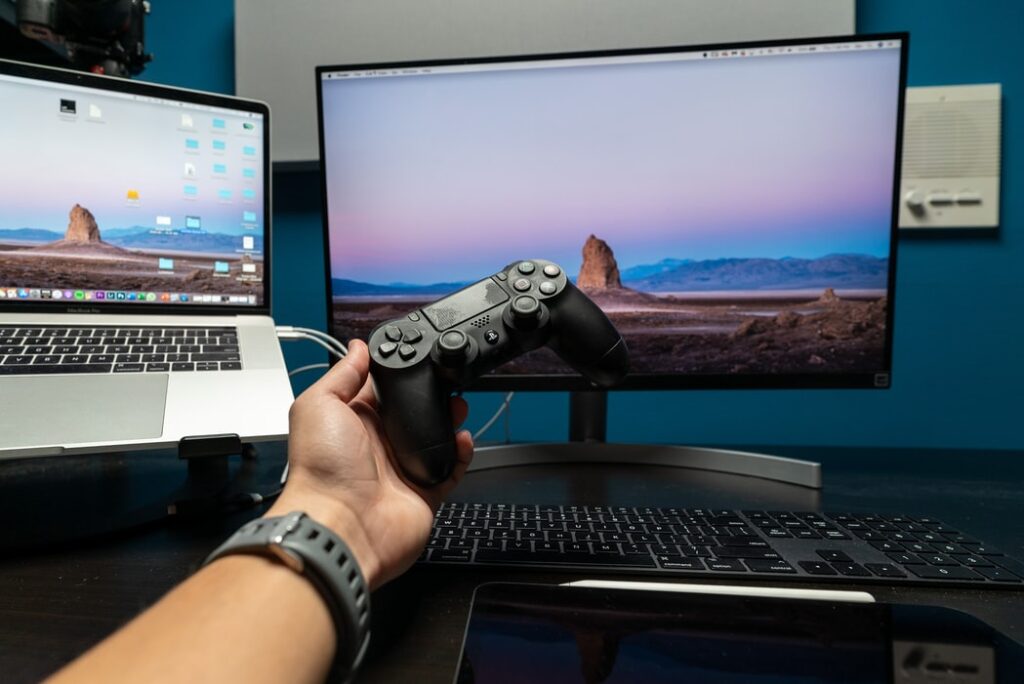 6 gaming laptops that don't look like gaming laptops
After scrutiny, not many gaming laptops made this criterion except the 5 following names. These are the proof that gaming laptops that look professional can still be found and not at the highest price tag.
1. Razer Blade 15
This aluminum chassis gaming laptop looks like a business laptop. Its equipped with some of the best techs you can hope for such as great connectivity ports with its USB-C, USB-A, Thunderbolt 3, and HDMIs. The Razer Blade 15 gaming laptop has a 15.6" display which is about the maximum you can hope to get away with for a gaming laptop that doesn't look like a gaming laptop.
This fast computer also features a GeForce RTX 3070 graphics card. This GPU is known for its price-to-performance balance. GeForce RTX 3070 gaming laptops are more affordable than GeForce RTX 3090 gaming laptops with a performance closer to Nvidia GeForce RTX 3080 gaming laptops.
With a 144Hz FHD display with a thin bezel, this laptop looks great physically but it also makes games look great.
At 16GB RAM, you can expect to keep on gaming for at least 4-5 years if not more on the setup. It's one of the laptops that look good which can certainly be considered for a longer period as a business laptop after this period.
One of the main reasons it ranks number one on our list is its CNC aluminum frame. It uses a unibody metal frame with an overall 0.78" thickness. While it's not the thinnest gaming laptop ever, it's very close to thin gaming laptops that run games at high video details. It can be a wonderful addition to a minimalist desk setup as a minimalist gaming laptop.
Quick gaming laptop facts
Designed with non-obtrusive single-zone RGB keyboard
It runs on a 10th gen Intel i7-10750H processor
Anodized 0.78" aluminum chassis that doesn't look like the case of a gaming laptop
2. ASUS TUF 3070
Beautiful gaming laptops can learn from the new TUF 3070 in terms of aesthetics. A square chassis with a 0.78" (1.98cm) thickness makes it an elegant choice that you will use for years. Its components are some of the best which will make it your designated gaming laptop for business for at least 5 years if not more.
This beast gaming laptop features 40GB RAM and 1TB SSD storage. These are some of the most powerful componentry you can consider, but at a different budget compared to the Razer Blade 15.
Running an Nvidia GeForce RTX 3070 8GB graphics card, this is a powerful option if you need to play some of the best games of the moment with one of the latest GPUs from Nvidia. The screen's 240Hz refresh rate makes this gaming laptop a futureproof choice.
It also features an illuminated keyboard with RGB directional keys. However, the illuminated keyboard is not too obvious and it's about the maximum you can get away within a professional environment where how you look and how your laptop looks have direct perception implications.
Quick gaming laptop facts
It runs 1920 x 1080 full-HD resolution
A futureproof choice at 40GB RAM compared to its 16GB RAM alternative
It only weighs 4.4lbs
3. Asus ROG Strix G15
This ultra-slim gaming laptop features 0.8" thickness that recommends it among some of the most impressive setups when you have how gaming laptops look. Why are gaming laptops so ugly? It's because they are thick (typically more than 1") and because they have unaesthetic keyboards. This isn't the case with the ROG Strix G15's keyboard which is properly spaced. Some even see it as a laptop that you can type on easily due to the extra keys' spacing.
Using an AMD Ryzen 9 processor, this gaming laptop works together with a GeForce RTX 2060 graphics card for your pleasant gaming experience. As an alternative to Intel gaming laptops, it performs well and it should be on your radar as our budget gaming laptop that doesn't look ugly.
Since it's quite thin, this gaming laptop for work can also be used in meetings, presentations, or in college as a student. Its connectivity options support such multipurpose use. Its HDMI port is great for projectors while its USB Type-C ports handle all other connectivity options. A last worthy mention sees it as a recommended gaming laptop with an audio jack port as this is starting to become a bit rare to find on thin notebooks.
Quick gaming laptop facts
It weighs 4.6lbs
8" thick, ideal as a travel gaming laptop
Spaced-out keys on the laptop keyboard
4. MSI GS66 Stealth
MSI GS66 Stealth reviews show to use this gaming laptop's 0.77 inches thickness is something gamers appreciate. It doesn't look like a gaming laptop given its thin 4.9mm bezels so that you can use it as a regular laptop.
This upgradeable gaming laptop features 512GB memory and 16GB RAM. You can open its bottom cover to upgrade its internal storage and RAM which makes it the laptop to consider if you don't want to upgrade it a few years from now, which is the case with any gamer shopping on a budget.
Since it comes with an RGB keyboard, you can easily assign various keys for custom controls. Gaming laptops with a light-up keyboard design often include the GAS66 Stealth among the top performers. We've seen this keyboard recommended on the best laptops for FIFA 21 forums and other online chat rooms for similar games where multiple keys are a bit difficult to assign otherwise.
Quick gaming laptop facts
Made with a thin-bezel 15.6" display
It runs games based on an RTX 2060 GPU
A Windows 10 Pro gaming laptop
5. ASUS ROG Zephyrus G14
ASUS ROG Zephyrus G14 reviews show this is the most overlooked gaming laptop of the moment. At this size of 14", it doesn't look like a gaming laptop and it can be as versatile as you need in a professional environment.
At a thickness of just 0.7", this gaming laptop looks highly professional and suitable for any game or workplace environment. It uses an Nvidia GeForce RTX 2060 graphics card to play games smoothly and with a battery that lasts 11 hours, the gaming laptop shines more than you can hope for.
Some say it's the smallest gaming laptop ever while others call it the lightest gaming laptop of the moment. But these users aren't wrong. Weighing just 3.5lbs, this is one of the true gaming laptops that don't look normal or professional without sacrificing performance. It also costs a few hundred dollars less than its competitors, if it even has competitors at such low weight.
At 24GB RAM, you'd think this is the ideal gaming laptop. However, you need to know it doesn't include a webcam which can be an issue for some gamers into streaming. It's also not a fully upgradeable gaming laptop and this is why it comes 5th on our inspired list.
Quick gaming laptop facts
Designed with a simple backlit chicklet keyboard
A 14" gaming laptop that has a 120Hz refresh rate
1TB hard disk size
6. Apple MacBook Pro With M1 Chip
Now a list with gaming laptops that aren't ugly cannot overlook the new Apple MacBook Pro. While not ideal for gaming, the new M1 MacBook Pro runs Windows games. For it to run Windows games, you need to install Crossover Software Installer to use for the must-have applications such as Steam, DirectX for Modern Games, and DXVK under your Steam installation. You need to remember to enable DXVK for the backend for D311 for Crossover to help you run Windows games on your Mac gaming laptop.
You will also be glad to know you can use a controller to run games on this laptop so the options are there if you want that MacOs gaming experience.
At 0.6" thickness, the Apple MacBook Pro 13 inch Apple M1 laptop is the thinnest option you can use as a gaming laptop that doesn't look like one. Highly suitable as a professional's gaming laptop for occasional gaming, it features a 17-hour battery life and 3-pounds weight which makes it ideal as a gaming laptop you can carry in your backpack all day.
While not a gaming laptop with a mechanical keyboard, the MacBook Pro's keyboard feels very professional. It also doesn't look like the keyboard of gaming laptop which meets the criterion of this article and your needs for one laptop that does it all without being too ugly. You can even consider it among your minimalist laptops for an uncluttered gaming room setup.
Quick gaming laptop features
Made with a bright 500-nit display
It features a touch bar, the closes option on the list to a touchscreen gaming laptop
Its 8GB RAM are optimized (performance similar to a 16GB RAM PC gaming laptop)
Conclusion
All of these gaming laptops that don't look like gaming laptops are of the latest generation. There are other good choices but they've been out on the market for a time already. They might also satisfy you if you look for gaming laptops that look like MacBooks, a task that isn't easy to achieve.
Most Dell gaming laptops (the G5 and the G7) are about 1-inch thick, which places them out of this range, even if they've proven good choices over the past couple of years.
Gaming laptops with aluminum chassis are some of the best options that don't look like a classic thick gaming laptop. We've seen what can be done with CNC aluminum chassis in terms of aesthetics. But not all gaming laptops with metal body construction look normal or professional. Luckily, you can browse the features of the laptops mentioned above to see what can be achieved with such thin gaming laptops.