Are you looking for gaming room ideas you can replicate at home? This article shows you top setups and decor ideas the gamer in you always wanted to have. All of them are already put into practice in small and large rooms. Even if you only have a bedroom to turn into a gamer's paradise, you will still find inspiration in one of the designs below.
A gaming room is much more than a place where you spend the day playing the latest titles. It's the space that represents you and you should treat it as your personal project depending on what you find cool. Some gamers prefer to showcase their entire video game collection in their rooms. Others prefer minimal gaming setups. Which one of these gamers are you? Find out by checking which cool gaming room setup ideas below most appeal to you.
Gaming room ideas with amazing decor and setups you can recreate at home
This post isn't about complicated gaming rooms that require a while design team to put it place bur rather about replicable designs you can recreate at home.
1. The bright gaming room idea
Gaming station ideas debut with this fantastic setup with plenty of accessories, white furniture, and plants. It's quite rare to see plants in a gaming setup but you can get inspired by this space with a sofa, gaming desk, a TV, and plenty of storage shelves. Gamers can play with lights of contrasting colors here. Computer room ideas that incorporate plants are the next big thing given the current work and play from home situation. More people are looking to make their homes even more comfortable.
2. Professional gamer room setup idea
A gaming room can benefit from a PC gaming and PS4 or PS5 gaming setup. There's no centerpiece here as both the monitors' setup and the TV are in the center of the attention. The setup is ideal for gamers who love playing on multiple platforms. The best gaming room setups are often those that are simple and efficient. In this case, the multiple sitting options make up for the lack of uniqueness of the setup and place it among the favorites.
3. Cinema-like gaming room idea
A true gaming room doesn't need to be complicated to look expensive. This setup is similar to a cinema room and it features a racing seat for the ultimate racing video games playing experience.
4. Dark-themed cool gaming setup
Some gaming setup ideas are monochromatic. This means gamers are simply choosing one color to rule them all, mainly to create an aesthetic gaming room. You need to purchase matching gaming room furniture to recreate the setup at home. Floating shelves are ideal both in line or at different levels as in this setup. A square floating shelf actually offers 2 levels of storage which sees them as ideal setup tools for accessories.
5. Ikea gaming room decor idea
The setup seen in the picture above uses an Ikea desk with drawers and similar white shelves. You can use such a compact gaming setup in a small bedroom. We know that Ikea didn't specifically make gaming desks (until recently). But this setup is inspired by office setups and you can easily turn it into a gaming setup. Nobody will even ask about the desk as the mechanical keyboard on it tends to be the main focus of those who haven't used them before. One object in this setup that can easily go unnoticed is the ambient light in the background.
6. RGB video game room
While not necessarily a bedroom gaming setup, the idea here is to create a space for lounging next to your gaming space. This cool setup is ideal if you have friends over frequently. To achieve a similar setup you'll have to invest in multiple LED light strips. You will need to add one above each display shelf so that your collectibles benefit from illumination. There's another long light strip under the desk as well.
7. Minimalist gaming bedroom idea
Small bedroom gaming room setup ideas are a bit more difficult to pull off as you might be thinking you're missing out on your gaming experience. But the photo above shows it can be done even when space is limited. One of the downsides of such small rooms is that you barely have any space for a TV so shelves aren't an option. You can squeeze in a gaming chair here but a bean bag chair could also work.
8. Multi-monitor gaming bedroom ideas
A gaming setup with 3 monitors or more is always tricky to pull off. But this gaming room with a bed and multiple monitors can be a good place to start. Using an elevated countertop, this gaming setup features a high desk and plenty of storage room. The large speakers on the floor help with audio immersion. A nice touch comes from the sneakers display shelves for many gamers are known to love them.
9. PS-themed gaming rooms
PlayStation gaming rooms and PC gaming rooms merge into one ultimate gaming space here. You can create one cheaply by ordering gaming room accessories online. This setup is all about the accessories. We've discussed them in detail in our PS5 gaming setup ideas here at standorsit.com.
10. Infinite monitors gamer room decor idea
Did you know your gaming setup can have even more monitors? This user shows us just how many can be squeezed above the desk and even on the wall. It's a highly inspiring setup for loft gaming room setup idea seekers. This setup is one of the most expensive as it uses a large TV and 5 monitors which are all expensive. The wooden desktop is probably from Ikea so it's not the most expensive, but it adds to the final cost. Short shelves are used to display a digital clock here but the entire room looks clean imagining just how many cables run underneath this gaming desk.
11. Practical video games setup idea
When you need to juggle multiple curved monitors in your gaming setup, you can consider this inspiring room decor idea if you have the space both in front of the chair and in the back of the chair. What can be easier than turning and finding a new screen to work at? This gaming setup uses a U-shaped desk that is a bit modified to fit all of the items of the user. The microphone stand also shows online gaming tournaments or podcasting are something the user is also interested in. To free up some desk space, the user has even hanged gaming speakers off the wall so that the desk isn't too cluttered.
12. Dual best gaming room setup idea
Gaming rooms for 2 setup ideas are always fun. You can double your gaming fun by sharing your playing space with your brothers, sisters, or with your spouse in a gaming room for adults. You can imagine such a setup looks good but it has its limitations as well. The noise level coming from the two mechanical keyboards on the desk might be a bit too much for some gamers. Otherwise, it's a cool setup with included PlayStation chair rugs.
13. Small gaming room bedroom idea
Your small bedroom is ready for your ideas. This setup shows you can work and play in the same place where you sleep. This minimal setup uses a sit-stand desk with an elevated monitor, a simple low backrest chair, and a dedicated gaming space with its own gaming chair. Work and play in the same room can be fun.
14. One-room apartment gamer setup idea
Studio apartment gaming room ideas are fun to implement. This minimal desk setup can be used for office work and for gaming. Instead of going for floating shelves for sneakers display, this room features a simple shoe rack with ambient light, which can be a simpler option to put together.
15. Awesome gaming rooms / home cinema rooms
A home cinema room setup idea is fully complete with a gaming space if you love virtual time off. This setup is cheap and you can create it at home for just a few hundred dollars. One thing that the setup is missing is a proper carpet. You could even replace the gaming seat and the armchari with a beanbag chair if you have a comfortable carpet to sit on.
16. Computer room ideas that are cool
A cool gaming setup always has something to learn from this moody room decor idea. You can use it at home to create a different reality right in the comfort of your bedroom. Here's a link to see a gaming cloud ceiling with LEDs on YouTube.
17. Small gaming room ideas
Small rooms can be limiting when it comes to a good setup. However, you can make it appear bigger if you place your gaming desk next to a window, preferably with a good view.
18. Video game living room ideas
A living room turned into a gaming room is the ultimate dream. If you want to take your gaming outside of the bedroom this might be the setup to push you to do it. This setup is also smart in using contrasting ambient light strips to create a different visual effect for the collectibles. You might also want to put into practice these ideas if you want to showcase rare collectibles. The attention to surround sound here also recommends this as a home cinema room.
19. Entertainment room ideas for gaming
You need a good TV and a projector to recreate this decor in your bedroom. Ideally, you can also squeeze in a sofa as a relaxation space that's not the bed you sleep in. Simple and efficient, this gaming setup can suffer from thick carpets with no protective mats. A see-through glass chair mat can be a good addition to make this setup durable.
20. Gaming bedroom decor ideas for large rooms
The sky's the limit when you have a large gaming room. But the sky can also be the place where LED lights are mounted in your room. This gaming setup is one 0f the rare instances where LED wall lights merge the ceiling and the wall behind the desk. It also works for lofts.
21. Carpeted gaming room ideas
A cozy gaming room is achieved with relaxing wall colors and relaxing furniture. A thick comfy carpet ties these 2 together like nothing else. This setup is a bit more expensive to put into place as it uses premium office chairs and lounge chairs. The desk here is probably the longest we've seen so far so we expect it to cost a bit more. However, the limited number of displays balances the final bill.
22. Office game room ideas
Your gaming room is your office if you're a professional gamer. This setup is ideal for Twitch and bloggers in general. While this setup is a gamer's dream, it can also be a bit too much for adult gamers. You might think twice before hanging all the artwork you have on the walls since it can make everything seem a bit too cluttered. But for Star Wars fans, this is a true gem.
23. Gamer's room idea with projector
A projector enhanced gaming possibilities even further. This might be the ideal gaming setup for couples as the wider screen is ideal for extra fun. The simplest setup can be improved with the right accessories. One of them is the hand stand which can be used as a place to keep your keys or watches.
24. Gaming room setup idea for basements
A basement gaming room setup idea only needs good light, the rest tends to fall into place easily. Make sure your basement is dry before investing too much in it. Since illumination is troublesome in basements, this setup uses a large corner floor light to brighten the space up a bit. There's also at least one ceiling light to make up for the smaller windows.
25. Bunk bed gaming room setup ideas
Making the most out of small bedrooms is key with these bunk bed gaming room ideas. You can play and sleep just a few feet away. Red and black are the main aesthetic appeal of this gaming setup. It works both for boys and girls and it can be the first gaming space or gaming room, especially in apartments or homes with limited space.
26. Luxury gaming room setup ideas for apartments
This luxury gaming room is a top idea when you want a separate space for video games in a cool location. It's even cooler in a higher level apartment overlooking a city.
27. Ikea bedroom for gaming decor setup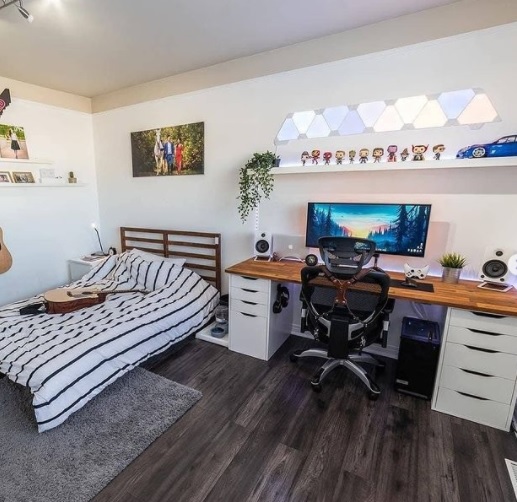 Your office gaming room is the place where you might sleep but it still looks good when its clean and fresh. This setup even has room for gaming accessories such as figurines.
28. Gaming room ideas on a budget
A gaming room setup that is so close to the bed that you can play from the bed might sound terrifying. Things are different when you see someone with good imagination making the most out of it. While space is not something this room is known for, the setup is comfortable. You can change how a room looks and how you feel about gaming by buying a premium gaming chair. This idea is applicable to almost any video game room you want to upgrade.
29. Gaming room design with bed
A gaming room with a bed is the space most of us can realistically dream about. We need to sleep somewhere be it at our parents' house, at the uni's dorms, or in our own flat. But we're safe as long as there's space for a desk and a gaming chair. The simple setup is highly replicable and there are no custom products here. Even the wallpaper can be purchased online but you will need to match its colors to your room.
30. Gaming room with minimum accessories
A minimal gaming room is easy to plan in theory but hard to put into practice as we tend to clutter this setup up. Here's where such a plan should stop. Small but elegant, this is a gaming room idea that is easy to upkeep. The biggest issue with rooms that have too many cables is they take a long time to clean. With such a simple setup, vacuuming and dusting are the only interventions needed to keep it tidy.
31. Small gaming room ideas with bed
This gaming bedroom setup idea uses a single-color ambient light to create a special mood even if it's not that special. This setup is ideal when working with designers as it requires a bit of skill to put into place. The ambient ceiling lights and the hidden wall lights are rarely put into practice by the average gamer with no decoration skills.
32. Minimum game room furniture
Contrasting LED ambient lights (maximum of 2 colors) can create elegant spaces that aren't too much as seen with most ambient light gaming setups. The impressive computer and the thick gaming chair make this a comfortable setup that looks better than more expensive among rooms. Make sure you invest in a good gaming chair to make your video game room look as good as this one.
33. Gaming station setup for podcasting
This gaming room is also a vlogging room and there's a separate table for podcasts, channel features, and interviews. Small and tastefully, it covers the basics better than many of the more expensive rooms we've seen. Light sources are crucial if you want to record yourself. There are 9 light sources in this gaming room apart from the windows which speaks volumes about the importance of proper illumination in video recording.
34. L-shaped desk gaming room idea
L-shaped gaming room ideas seem to flood the web today. Look at this space and find where the desk ends as some tend to see this as a U-shaped gaming desk setup idea.
35. Gaming room ideas for girls
A pink gaming room setup idea that women would go crazy for is all we've been looking for. A comfortable chair, multiple monitors, great mechanical keyboards, and a clean floor do the trick.
36. Gaming room ideas for FIFA and PS5
We've covered PS5 gaming setups before, but this is a new find, helpful when building a gaming setup on a budget.
37. Closet game room setup
There's hope even if you have a small closet to count on in your home. This user has managed to squeeze in an L-shaped desk, a smaller desk, and a few monitors. While there's not much room for anything else, the wall decor makes things a bit more beautiful.
38. Gaming bedroom accessories for the ultimate gamer
Gaming accessories dominate this setup where there are too many keyboards for the average looker. As a gamer, you know each mechanical keyboard feels differently and you can make the most of them today.
39. Bunk bed gaming setup ideas
Another cool bunk bed gaming setup comes from Jacob. This small setup makes the most of the floor's carpeted surface for the ultimate comfort with or without a gaming chair.
40. Showcase gaming bedroom accessories
Gaming room accessories include display items such as figurines. This setup idea also works if you have old Xbox or PlayStation consoles to display.
41. Gaming room lights and shelves ideas
Shelves are a must-have for gaming rooms where simply throwing your stuff around doesn't work anymore. This simple sneakers setup is ideal for gaming rooms where you want to showcase your collectibles. This gaming room loft idea is easy to put into practice if your home's loft is currently left unused.
42. Gaming station ideas
A gaming room idea with shelves is almost impossible to put into practice without filling it up. You can guarantee to eventually fill this practical setup. The shelves in this room are inspired by wooden crates but they work as all of them have the same design. Using different shelves here in such a cluttered gaming room would have ruined the aesthetics of the setup.
43. Gaming room ideas from Pinterest
Gaming room ideas on Pinterest are dominated by LEDs, minimal desks, and minimal gaming setups. This idea makes the most of a simple room where there's no desk. If you're building a gaming bedroom for your child, you can start with a console, a small TV, and the furniture you already have to see how it looks.
44. Epic game room ideas for small spaces
This epic gaming room idea comes with a fish tank and a minimal desk setup. A racing-style gaming chair and a 60% RGB mechanical keyboard represent attraction points of the setup as well. The illuminated PC also works for PC gaming setup ideas which seem to be the norm on Reddit and Pinterest.
45. Minimal game room setup ideas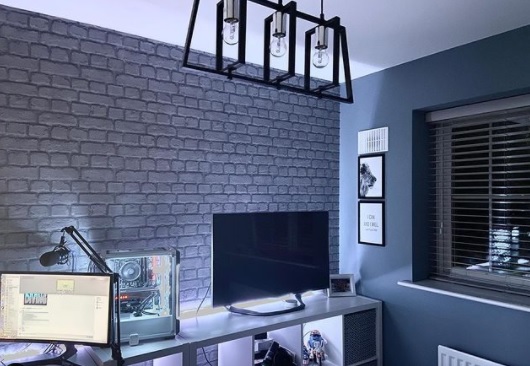 Another cool idea is using brick walls or brick pattern wallpapers to create a new gaming space dimension or to offer your bedroom some character. You need to install it correctly so that the wallpaper doesn't look cheap. The ceiling lights here are also some of the most original we've seen. Make sure to invest in just a few quality pieces if you're looking for minimal decor in your awesome gaming room.
46. Gaming bedroom ideas for girls
All gaming bedroom ideas for men seem to include plenty of black, brown, and bright LED lights. All gaming bedroom ideas for girls use shades of pink. You can create your own women's gaming room setup following these simple trends.
47. White gaming room idea
We've seen all-white video game setups before. This one uses a sofa that is also white to create visual appeal. A cool wallpaper also clearly separates it from how a living room looks like.
48. Budget video gaming room
Gaming setup ideas on a budget that are good are few and few in-between. Get a small table, a matching gaming chair, and 2 shelves and you're good to go. There's no point to getting in debt when you can't afford a more complex setup.
49. Two-user room for gaming
Gaming setups for two are some of the most cliche bad designs when poorly laid out. However, this gaming setup for couples inspires almost everybody as it uses mirroring to create an aesthetic setup for gaming.
50. Soundproof gaming bedroom setup idea
Your small bedroom can also be a bedroom, a gaming room, and a podcasting room. Minimum noise insulation and controlled light is everything this use had in mind when creating one at home. This room also benefits from beautiful hardwood floors. Make sure to check out office chairs for hardwood floors to keep them in a mint condition.
51. Pinterest-worthy star-themed gamer's room
A lot has gone into the preparation of this room rather than into the actual gaming setup. However, the final results are impressive as the project looks unique. This suits a room with at least a window for some natural light. The white-black contrast of this room is seen in the color of its walls, carpets, and of its gaming chair, and gaming desk. While you can choose other color combinations, they rarely have the same appeal as black-and-white-themed ultimate gaming rooms.
52. L-shaped gaming setup decor
Simple, elegant, and highly illuminated, this gaming room looks like a good idea when you want a clean setup for gaming. It features a few display shelves as well, but an elegant circle paint job makes it stand out even more.
53. Fortnite gaming room setup idea
Fortnite gaming room ideas start here. This setup emphasizes a large projector and large speakers. It also features one of the most elegant gaming chairs with a mid-century office design.
54. Elegant wooden gaming setup room decor
Hardwood floors and a hardwood desk make this setup an ideal option for when you want that timeless look. Even the vintage desk lamp sits on a wooden base. The speakers' headset stand is also a must-have for such a timeless setup.
55. Gaming room ideas with LED lights
Fo some reason, this setup doesn't look too aggressive on the eyes, which is often the case with multiple LEDs or multiple lights gaming rooms. It features elegant white shelves, a white desk, and a white TV stand. The guitars on the wall are a nice touch if you're into rock as well.
56. Ergonomic gaming setup decor
A Sayl gaming chair and a curved display make this setup ergonomic. There's a comfortable gaming armchair in there as well. Nanoleaf LEDs elevate the setup further.
57. Gaming office ideas
A gaming office might be a bit difficult to pull off. You can separate the office area from the gaming area if you want to work and play in the same place. This 2-level design is ideal for when you want to work at home and to play in the same place. It comes equipped with a hammock and a lounge space for you to relax in as well. Such setups are ideal when you have space and money to build them from scratch in your backyard.
58. Gaming room accessories to fill space
This famous gaming room idea comes with all types of accessories. For some, it's taken to the extreme while others will consider its wall and even the ceiling of the room quite impressive. It can be a good idea when it comes to sparing no money to pursue your passion.
Checklist Ideas for your first gaming room
Whenever you want to recreate these gaming rooms at home, the design of the walls and the size of the room are a good place to start.
The color of the walls can be matched with the color of your desk. Contrasting colors tend to work the best. While you might be put off by the idea of painting your room, this can be one of the most inexpensive interventions you have to create the cool gaming bedroom you've always dreamed about.
Small rooms require a bit of creativity. Floating shelves are ideal if you want to have a bit of storage and if you don't have the floor space for all of your gaming accessories and collectibles.
SInce you'll be sitting at the desk frequently, it's one of the most important purchases for your gaming room. Even if you only play console games, you'd still need a gaming desk to easily manage your online account from a computer.
One or multiple chairs are crucial in a gaming room. As seen from the ideas listed above, gaming rooms often feature multiple types of chairs that offer a different sitting position and a bit more variation.
A gaming console is a must-have when it comes to the ultimate gaming room. A console can be used together with a gaming PC for the ultimate multi-platform gaming.
A gaming PC with RGB lights is seen in many video game bedrooms. The ideas listed above include different types of PCs for you to use as inspiration.
Gaming speakers are a must for a good audio experience. Gaming headphones might also be needed for a private gaming experience.
You can easily consider multiple types of RGB lights for your gaming room. A good setup often thinks about how these lights look when put together. Gamers who don't like light strips might alternatively consider lamps and making the most of natural sources of light.
Shelves and drawers can help you stay organized. There are plenty of options to choose from. Most of them are mostly appreciated when it comes to dusting which is considerably easier when everything is tucked away.