You won't believe the following funny office chairs exist. We've seen our share of crazy office chairs here but we've never gathered them in one place for the world to see. This list consists of unusual office chairs that might be a bit too difficult to use every day, even if some of them can work if you have patience and the right mindest.
17. Pipe Chair
Made form industrial pipes, this chair takes the unusual steampunk design to the next level. Crazy office chairs come and go but one with wooden backrests and seatpans are not going to be a common solution to reduce back pain.
16. Heart chair
Strange chairs aren't always easy to imagine. But did you know you can work in an office chair that looks like a heart? We don't know the type of business that would accept it, but there are plenty of buyers as it seems today.
15. The mushroom stool
Stools come in all shapes and sizes. But Don Chadwick designed this mushroom stool that can be used at both ends equally. It's not a unique office chair that you wouldn't use every day necessarily as it can be a solution for short periods of sitting.
14. The spun chair
Who knew Herman Miller can make strange chairs? This weird chair is both a spun chair and a stool. It can break the ice at a party or at any get-together.
13. Hand chair
Funny chairs shaped like a hand are truly popular. If you think these are unusual just check out YouTube to see how many of them are used all over the house and especially in front of a camera.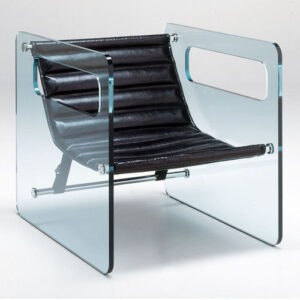 12. Glass chair
Crazy office chairs don't get any weirder than this. Uniquely designed, this glass chair looks more like an art exhibit than a chair you can buy. Still, you can buy it if you have a few thousand dollars you don't need.
11. Ball chair
Sitting on a ball is old news. Glueing a ball to a chair is something that might spark your interest for funny computer chairs. You can find these almost everywhere.
10. Wooden chair
This could turn out to be an interesting chair if you have the muscle power to move it around. Such unusual desk chairs were the norm a few decades ago.
9. Vibrating chair
Vibroluxe create this vibrating chair that sends music vibrations and healing frequencies to your body. We don't know if it works yet but you can help it go mainstream by supporting it on Kickstarter.
8. Glow in the dark gaming chair
This weird gaming chair is said to glow in the dark. You can even order a custom one yourself. The good news is you can always find it in your room during the night.
7. Metal chair
Tired of chairs that fall apart after a few months? There's now an all-metal office chair you can weirdly order at home. It will probably outlast all of us.
6. Chair with ball
This funny chair comes with a ball you can use as a leg rest or which you can place on the chair itself. Funny or not, this unusual design is quite expensive and demand is said to be high.
5. Octopus chair
Unusual desk chairs such as the octopus chair made the news with their daring designs. This is actually a designer chair. You can even find its alternative rhino chair or elephant chair by Maximo Riera.
4. Satchel chair
Whenever you want to work outside you can bring your satchel chair with you. SatchelBord is the first chair that allows you the ultimate public transport freedom as well as you don't need to look for a spare seat when traveling with it on your shoulder.
3. Kneeling chair
Kneeling chairs might not seem strange to those using them, but they certainly appear that way to people who've never seen them. You can buy these in almost any department store now.
2. Swing seat
The idea of a swinging office chair has now been put on paper. The swing seat is the ideal sitting solution if you simply can't stay still. It promotes swinging left and right to prevent long periods of still sitting.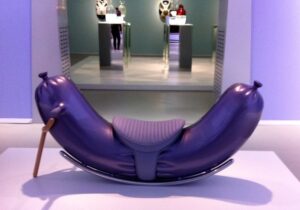 The rocking hot dog
This atypical office chair also promotes swinging, but on a hot dog.