The best 2 person desk needs to accommodate a couple of users comfortable. It requires more than 50 inches in width and it sometimes longer than 70 inches. Made from hardwood or plywood or other materials, these desks also need to offer higher weight capacity.
It is believed that a two person desk can only be custom-made. But after a considerable amount of research, reading opinions and testing out various desk materials myself, I've settled on the following designs.
Two person desks ranked by practicality
Given these double workstations can be useful both at the office and at home, it's worth having a look as to which of them fits your space the best. Without further introduction, here are the desks.
Nexera Liber-T 3 Piece Office Set
The 2 person workstation combines simplicity with practicality. As visible from the pictures, it's a desk that comes with a central storage system which creates at least some separation between the users, which is always welcomed.
Apart from keeping the two users at a distance, it also acts as a storage area. Both users can store their files and office supplies in the drawers with metal slides.
The desk is lightweight and without too much muscle power, it can be assembled without extra help, even if Amazon's assembly service could be available in your area. Made from MDF materials and particleboard, the desk is also easy to clean. Given users don't spill hot drinks on it, dusting the desk or simply maintaining it with a good cleaner is easy.
The Two person desk comes with contrasting colors for the drawers. It looks fantastic as it accentuates certain features of the workstation. But couples of the two users at the desk can also purchase it in all-white, which also looks minimalistic.
Another considerable advantage over other similar furniture pieces is its modular construction. Practically, the desk can easily be mixed and matched with other desks, and those planning out entire office spaces can rely on it as well as home users. You can check it out here on Amazon!
Dimensions
Materials
Storage
7′ 9″ X 3'10"
Particleboard

MDF

2 drawers
Barhe Computer Desk Study Desk
Barhe's 2 person computer desk has users sitting in front of each other. If this is something your office setup allows, it could be one of the right choices as the quality of the desk is as good as expected. A rugged top and robust legs make it very durable. It remains a matter of fit for most users. You need space both in front and in the back for both users and their chairs unlike with computer desks where users sit next to each other.
With a maximum load of 30kg (66lbs), the desk is also quite supportive. It holds one or two monitors and it may also offer just enough space for those working with files, documents, books, and photos. When work is done, all of these physical goods can be stored underneath the desk, where there's a special storage shelf. This shelf can be removed or not even assembled for those with long legs who need more space.
Made with a 72cm height, the desk is right in line with the height of most other desks. It features a laminated MDF table top which makes it very useful even in the office. Easy to clean, scratch-resistant, and water-resistant, it becomes one of the must-haves when it comes to durability.
The legs are made out of metal. This makes these 2 person desks durable but it also adds a bit of weight to the table. However, I think they're smart designs with their rounded edges which smoothly move across carpeted surfaces, making it easier to move. You can check it out here on Amazon!
Dimensions
Materials
Storage
120 X 120cm X 72cm
MDF

Metal

1 shelf
Ikea Desk Linnmon
Sometimes, the most efficient solutions are those which are simple. The two person desk Ikea makes is available in all-white, all-black, and white-blue colors, it looks very simple and clean. At a length of over 78 inches, it offers space and nothing more for 2 users.
I've said it before, many users appreciate their offices much more when they assemble their setups themselves. Luckily, the Linnmon doesn't require too much effort. Each user can assemble the desk using the pre-drilled holes. The legs also have some height adjustability. Since no floor is perfect, it can help the user to keep the desk level.
As an interesting 2 person computer desk for home office choice, it's also highly affordable. Sure, there's no storage space but Linnmon is compatible with other Ikea storage options such as their vertical drawers' unit.
What I also like about the setup is that it features an extra 5th leg which is placed somewhere in the middle just to add stability to the table. Gladly, it supports both people leaning against the tabletop. Easy to clean with a cloth, the desk is ready for action and it's already a big hit in the gaming desk fan community. You can check it out here on Amazon!
Dimensions
Materials
Storage
78 3/4 " X 23 5/8 " X 29 1/8 "
Fiberboard

Particleboard

Steel

Polypropylene

No
Balt Productive Classroom Furniture
The two person computer desk home office setup is inspired by classrooms. But it's one of the most complex options on this list. It offers storage options only seen in 2 person l shaped desks. With a length of 72 inches, it offers dual user support, which is most important.
It features 2 keyboard trays to keep its desk top clutter-free. But most importantly, it features locking cabinets. Users can lock up their computers, laptops, or files. It one of the few desks which include such a storage option, surprisingly.
Made from PVC, the desk also features metal legs. The workstation is also practical for those using desktop computer monitors which come with cables. With 2 pre-drilled cable holes, it allows quick computer routing.
The only drawback of the workstation is that it takes about an hour to assemble. Its assembly instructions aren't the greatest and you need to lay out all the pieces which need to be put together before beginning assembly to make your life easier. Standorsit.com recommends preparing a good screwdriver before the assembly process. For more details, you can check it out on Amazon!
| | | |
| --- | --- | --- |
| Dimensions | Materials | Storage |
| 43.3 X 23.6 X 29.1in | MDF | No |
Mecor Large MDF Computer Office Desk PC Laptop
The office desk is not the largest and this is why it's only recommended for laptop users. It would be difficult to fit 2 computers on the desk at a length of 43 inches. But users who work on notebooks are among those best suited for its simple setup. It also works in locations where the users rarely work together as well, such as at home with 2 kids or at work where employees are only relying on laptop work.
Made with an MDF boar desktop, it offers plenty of support as there's an actual frame underneath it. Together with the rugged metal legs, the desktop is one of the rugged options which hold up to 150lbs. Given it's also the smallest on the list, it doesn't need to hold more weight.
Similar to a computer table, the desk lacks storage options and a desktop in other colors. But it aims to save space and to offer a simple design. For these 2 purposes, it's more than needed. You can check it out here on Amazon!
| | | |
| --- | --- | --- |
| Dimensions | Materials | Storage |
| 24 x 72 x 29 inches | PVC | Yes |
Jonti-Craft 3488JC Enterprise Double Computer Desk
The kids' Two person computer desk is primarily made for those without too much space for their children. If their bedroom is not roomy, finding a desk can be a nightmare. As a parent, you know that if you have children they often fight on who gets to sit at a computer. This setup fixes that.
I'll have to admit the desk doesn't look as much at first, but when you dive into the details, you see why it's special. To begin with, it uses dowel pin construction. This means energetic kids won't be able to weaken their joints in time.
Then, the entire desk is placed on casters. Easy to move around the house, it can be one of the most practical dual desk setups for the little ones. The computer desk might be used for writing, but it comes with an elevated platform to hold 2 monitors.
Its main top is where kids place their keyboards. Given most kids are now studying at home until these events unfold, it can simulate a classroom environment away from school.
Made with ultra-violet acrylic coating, the 2 person desk is also made to last. It doesn't yellow or stains in time as other similar materials and it can offer something to rely on which can easily be sold online once the kids have left the house. You can check it out on Amazon!
The chairs in the picture are not included, but you can check them out on Amazon!
| | | |
| --- | --- | --- |
| Dimensions | Materials | Storage |
| 25.5 x 48 x 24 inches | Plywood | No |
Bush Business Furniture WC94472 Series A
The Series A desk comes in 4 lengths. Its longest version is perfect for 2 users and it can be one of the most practical choices in its class. It stands out as a desk which is made for easy access, similar to those used in an office. It can certainly work at home as well, especially as it comes in multiple finishing options.
The table top comes in cherry, birch, and oak finish. Pewter and slate colors are going to be better suited for those who like minimalistic neutral setups and colors. Made with a thermally laminate finish, the table allows long-term use without too many scratches. It also protects the materials from staining.
There's a wire management system integrated into the table top. It works for both users as its placed right in the middle of the computer desk. With added cable channels underneath the table top, it also keeps things organized.
Its modular design also means Bush offers storage options (sold separately). The options include a computer desk hutch or a mobile cabinet. If you need to clear the 2 keyboards (if you're using a desktop computer and not a laptop), you can also order 2 keyboard trays for the desk. Configuration options are numerous here.
Made in the USA, the desk meets ANSI/BIFMA quality test standards. The desk also benefits from all-round finishing. This means it can be placed in any position, even away from walls. You can check it out on Amazon!
| | | |
| --- | --- | --- |
| Dimensions | Materials | Storage |
| 71.5 x 26.8 x 29.8 inches | Wood | Only as extra |
Bush Business Furniture 400 Series
If you need a commercial desk that is ready for action even with a 4-hours work desk, the 400 series from the American manufacturer can be a top choice. A 2 person desk home office can benefit from the setup as it's very easy to assemble.
Featuring popular laminate finish, the desk comes to resist the occasional tea or coffee spill. Its edges are also impact-resistant for when users bump into the desk by accident. But they do not impact resistance against hard surfaces.
You can also purchase it with 2 practical chairs which completes your entire setup. I also think these chairs are some of the most clever designs seen in this price range. Placed on casters, they combine the look of the classic chair with the functionality of a computer desk chair and they feature a high 275lbs weight capacity.
The entire setup is made for durability. Even the legs of the table are metal-made. With powder coat finish, the table offers one of the most interesting options for those who need something closer to commercial computer desks for added durability. You can check it out here on Amazon!
| | | |
| --- | --- | --- |
| Dimensions | Materials | Storage |
| 71 x 23.4 x 32.9 inches | Laminated wood | No |
S Standup Stand Up Desk
Standing desks have already been discussed in detail on standorsit.com. However, owning one for home or office is going to change the way work is done. I've even seen it used as a 2 person receptionist desk since it allows receptionists to stand.
Made with a long 72" length, it offers plenty of workspaces. It even features cable management holes for 2 monitors at the edges of the desk. I'd be careful with cables when elevating the desk. This is why I think it works better for laptops which don't require a power cable at all times.
The elevation system of the desk is manual. There's a lever you need to rotate to raise the desk to 42.5" or to lower it down to a minimum of 30". It can be a durable alternative to electric motor-based height adjustments which simply break-in time.
With a weight capacity of up to 150lbs, it won't work for heavy printers. But it can work for 2 monitors and 2 computers. Another advantage is it sits on casters. Large rooms where users can move around can benefit from this system the most.
In terms of practicality, it also comes with a unique tilting system. The desktop flips vertically to save storage space when not in use. It's a clever design for anyone limited on storage space. You can check it out here on Amazon!
Dimensions
Materials
Storage
71 x 23.6 x 45.2 inches
Wood

Steel

No
Utmost Furniture Two Persons Modern Executive Office Workstation
This large workstation stands out with its high-quality finish. The desks for two are certainly useful at the office as they're too large for home use. Configuration options are endless and you can simply tell Utmost Furniture what you want to add to the setup to make it better-suited for your space.
While it comes in other colors as well, the current mahogany finish makes it a bit better than many expect in terms of neutral aesthetics. The L-shaped desk can also be joined with up to 3 other similar desks. Suitable for teams of workers, it helps group employees together.
With included lateral cabinets with quality drawer slides, there's sufficient storage room as well. Most users don't need to worry about the potential downsides of the 2 cabinets as they can be removed for those who need no storage. You can check it out here on Amazon!
| | | |
| --- | --- | --- |
| Dimensions | Materials | Storage |
| 84 X 142 x 29in | Melamine | Yes |
NBF Signature Series At Work Two Person Complete Compact Office
With a distinct espresso finish, the complete setup is one of the solutions made for the office. With the possibility of adding a small separator, the setup works for businesses that need cost-effective practical office furniture.
Made with sturdy steel legs, the desks offer hundreds of lbs maximum weight support. Highly efficient for those who need to work with heavy files, the desks also come with a good warranty. Storage space is ensured by a compact cabinet which also features a compact drawer to store pens, clips, etc.
The L-shaped desks can be put together from multiple angles, depending on what the 2 users need. The only drawback is they don't feature any casters and they need to be lifted off the ground when moved around. You can check it out here on Amazon!
Dimensions
Materials
Storage
120 X 60 X 42.05in
Laminate wood

Steel

Yes
Soges 2-Person Home Office Desk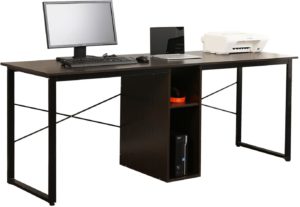 See as a practical two person computer desk for home office setup, the workstation defines simplicity. A thin desk top and small shelves are all that's needed to create a large workstation for couples or any other 2 users.
With a length of over 78 inches, it represents one of the longest workstations in this price range and as a result, there's even room for printers alongside the two monitors. With 2 storage cubes in the middle of the desk, it also keeps small computers or files away from the desk top.
Made from particle wood, the desk is only available on black at the moment. It uses an X-style frame to add structure and to reduce wobbling, which can be an efficient design to those who write or type at the desk. You can check it out here on Amazon!
Dimensions
Materials
Storage
78.7 x 23.6 x 30.1in
Particle wood

Steel

Yes
Dewel Two Person Computer Desk
Made with an original design, the office desk for two offers storage space. Both users can store their personal belongings and since the storage shelves are quite low, they can also hold computers which keeps the desk top clear from monitors.
Cable management systems are also added to keep the desk free from clutter further. A small drawer is also practical with its central-console placement. Made with a length of over 80 inches, it's also one of the longest desks on the list. It features one of the leading options in terms of available workspace.
Made with 0.8in melamine, the 2 person desk has a sturdy profile. The central console or storage space also adds support in this key area and it makes it one of the 2 person desk small spaces could use for durability and added storage options. You can check it out here on Amazon!
Dimensions
Materials
Storage
85.37 X 23.6 X 29.5in
Melamine

Steel

Yes
Final considerations on 2 person desks
All of these desks can be assembled without professional help. Desks for two person offices don't need to be too complicated as most tend to gather dust when too cluttered.
When used at home, these desks allow most users to use 2, 3, and even 4 monitors for a complete setup. But both users now have storage options as well, as shown with some of the examples above.
Taking care of such a desk is not too complicated. However, most people should take their maximum load capacity seriously. This is particularly important when moving the desk. The tension from the raised sides can damage the middle of the desk top as its longer than on smaller desks.
Ideally, the top should only be placed on the legs right in the position where the desk is going to be used to eliminate the risk of damaging or even breaking MDF or particleboard tops. Otherwise, their use is no different from single-person desks. All of them can be cleaned with a damp cloth to look as new for a long time.