Bush Furniture's Cabot L is the best dual monitor computer desk for home use. The Walker L Edison is the best for office use given its simple design.
These are the best dual monitor computer desks according to users' votes and sales. But there are few other setups I want to include on the list.
Most of these are primarily made for the home office space. Made with different materials such as solid wood, plastic, polycarbonate or even glass, they can be particularly useful to anyone who has to work with 2 or more monitors.
The problem with most compact desks is they don't support a dual monitor setup. But almost everybody needs the space for either an extra monitor, a laptop next to a monitor or simply for office supplies.
As a result, such a desk is longer, larger or even L-shaped to accommodate more goods. Since the 2 monitors can increase in size over time, depending on the work tasks, its highly advisable to choose an even larger desk to have the space to accommodate small and large monitors both under and over the 20" mark.
Bush Furniture Cabot L Shaped Computer Desk
This large computer desk is made from pure wood and it uses glass insertions to elevate its design. Among the most interesting in the home desk market, it certainly fits any corner of the house.
Its harvest cherry finishing is very popular. But minimalism fans are going to find its white and its espresso oak alternatives even better. With drawers and storage space for office supplies, it also helps keep things organizes.
With 24 inches on the right and 20 inches on the left, the desk works for a dual or triple monitor setup. The longer section to the right can be the main workspace area and the left side can be used with a backup monitor. Anyone looking to use large monitors can also consider this desk.
Made with solid wood, it stands out with its classy appeal. But if you don't have matching furniture at home, it's going to look out of place. At the same time, it's worth considering at least matching its color to the color of your furniture.
Scratch-resistant desktop with 200lbs load capacity is used to keep it practical for everyday use. It supports the weight of heavy monitors and even of a regular printer. However, even as the surface is scratch-resistant, I'd do the best to protect it in the first place.
Made with a fluted glass door, the desk looks extremely stylish. But as I was discussing it with a friend, it mainly works for anyone without kids as they can harm themselves in such glass surfaces. Get it here on Amazon.
Pros
Stylish wooden construction
Made with an L-shape
Includes storage space
Cons
Only matches classy furniture
Tribesigns 55 Inches Computer Desk
With a 55" length and a width of 23.7", the desk is very rugged. With a simple design, it works for both home and office use but most importantly, it easily holds 2 or 3 monitors. Anyone into a photo or video editing is going to find its simple setup appealing.
With 1.18" desktop with 500lbs weight capacity, it's on the heavier side of computer desks. It doesn't stand out as a design made for those who like to move their desk around the home. But its heavy desktop also means it can handle larger weights than the average alternative.
Heavy-duty metal legs hold the thick desktop in place. While they're robust, these metal legs also look very elegant. Made with all-black finishing, the desktop is one of the most interesting options in its class for anyone who pairs wooden-metal furniture in their home. But I also think it looks very good in any room due to this combination.
Premium cherry finish or an all-black desktop finish is the 2 options in terms of looks. Without a doubt, both of these looks very good in the conditions in which dual monitor desks are no particularly beautiful today. Get it here on Amazon.
Pros
Made with solid materials
Very high weight capacity
Elegant and timeless design
Cons
Chelmsford Desk
I always crave more simple desks to have around the house as they turn into tables in some rooms. The Chelmsford Desk is one such option that I've seen used as a desk and even as a table to hold plants and decorative objects.
With a length of 64 inches, it's quite long. If you're considering it for home or office use, make sure you measure your space properly. Not many people realize just how large this desk is. But with a considerable top, you can easily place 2 large monitors on it. You can have your desk ready for work even with 2 chairs as a dual setup.
Natural, espresso and white colors are available with this desk. Furthermore, it can be a desk that might also suit those who love DIY projects. Made with a metal base, it's also fully assembled in minutes.
Supporting up to 2 people sitting side by side, it's the oversized desk on this list. It can also be used by those who work with plans or large prints such as architects, photographers, students or researchers. Get it here on Amazon.
Pros
Made with an oversized countertop
Manufactured wood available in 3 colors
Sits on a sturdy metal base
Cons
Walker Edison L Shaped Glass Computer Desk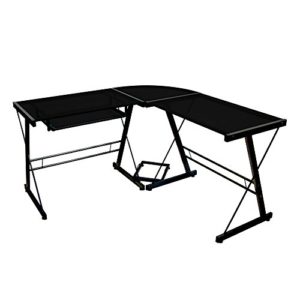 This elegant computer desk certainly stands out above the rest in terms of materials. It represents one of the most interesting designs for those tired of the same old wooden and polycarbonate desktops. But when it comes to the ideal setup, I think it can even be improved further with the best desk lamps or with ambient lights.
Glass desktops make it look unique, but are they durable? I'd say the desk is very durable as I've seen it supports 2, 3 and even 4 monitors where one was a giant Versa display. Just because it uses glass, it doesn't make it any less of a desk.
Metal legs keep the desktop in place. They are among the thinnest in its class and from here, it completes the minimalistic approach to the aesthetics of the desk. But these thin legs are also suitable for anyone storing computers under the desk as there's plenty of room either to the left or to the right.
51" total desktop length makes it a top choice for spaced-out dual monitor setups. If you're the type of person who might add a few other monitors in time, this is the right choice to consider.
An included keyboard tray frees up space on the desktop as well. While it's not as long as some users would love for they keyboards, at least it clears it from the desk itself allowing for sufficient space for coffee or tea mugs during work or gaming sessions. Get it here on Amazon.
Pros
Made with see-through glass
Accommodates up to 4 monitors
Supports the addition of another desk
Cons
No built-in cable management systems
Tribesign Solid Wood Computer Desk
With 2cm board thickness and one of the most elegant wood grain finishes, the computer desk might be the most versatile for robustness and aesthetics. The wooden board is made to be easy to clean and it resists mild water damage. But this doesn't recommend it for wet cloth cleaning as it only offers minimal protection in case of water spills.
Made with metal legs, it offers one of the best options for durability and looks. These legs are angled and they differ from the classic 90-degree alternative. Most users might even find them more interesting based on the fact they're angled.
At 55 inches X 23.6 inches, the desk fits multiple monitors. It's wide and long compared to most of its alternatives. But the angled legs aren't bad either as they're entirely situated under the desktop limiting the space it needs.
Elegant metal legs with 29.5" height are about at the average height of modern desks. However, this can be raised to 2 inches with the adjustable foot pads if needed. One of the small issues here ios with the pads which could have been entirely made out of rubber for better hardwood protection. Get it here on Amazon.
Pros
Clear wood grain desktop
Long desktop surface
Made from pure pine
Cons
KingSo L Shaped Computer Desk
The practical desk is lightweight based on its 15mm particleboard construction. It's one of the larger desks on the list and it might be useful for those who need serious storage space apart from the ability to hold multiple monitors. It represents one of the clear options for corner office use as it's going to be too large to be used in the middle of a room or away from walls in general.
With a length of 35 inches to the left and 35 inches to the right, it offers sufficient storage space for two large monitors and even additional displays. Anyone looking to store one or multiple keyboards on the desk is also going to find it practical.
Made from 15mm particleboard, the desk is lightweight and durable. Its wooden finish makes it look modern and it might be one of the top options in red-brown and oak color. But the desk is also useful to those who need a solution to pair with classic hardwood floors. Unfortunately, the desk is not available in an all-white alternative.
Clear installation instructions with numbered parts make it very easy to assemble. You might be able to ask for Amazon assembly services help in your area if you don't have the time to assemble it yourself. However, putting it together is not too complicated as there are only 3 pieces that make up the desktop. Get it here on Amazon.
Pros
Made with 2 long desktops
Lightweight particleboard
Quick assembly
Cons
Unicco Electric Height Adjustable Standing Desk
As far as standing desks go, it seems most of the goods ones are very expensive. But this is not the case with Unicco's design which meets functionality and affordability criteria. Most importantly, the desk is an excellent 2-monitor setup choice and it comes with the height adjustability which has the potential to improve posture.
The tabletop comes with a size of 24" X 47.2" making it quite a large option given it won't hold a printer as a fixed-height desk. With such a large working area, the desk is highly suitable as the main desk either at the office or at home.
Easy assembly recommends it for those who haven't put one together before. The standing desk comes with metal legs that need to be assembled and connected to the tabletop together with the lifting motor.
4 height presets allow this desk to be used at various heights or even by various users. Each height can be saved in its internal memory and it's going to be accessed by its compact control panel with a digital display on its right side. Get it here on Amazon.
Pros
Affordable standing desk
Supports height presents
Available in multiple colors
Cons
Ivinta Reversible Black Gaming Desk
With an L-shaped design, the gaming desk is one of the largest in its class. Anyone who wants to play games in extra comfort is going to find its size just right. Measuring 57.9 inches to the left and 44.1 inches to the right, it's one of the complex setups which might even work with more displays when needed.
Made with P2 particleboard, the desk has the drawback of not being too classy. However, gaming desks are not made to be classy in general as they simply follow practicality.
With 110lbs weight capacity, it holds 2 to 5 monitors easily. It even comes with a dedicated keyboard tray. However, the short tray can't accommodate the mouse as well as it has to sit on the tabletop.
Made with steel legs, the desk is stable and easy to assemble. An Allen wrench is all that's needed to have it installed in a matter of minutes. The added legs only make it a bit more versatile on hardwood floors. Get it here on Amazon.
Pros
Made with 2 lightweight particle boards
One of the largest gaming setups
Quick to assemble
Cons
FDW Adjustable Height 32 Inches Steel Standing Desk Converter
FDW's design is valuable since it holds 2 monitors. Most standing desk converters can only hold one monitor which means it's not going to be the best choice for those who need multiple displays.
Shipped fully assembled, the standing desk if perfect for busy users. It doesn't require too much effort to install since its already pre-assembled. Those who simply want a small convertible standing desk can use it in minutes.
With 33lbs weight capacity, it's only going to work for monitors and keyboards. But among its alternatives in the converter's world, it's highly capable and a bit more versatile than the smaller designs
Its versatility can be seen with its portable construction. You can use it in the office and at home. You can even put it on a kitchen counter or dining room table due to its mobility. Anyone who loves working in different locations is going to find it most useful. Get it here on Amazon.
Pros
Supports 2 monitors
It can be used on any desk
Shipped fully assembled
Cons
Can't be used without an existing desk
Flexispot Electric Stand Up Desk Workstation
With a length 55" and width of 28", the standing desk is spacious and it represents one of the spacious options for all types of workers. Students and professionals are going to find it especially helpful in the conditions in which it also comes with a small electric motor.
Made with a height range adjustment between 28" and 47.6", the standing desk is suitable for users of various heights. But Flexispot's design is one that is known for its low height settings below the 30inch mark.
Allen wrench installation allows it to be one of the most versatile desks for quick installation. But at the same time, it is also a quick option for those ordering multiple desks for new office buildings. Get it here on Amazon.
Pros
Best for commercial use
Suitable for quick height adjustments
Available with silver and black frames
Cons
Not preset height adjustments
Coleshome L-Shaped Home Office Desk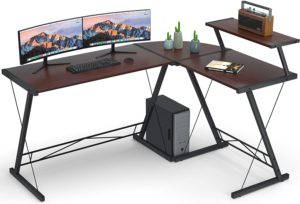 If you're looking for a minimal L-shaped desk, you might have a real issue of finding a good one. Coleshome's desk is one of the main options which doesn't look completely horrible. With an open concept design, it allows users to stay comfortable cross-legged under the desk.
With a minimalist design, it looks great with simple furniture. Anyone investing in minimalism concepts is going to be particularly interested in it. Without a keyboard tray, it represents a key option for computer work.
3-piece wooden designs are going to be a lot more popular in the future as things look today. Even the Coleshome's design is an interpretation of a very popular design that proves useful in small rooms.
Adjustable leg pads make it stable on hardwood floors. I'd away placing it directly on the tile just to avoid having the legs cold throughout the day if used at home. Get it here on Amazon.
Pros
Made with a minimalistic design
Designed with X-shaped legs
Included footrest
Cons
Needs simpler assembly instructions
UMBUZÖ Solid Reclaimed Wood Desk
If you're looking for a more industrial look, the Solid Reclaimed Wood Desk offers an impressive option for looks and durability. With a length of 48", the computer desk is on the larger side of the practical releases today.
Another advantage of having such a large computer desk made from wood is its large weight capacity. With up to 400lbs of weight, it holds monitors and other office essentials.
But one of the characteristics which I'm most attracted to with this desk is its solid wood construction with a lifetime warranty. Made in the USA, the product is among the most durable on the list. However, its rugged design is not something to easily pair with modern furniture. Get it here on Amazon.
Pros
Covered by a lifetime warranty
Made from reclaimed wood
No 2 decks are the same
Cons
Not the most modern design
Kinsal Blade Series Gaming Style Computer Desk
Made with thermoplastic particleboard, the computer desk is one of the best options for gamers. It offers total versatility and freedom of use for those who work with cables and all types of accessories such as controllers.
With a length of 47 inches, gamers can freely place 2 monitors on the desk. They also have the freedom of simply placing a heavier gaming laptop on the desk as it can handle the weight. Apart from its weight capacity, the desk looks very cool as well.
Cable management and headphones' accessories make it a complete setup. I've yet to see office desks which are as practical as this gaming desk and I think there's room for growth here even for desks made out of wood.
With quick assembly, the desk is also durable. Its adjustable legs are made from steel and they're likely to last years. I think it needs an equally-durable gaming desk with similar ABS polymer legs for hardwood floors. Get it here on Amazon.
Pros
It looks cool
Plenty of accessories and organizers
Includes LED lights
Cons
Mainly made for the younger crowd
ApexDesk Elite Series
The Apex standing desk comes in 60" and 71" versions. It represents one of the most durable options in the class of movable desks but it is certainly one of the largest. I'd advise you to measure your spare desk room twice before ordering it as its one of the largest.
But I love large desks as I use a laptop with a larger connected monitor myself. Without a doubt, this is one of the main options for those in the same shoes.
With a motor that adjusts up to 1.5" per second, I'd say it's also quite responsive. As many desks of this type, it also comes with up to 4 presets on its favorite heights. Those seeking the ultimate durability are those served best by this powerful motor and simple control panel.
With an MDF board, it's not particularly heavy as well. However, my advice is to look for a friend or family member for help during installation. It's what's going to allow you to keep all of its edges safe and your walls safer. Get it here on Amazon.
Pros
One of the largest in its class
Available in 60" and 71" versions
Made with a lightweight MDF board
Cons
Too large for small apartments
Tribesigns L-Shaped Computer Desk
This detachable design can be used as one L-shaped desk or as 2 separate desks. On side also includes tilt-table drawing board versatility. Perfect for artists, it's also one of the most unique designs in its class. 12 settings of up to 60 degrees in tilt make this versatile desks even a good reading desk.
On the other side, there's a long monitor raise which holds one or 2 monitors. Since the monitor is higher on this desk, it is also one of the main options for reduced neck pain and better posture. Anyone looking to record instrumental music is also going to find its ergonomics are highly practical.
I think it's one of the smartest designs on the market. But at the same time, I think it's one of the designs which is often confused with 2-users desks, which is not the case here as it only truly accommodates a single user.
At the moment, the desk is available in full black and woodgrain rustic brown. I think if it would also sell on white it would be more popular. However, if you check out what others think of it at the moment, you'll also find one of the best user satisfaction rates in the L-shaped office desks space. Get it here on Amazon.
Pros
Ingenious design
Works as one or as 2 desks
Perfect for artists and musicians
Cons
It takes up quite a bit of space
AuAg 55″ Enhanced Larger Gaming Desk
This 55" gaming desk comes with a cup holder and a headphones hook. As expected from true gaming desks, it comes with plenty of other accessories as well. For example, it features one of the best cable management systems in its class.
Anyone spending a lot of time at the desk can consider it as well. It's not made just for gamers. Instead, it might be one of the best options for those simply looking to have a cup of coffee nearby and plenty of works space for comprehensive projects. With plenty of options to choose from, it stands out with its accessories.
One of these included accessories is a full-length mousepad. It can be one of the leading options for those seeking the ultimate durability. Even those who want to ensure their desk is going to be safe form coffee or tea spills are going to appreciate its cover.
The feet of the desk is also slightly adjustable. If placed on uneven surfaces, these feet can be adjusted to create a flat desktop alignment. But it can also be placed on thick carpets where its adjustable feet prove efficient. Get it here on Amazon.
Pros
Made with hexagonal steel legs
Includes a large gaming surface with a mousepad
Made with a cup holder
Cons
No cable management holes
Ikea Linnmon White Desk Table
This is one of my favorites and also one of the most popular Ikea desk tables. Almost everybody has seen it at some point. But those who're not familiar with the Swedish brand need to know this table comes with a desk function and it's made entirely out of wood.
Those who want the best results in terms of durability with their desk purchase are not going to look away. With durable tabletop and durable wooden legs, it's likely to last for a decade. Its minimalistic design is also not going to go out of style anytime soon.
Its legs are designed to hold a computer or a printer. But for me, they're a bit too large due to their triangle shape. For me, this design could have been better if on one side Ikea would have simply put 2 legs just to get more legroom for myself. But even with these legs, co-working spaces around the world use this desk overwhelmingly and there are good reasons for them choosing such a durable design.
Assembly is easy, as expected from Ikea. You have all that's needed inside the pack, together with the printed instructions. Only a few screws are needed and if every part is laid out before installation, it's going to be ready in about 10-30 minutes. Get it here on Amazon.
Pros
Pre-drilled leg holes
Solid wood materials
Stores printers
Cons
Large triangle-shaped legs
Ikea Table with 10 Drawers
With a 200cm length, this double user desk is among Ikea's leading options for multiple monitors. With a classic design and top materials, it's one of the best in its class for overall versatility. From materials to design, it seems made to last and many love it.
Made with side drawers, it stores office essentials such as files, pens, notebooks, and even laptops. It might be a clever desk to keep all of these essentials dust-free and the desktop ready to be dusted every week without having to take everything off the tabletop.
Completely assembled from wood, it is among the best options for durability and style. It's not as if the manufacturer isn't known for these qualities, but unlike with the Desk Table, it is also very practical offering plenty of legroom.
Its open-back design allows sufficient legroom as well as versatility as to where its placed in a room. Anyone looking to place it away from walls can easily do so as it looks great. But at the same time, it can also be placed next to a wall since it looks impressive.
Made with a thick particleboard desktop, it does come with a support leg in the middle just to give it extra stability and support. But it's something to come with discomfort for the legs. It might as well be removed if the displays on the desktop are not too heavy.
In terms of drawbacks, its 200cm length might be an issue for small rooms. Those hoping to see some cable management holes are also going to be disappointed. With just a couple of small tweaks, the Ikea desk could have been much higher on the list even if it's not the most affordable option today.
Pros
Made with all-wood materials
Includes drawers
Installs next or away from the wall
Cons
No cable management accessories
Kealive L-Shaped Desk Corner Computer Desk
Made with an L shape, the desk provides one of the most durable options for those seeking such corner desks. It stands out with its support frame and stability, which isn't always the case with such designs. Furthermore, it also represents one of the top options for those seeking a lightweight desk below the 50lbs weight mark.
With an L-shaped design, the desk can be installed in a corner. But it can also be placed with its back towards a room since it comes with a stable frame. One of its drawbacks is that it can't be separated in 2 smaller desks.
Made with scratch-resistant wood, the desk looks great even when used for gaming. If you want to ensure it does a good job for you then you'll need to keep it clean and free from hot cups of tea or coffee. As it's not made from solid wood, it's going to be affected by excessive heat and moisture.
Designed with an X-style support frame, the desk is among the most stable in its class. It represents a valuable design to anyone seeking to improve the overall stability of large desks without anchoring either to the wall or to the floor.
Made with round rubber legs, the desk is easy to transport. Most importantly, it has the best-in-class legs for keeping hardwood floors scratch-free. It's a shame that the same design is not followed by more desk manufacturers. Get it here on Amazon.
Pros
Made with a simple design
Fits corners
X-style frame stability
Cons
Lynslim 55″ Large Size L-Shaped Computer Desk
This rotating desk it unique. It rotates and offers one of the leading solutions for those seeking the ultimate versatility when working from home. It even allows simpler vacuuming since it collapses to a single desk. It handles up to 2 monitors or a setup with 1 monitor and 1 laptop easily.
With 55" to the left and 46 inches to the right, the desk is also a bit larger than most in its class. It represents a medium to the large desk which needs proper space inside small rooms. But the advantages are numerous with its overlapping design.
The added storage shelves help as well. They can be used for files, books, and other stationery. However, the shelves are bot tall enough to be used for computer storage. As a result, the desk mostly works for laptops. Furthermore, it comes with no cable management accessories or holes. If you want to use a desk lamp (check out the best desk lamps recommendations) you'll need to keep cables out of the way especially due to its overlapping design. Get it here on Amazon.
Pros
Adjustable overlapping design
Elegant in any office
Made with iron legs
Cons
Doesn't have a dedicated computer shelf
Final considerations
Choosing the best dual monitor computer desk is not going to be a fast process without knowing what to look for. Here are a few key points to keep in mind.
You need to measure the height, length, and depth of the desk and see if it fits your workspace. Desk dimensions are available in any product description. If the desk is L-shapes, you need to know it is measured to the left and the right, from the 90-degree corner.
The materials of a desk are crucial. They can make or break a purchase and you need to keep in mind the materials are what influence price the most. Hardwood materials are the most expensive. Lightweight alternatives are always more affordable but they can also be the least durable.
If you're planning a dual monitor setup, you also need to take into account the desk needs to hold their weight. In most cases, displays are quite lightweight. But if you also plan to add a printer or even to work with another person at the same desk, feel free to check product specifications for weight capacity measures in pure lbs force.
The style of the desk is also important. It needs to fit the overall furniture style of a room or an office. Modern desks and classic desks are made for different styles of furniture. However, there's nothing that can take away from the look of a room as a cheap desk which simply doesn't fit.
Those on a budget might also find a way around this style issue. For example, choosing another color might work. Even the cheapest desks are available in light and dark colors.
Choosing a desk computer desk for dual monitors is not easy. But the best setup can be chosen by comparison since there are so many great desks to choose from in their thousands.
I came up with a simple dual monitor desk comparison table to help you ensure you make the right choice. You can print it out and decide on the best computer desk yourself.
Desk name
Desk size in inches
Available space in inches
Materials
Years of warranty
Assembly
Example 1

Bush Furniture Cabot L Shaped Computer Desk

60in X 24IN
80in
Wood + glass
1
Furniture assembly – Amazon Home services or individual assembly