The best desk lamps have a temperature range between 2,700k and 6,500k. They cost between $19 and $200. LED technology is prominent on most of these lamps for desks.
In this post, we take a closer look at desk lamps with their advantage and drawbacks. Not all desks have the same design. They require different amounts of artificial light (jump to the end of the article to learn more about color range and brightness). The following lamps are chosen to suit all needs and there are a couple of new lamps added as a surprise for this year.
The best desk lamps – 40+ amazing lamps to consider
40 minimalistic desk lamps are selected according to their value for money. Most of them can be purchased without putting too much pressure on the buyer's budget. Here the best options.
BenQ e-Reading LED Desk Lamp
Finding a proven best lamp for desk work is never easy. BenQ's design stands out as it has adjustable color temperature and brightness. As you'll see at the end of this post, color temperature affects focus, learning, and even mood.
Furthermore, this desk lamp also features automatic ambient brightness adjustments. Depending on the light around the desk, it automatically adjusts light intensity for better vision. Adjustable and flick-free, BenQ's design might also be among the top contenders for the title of best lamp for studying.
At 1800 lux and a wide LED strip, the lamp is used to illuminate large desks. With an expected lifespan of 17 years, it might be a deal you can't overlook.
The only drawback of the desk lamp is that it's an unshaded design which might need to be pointed away to reduce glare.
Pros
Adjustable color temperature
Flicker-free for vision care
Auto-dimming mode
Cons
2. Dyson Lightcycle Desk Light
Just a year ago I had no idea Dyson made desk lights. It wasn't sure what to think about its high price until I saw one in action. As the Benq lamp above, it proves very difficult to go back after viewing this desk lamp and using it in all of its glory.
Its design is the next level and it's clearly something which resembled modern architecture and interior design with modern lines. It adjusts up and down, allowing users to enjoy its full brightness with different intensity levels.
But the biggest advantage of the lamp is its temperature adjustability. It adjusts between 2700 and 6500k which means this lamp can be used for studying, working, drawing, programming and other activities at the desk.
The LED light with 1120 lumen is directional with a 78 degrees beam angle. With 1194 lux, it also only needs 15.8W power.
But the smart desk lamp also comes with remote functionality. For example, you can use the Dyson app to adjust light intensity and sleep time. There's even a motion sensor which switches the light on when you are close to your desk.
Most importantly, it uses a 3-axis glide motion for extra adjustability. If you can adjust it up and down, the lamp also allows you to adjust it left to right without moving its base. These unique features place the lamp in a class of its own.
Other advanced features include local daylight calculations. It adjusts color temperature depending on exterior color temperature and brightness. With a CRI (color rendering index) of 90, it's as close as possible to natural daylight.
Another app-based function is the age-based light intensity. You enter your age and the lamp for desks automatically adjusts its intensity. A relax mode is also enabled to help you go to bed faster. Indeed, it's the most versatile desk lamp on the list. The lamp is guaranteed for 60 years.
Pros
Adjustable color temperature
USB-C connectivity
3-axis glide adjustability
Cons
Not the most affordable lamp for desks
3. Koncept AR3100-W-ORG-DSK Z-Bar
28 LEDs with 6.5W consumption comes with a color range between 3.500k and 4,500k. Dimming is supported and users love to make the most of its 3-piece construction to find just the right brightness and levels of control.
Made for those who love minimalism, the desk lamp stands out with its powerful designs which encompass simplicity.
While there's a power cable to connect, there are no buttons on the lamp. You simply touch the LED strip to turn the light on and off or to adjust the color temperature.
If you're not a fan of bulky bulbs, its LED strip design might be just the right option for you.
Pros
Minimalistic design
Made with a proximity sensor
Replaces bulky bulbs with LEDs
Cons
4. BenQ Screenbar Lite E-Reading Monitor Light
Another solid option is made by BenQ. The light attached to your laptop and it might be the portable solution you might take home after a long day at the office.
It features innovative and patented obtuse-angled projection to reduce glare on the screen. You can also adjust color temperature based on American standards.
Furthermore, the lamp also reads the light of its surrounding area making brightness adjustments when you need them the most.
Since it attaches to the laptop or to a monitor, it only illuminates the desk. Furthermore, many of its automatic settings can be overridden from the BenQ app, giving you plenty of room for custom illumination.
Pros
It attaches to laptops
Controllable from the BenQ app
It reduces monitor glare compared to similar designs
Cons
It doesn't include a stand
5. Eyocean Clamp Reading Light
This flexible gooseneck lamp is cheap and perfect for desks and even cubicles. It clamps to the top or to walls or the desk and it stays in place. No screws and no drilling are needed to have it installed. Most importantly, its light source suits various needs. 12 LEDs are used for cool light and 12 LEDs are used for warm light.
The role of these LEDs is to reduce eyestrain, something office workers may only dream about after 8 hours of staring at monitors. With USB powering, the lamp is portable, flexible and easy to install. Practically, it may be used anywhere on the desk.
Pros
Made with a flexible gooseneck design
Features cool and warm light
USB-powered design
Cons
If the clip-on is broken, the lamp can't be used
6. IKEA Ranarp
This lamp mounts easily and as a result, the desk works on is a general-purpose design. The sole exception applies to standing desks. Those sitting in corners may have access to a wall where the lamp is fixed and where it looks fantastic. With its vintage design, the lamp reminds of older times and classic desk setups.
It also includes an LED light bulb. But the biggest advantage when it comes to installation versatility is given by the clamp accessory. This allows the lamp to fixed on the shelf, on a higher point. With an on/off switch on the cable, the lamp adds light without too many complications.
Pros
Impressive classic design
Mounts on walls and shelves
Adds sufficient light on large desks
Cons
Needs drilling for wall installation
7. Phive LED Desk Lamp
The main advantage of this desk lamp is that it comes with adjustable light. Users have the freedom of choosing the 100% light brightness or dim down to 15% according to the amount of light needed on the desk.
It attaches directly to the desk and its ready to be installed with no tools. Many desks are known for their limited space and this attachment system is one of the simplest options to add a lamp without requiring too much space. It may even be adjusted to light the keyboard or the writing area which further simplifies its use.
Pros
Made with adjustable brightness
Guaranteed 50.000 hours of LED light
Made with a durable metal body
Cons
Damages wooden desktops when overtightened
8. Fugetek 27 LED Desk Office Lamp
This elegant light impresses with its tech integration and with its design. It charges directly from a smartphone or a laptop. It doesn't feature the most powerful light but it certainly represents an option for those who want various brightness settings.
The manufacturer included these settings into various profiles. This is why the lamp comes with modes such as reading, study, relax or sleep. These modes change the brightness of the lamp which is perfect for those who don't want to disturb their office coworkers.
Pros
Made with smartphone charging
Includes multi-brightness modes
Comes with a 1-hour timer
Cons
9. Kedsum 7W Dimmable LED Desk Lamp
This multi-clip lamp can he hanged anywhere around the desk. It uses a simple clamp mechanism to fix it in place. At the same time, it also sits freely on the clamp mechanism on the desk. This makes it one of the most versatile desk lamps for the money as it can be placed anywhere around the desk.
There are 3 levels of brightness to consider with this lamp. Some may even consider installing in on the wall. Its flexible neck allows this lamp to be installed anywhere around the desk. With 75% less energy consumption, the lamp is one of the best for eco-friendly use, a matter which only gets more important with future desk lamps.
Pros
500K color temperature
Based on LED light bulbs
Installs on the anywhere on the desk or above it
Cons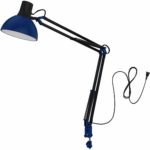 10. ToJane Swing Arm Desk Lamp
This spring-balanced desk lamp is one of the classic designs for office or home desks. It represents a viable option for those seeking maximum height adjustability. At a height of 31", it represents one of the viable options for those who like a higher light source, similar to the light which would be coming from the ceiling.
Installed directly on the desk, the lamp is also colorful. It is available in blue, red, yellow, and black. Furthermore, it is one of the most attractive designs for all-metal lamps. It even lasts longer than many flimsy plastic alternatives.
Pros
Made with a metal body
Attaches directly to the desk
Powered at the wall plug
Cons
Screws night to be very tight to stay in place
11. Zexmte Clamp Desk Lamp
As one of the lightest desk lamps for the price, this design is recommended for thin counters that can't hold heavy lamps. This is why the lamp represents one of the leading options for those who simply can't use a heavy lamp with a large light bulb.
3 light profiles can be relied on. Daylight, cool, and warm light are the options. The 3W LED light is suitable to shine a ray of light on a tight area of the desk, such as on the keyboard.
Pros
Lightweight design
Made with 3 light modes
Up to 25000 hours lifespan
Cons
12. Ikea Navlinge
The Ikea Navlinge easily clamps into place. With a warm white profile of 2700 Kelvin, it represents one of the most sustainable options for those who want the built-in LED source to offer constant non-flickering light.
When used for just 3 hours per day, the lights of this lamp are expected to last for 20 years. However, many desks require artificial light for up to 6 hours per day. This still means this potent desk lamp comes with a lifespan of 10 years.
Pros
Compact design
Based on 2700 Kelvin light
Last for one or two decades
Cons
13. Wanjiaone Study LED Lamp
This modern LED light comes with an included clock function. It also stores pens and pencils so that the desks is always clean and tidy. Furthermore, the desk lamp charges via USB ports so it doesn't require users asking for extension cords around the office.
It sits directly on the desk and for it to work for desk users need to have sufficient space on the desktop. It doesn't have the adjustability of a gooseneck design and this is why it sits closer to the typing area than most think.
Pros
Made with an included clock
Features a pencil holder
Connects via USB
Cons
No flexible gooseneck design
14. Innoka UL Cerified 180-Degree Desk Lamp
This flicker-free desk LED lamp is one of the practical choices which charges smartphones and tablets. It has one of the sturdiest profiles in its class. Other advantages include temperature display, clock and calendar functions.
Daylight, warm, and cool temperatures are the light modes of the desk lamp. With 180-degree adjustability, it represents a viable option for the busy worker who needs quick access to calendar data and to charge the work smartphone.
Pros
Includes a USB charging port
180-degree light adjustability
3 color temperatures
Cons
15. Omnilight LED Desk Lamp With Touch Control
This modern LED lamp suits those who value aesthetics above functionality. It's fluid lines remind of modern sculptures from French influence. Without any buttons, it only uses touch controls which means it is easier to dust than most other accessories around the desk.
With various dim levels, this desk lamp comes with 15 LED beads. It is as strong as the other desk lamps on the list, making for an inspired secondary light source at the office.
Pros
Includes multiple light effects
Minimalist design
Fashionable design
Cons
16. Xiaokoa LED Desk Lamp
Made with a USB charging cable, the modern lamp also comes with touch controls. It even includes an ambient light at the base of the lamp. This makes it a suitable choice for those who want a desk which attracts all eyes of the coworkers.
Pros
Made with a rounded design
Features a base ambient light
Temperature between 6.000-6500K
Cons
17. Black+Decker VLED USB Lamp
This small lamp is one of the most efficient designs in terms of energy consumption. Its manufacturer is known in the electronics world and the lamp doesn't disappoint. It even comes with a USB charging port so that all devices at work are easy to charge.
With a full light spectrum, it represents one of the most valuable options for adjustability. It is estimated that its LEDs resist up to 50.000 hours so no upgrade is needed for the lamp shortly.
Pros
Made by a top brand
Includes USB charging
Made with a flexible silicone neck
Cons
Doesn't support wireless charging
18. Pinsoon LED Desk Lamp
This wooden base lamp is perfect for desks with Ikea furniture. It is easily one of the classy designs which work well with wooden desktops. On the desk, it provides a flexible neck which directs the light where it's needed the most. It works with both LED light and with incandescent bulbs for extra light. A simple on/off switch is added on the flexible power cable.
Pros
Suitable for wooden desktops
Sits directly on the desk
Works with various light bulbs
Cons
Doesn't install on the cubicle walls
19. W-LITE 6W LED USB Reading Light Clip
This reading lamp has one of the best clamp systems to hang on the top of the desk. It stands out with its 6W power which is a bit higher than similarly-sized lamps. This is why it represents a top solution to rely on when it comes to extra directional light in the desk.
Its applications are vast and at the end of the day, it can be used in other situations. Workers can take it home and use it as a bedside reading lamp at the end of the day.
Pros
Features 360-degree adjustability
Made with a USB charger
Includes a 1-year warranty
Cons
Glossy materials reflect other lights
20. Newhouse Lighting Joe LED Clip On Lamp
As one of the most compacts LED lamps, it is suitable to install on laptops or monitors on the desk. Its no-nonsense approach lets it be installed and taken off as needed. Its durable clamp keeps it in place for the entire day. Since its made with LED lights, it doesn't overheat even when working extra hours. At the same time, it helps save energy, which can be important in some of the largest offices.
Pros
Made with a compact design
Features 400K color temperature
Only 5 inches in height
Cons
Not best for light spread
21. O'Bright LED Bankers Desk Lamp
With a distinct rotating lampshade, this lamp can be adjusted with a directional desk light. It features an elegant design based on long-life LED lights. It also features a built-in USB port with fast charging. It's suitable for the latest smartphones for quick charging. With 400 lumens brightness, it offers sufficient light for reading and writing, without being overly bright.
Pros
Made with an adjustable lampshade
Includes a USB charging port
Based on 400 lumens
Cons
Takes up a lot of desk space
22. Melunar Brass Desk Lamp
Vintage-style desk lamps are among the best for the largest desks. It represents a valuable design for those who already have an elegant office chair or for those who want to enjoy a classier lamp. At 40W, there's plenty of light coming out of the small lamp. Furthermore, being made from metal, it looks more expensive than it is.
Pros
Made with a vintage brass look
Based on 40W lights
Improves décor
Cons
23. Glade LED Desk Lamp with USB Charging Port
Made with a multi-function knob, the desk lamp is truly unique. It has a knowledge that is rotated for orientation and which is pressed to turn the light on and off. With 84 LEDs, it comes with a color temperature between 2700 and 5500K. A USB charging port is added for smartphones and tablets.
Pros
Made with 1000lux illumination at 40cm
Based on aluminum and ABS plastic
Includes cool and warm light
Cons
24. Voglee Novelty Cool DIY Desk Lamp
This quirky lamp may be an inspiration for a fun soul at the office. There's little room for fun at the deskand this lamp may open the gates for a different positive vibe. One of the best parts of this lamp is that its human-shaped frame may be angled and adjusted by height as needed. Regular incandescent or LED bulbs can be used with this impressive desktop desk lamp.
Pros
Based on a quirky design
Includes some adjustability options
Works with incandescent light bulbs
Cons
25. Lifeholder Table Lamp
This lamp may not be the first option for a desk but it certainly ads character and light. It can be placed on the desk or under it and since it doesn't come with directional light, it may only be used as a backup light to the office's ceiling light.
It uses E26 standard LED light bulbs and it sits on a modern wooden base. Furthermore, this base is where users find a front-facing USB port to charge their mobile devices. Those who value a bit more style will also like this lamp for other reasons, such as those which combine functionality with design. The lamp is switched on and off by pulling a small metal chain which makes this quirky design worth its money.
Pros
Includes a USB port
Uses E26 LED lights
Made with a solid wood base
Cons
Only useful for ambient light
26. Gymaoyi Mini Table Lamp
Another solid choice for a chic desk fit for a young woman is the Gymaoyi lamp. Small, inexpensive and particularly appealing in design, this small lamp can add character to space. It uses smaller E12 light bulbs and this means it only ads a small amount of light to the desk. But even so, it can be enough for many spaces where users only need to add a small amount of light. With a height of 14.9 inches, this lamp also comes with a touch system to turn it on or off.
Pros
Compact design
Suitable for chic desks
Features touch sensitivity
Cons
Only fits E12 light bulbs
27. CosmoLiving by Cosmopolitan
Industrial-style designs certainly fit the office space. This particular design from Cosmopolitan is suitable for desks, coworking spaces, and home offices. Made with iron with a bronze finish, this lamp also suits various types of attractive light bulbs. A vintage light bulb is included in the pack and similar options can be found online at decent prices.
Pros
Made with a bronze finish
Includes a vintage light bulb
Elevates the desk's design
Cons
Not for those who need a lot of light
28. Haitral Small Lamp
This lamp only comes with a height of 12.6 inches and it sits perfectly on the computer desk. It has a distinctly modern design with a solid wood base. This means it comes with a timeless appeal and it doesn't feel cheap even if it's available at lower rates compared to many other plastic alternatives.
Pros
Made with a wooden base
Includes a black shade
Compatible with E26 light bulbs
Cons
Replacement light bulbs are hard to find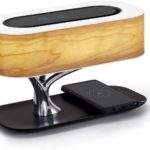 29. Masdio by Ampulla
Ampulla designed this lamp to sit next to the bed but it is certainly valuable at the office. This small lamp is one of the feature-packed options. It includes wireless charging capabilities where the smartphone simply sits on the lamp to charge. It also includes a Bluetooth speaker for those who can listen to radio or work music at the desk. But the lamp also includes modern touch controls to dim the light which makes it one of the complete solutions on this list. Its price reflects all of these functions as it is more expensive than its alternatives.
Pros
Includes wireless charging capabilities
Made with a Bluetooth speaker
The light intensity can be adjusted
Cons
Not the most affordable design
30. Lexon Mina
The Lexon Mina is probably the smallest lamp on this list. It fits in the palm. But it certainly works for busy offices where too many desk lights might be disturbing coworkers. This is the main reason why this impressive light can be placed anywhere on the desk, on the laptop, on nearby walls or even on the floor. It provides just sufficient light to brighten up space but it can also be paired with multiple other Minas for a better ambiance.
Pros
Charges via USB
Quirky ultra-compact design
Suitable for busy offices
Cons
Doesn't produce sufficient reading light
31. Sottae Gold Table Lamp
This ambient light also suits modern spaces, especially offices with an industrial look. Its rose gold finish matches various heating pipes around the office and it can integrate into modern spaces very well. Using E26 light bulbs, this lamp offers one of the most spectacular experiences for those looking to get a few compliments on their desks's space even if it doesn't provide too much directional light.
Pros
Suitable for modern offices
Made with a rose gold finish
Includes an E26 light bulb
Cons
32. Hanerdun Bright LED USB Lamp
Those with the smallest desks in the world might not have space for a large desk lamp. But everything is not lost when there are so many good USB lamps to choose from. The Hanerdun USB lamp connects to the laptop and adds just sufficient illumination to begin typing faster and with precision. With its 180-degree gooseneck illumination, the lamp is perfect for any type of laptop. However, it only illuminates while connected to a USB port.
Pros
Made with a gooseneck design
Requires no batteries
Made for small spaces
Cons
Only illuminates small spaces
33. Simple Designs Desk Lantern Lamp
This industrial design certainly gets compliments at the office. It uses a transparent shield which protects the light bulb which is not included in the pack. Any 40W T45 Edison bulb works with this lamp and it needs to be an attractive bulb to make it justice on aesthetics. It should ad sufficient light even on desks without sufficient natural light.
Pros
Made with an industrial design
Perfect for T45 Edison light bulbs
Taller than most lamps at 16.1 inches
Cons
No gooseneck adjustability
34. Neatfi XL 2,200 Lumens LED Task Lamp
This 24 Watts lamp attaches to the edge of the desktop. It is one of the longest strip-type lights which adds sufficient illumination for typing and writing. It is particularly useful to those who don't like lamps shining directly in their eyes. Instead, it can be directed below the eye level so that they only illuminate the hands, the keyboard or a notebook while writing. At a width of 20 inches, it offers a unique typing or writing experience.
Pros
Made with a flexible design
Features a width of 20 inches
Based on bright white LED light
Cons
No way to replace the light bulbs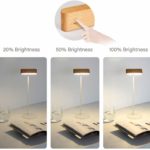 35. Yilaie LED Reading Light
With 3 levels of brightness and the capacity to rotate the light 360 degrees, this light is perfect for the quick work task at the desk. It comes with 3 light settings at 20%, 50%, and 100%. Its maximum illumination is suitable for writing or typing at the computer while its minimum illumination works as a non-intrusive ambient light.
Being battery powered, this lamp is also portable as it can be removed from its stand. It can be used as an alternative flashlight when working late at the office and when being the last one to go home, which doesn't happen as rare as we'd hope for.
Pros
Features wooden materials
Includes a 2550mAh battery
Made with an iron base
Cons
36. Yilaie Desk Lamp
Following the same design principles the manufacturer is known for, this LED lamp is modern and made from premium materials such as wood. It also offers a minimalistic alternative to the Ikea lamps and it suits any type of office as a result. Furthermore, this desk lamp is also one of the most respectable when it comes to clutter-free desks. The lamp also features an elegant on/off switch.
Pros
Removable light includes a battery
Made with 360-degree rotation
Offers a 6W light
Cons
Only lasts for 2 hours before recharging
37. Lighting Grady Traditional Desk Lamp
With a 5W lumens capacity, this desk lamp has a color profile of 3200K, which means it has a bright light. It's not the brightest light, but for a small spaces such as a compact desk, it does its job. Also including a black light shade, it works both as ambient light and as a practical typing light.
Pros
Made with metal
Includes an LED light
Tall at 18 inches
Cons
Takes up a lot of desk space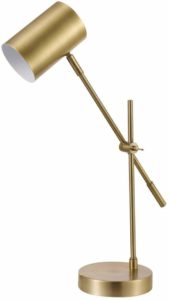 38. Novogratz x Globe Electric Pratt 20″ Desk/Table Lamp
Made with a simple metal design, the accent light comes with adjustable height and depth. It's suitable for those who want directional light anywhere on the desk. With a brass finish, it looks apart and it can easily be a versatile lamp. Suitable for corner desks, it can also be used on the regular desk not situated in desks close to windows which normally enjoy even more natural light.
Pros
Made with a brass finish
Designed with adjustable height
Works with simple furniture
Cons
39. Decoluce Searchlight Tripod Wood Floor Table Lamp
Placed underneath the desk or on the desk, this industrial lamp adds character. It might not be the best illumination solution but some people prefer a simple decorative object with only minimal light. In this situation, the wooden base industrial lamp serves its purposes well. Some may even associate it with the early Hollywood movie-making days and it gets a lot of attention around the office as a result.
Pros
Sits on the floor or the desk
Made with an industrial design
Similar to movie-set lamps
Cons
Smaller than it appears in pictures
40. Ikwuanfly LED Lamp
This 3-mode lamp is practical. It features studying, reading and relaxing modes which allow users to change the light intensity. It also comes with touch controls which give it an avant-garde profile. With an estimated 5.000 hours lifespan, the lamp is also durable.
Pros
Made with 3 illumination modes
Features touch controls
No glare due to the diffusion panel
Cons
Not more energy efficient than other LEDs
41. IdeaWorks Super Bright Portable Desk lamp
This desk lamp is battery-operated. It is very portable and suitable for spaces with multiple desks where it may even be used by multiple coworkers as needed. Its 18 LED comes with a bright directional light and they make the lamp a solution that resists down the years.
Pros
Made with a portable design
Powered by batteries
Available in black and white
Cons
Requires battery replacement
42. CO-Z Gold Desk Lamps with Marble Base
How many desk lamps are made with marble? Not many. But CO-Z made this lamp with a marble base. It can be one of the bold statements for office workers with a personality. It also works fine for those seeking the finer things in life and who might already rock an elegant desk as well.
Pros
Works with E26 light bulbs
Vintage-inspired design
Includes a marble base
Cons
43. Trade Cie Desk Lamp
This desk lamp is suitable for tight spaces where it ads character. Without a doubt, it represents a design that attracts a lot of attention. The interior of the light bulb mimics protons and it can be one of the few desk lamps used for relaxation. Taking a work break is easy with its mesmerizing light bulb. However, there's not much light to be considered for reading or writing with this lamp.
Pros
Suitable for office relaxation
Mimics protons
Compact size
Cons
44. Phive LED Desk Lamp Architect Clamp
Most office desk lamps are placed in the middle of the desk. Some are placed in the corner with corner desks. But this Phive LED desk lamp is awesome in the middle of the desk where there are two monitors for the workers to rely on. Sitting between these two monitors, it shines directly over the keyboard. It may be used by photo editors, video editors, coders, writers or any other professionals working with two or more monitors at the same time. Since its quite a large light, it also works for the best dual monitor computer desks with its extra illumination.
Pros
Suits large desks
Installs with no tools
High 20W capacity
Cons
______
2020 Update
______
I found a few more interesting desk lamps and I've decided to add them to my list.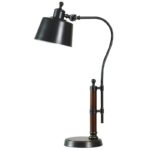 a. Hana 27″ Desk Lamp
The stability of this desk lamp is what attracted me in the first place. But I got a lot of compliments on it. Since I got it, a friend of mine took it as it looks very stylish. For what its worth, I'm planning to purchase it again.
With its rustic appeal, I think this works well on classic desks more than on modern desks. Anyway, if you really like the desk lamp and you already have a modern desk, its all-white version might be something to get away with.
Pros
Distinct timeless design
Made with a metal base
Perfect for classy offices
Cons
It might be too high for some desks at 27 inches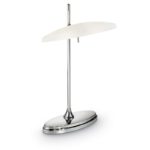 b. Middleburg 16.14″ Desk Lamp
This is the opposite of the previous classic lamp. It's a modern desk lamp which even has an avant-garde design, suitable for most desks either at the office or at home.
The combination of a metal base and a glass diffuser makes it a top choice for those who value aesthetics as well. For me, the days where I simply got deks lamps for the light are now over as I'm trying to have my own touch on my working area. With 28W maximum light bulb output, it works on most desks.
Pros
Excellent modern design
One of the rare glass diffuser releases
28W per bulb
Cons
If breaks immediately if it falls – not for cat owners
c. Orin 29″ Desk Lamp
A friend of mine once asked me if it's possible to only use a desk lamp without ambient lighting when working at home. He was worried about the extra light disturbing his kids while sleeping. Orin's design answers his question. It's large, but it produces 60W which makes it hard to match for illumination capacity.
Pros
Recommended for high illumination capacity
It takes 2 E26 light bulbs
The desk lamp looks minimalistic
Cons
Heavy as it has a marble-made base
d. Weston 26″ Desk Lamp
The metal-made desk lamp is another favorite. It is among the best based on its durability. Buts it's golden finish looks interesting as well. I'd also see it as versatile as it works on your work desk as well as on any other desk around the home. It's portable and you can move it from one place to another as needed. As far as light bulbs go, it works with standard E26's you can find in any department store.
Pros
Interesting golden finish
Designed with a 53in power cord
It adds a touch of style
Cons
A bit larger than other desks lamps on this list
How to choose the best desk lamp
To choose the best desktop lamp, you need to understand what it is and how the light if shines improves or even damages your vision. There are multiple types of light detailed below and ranked by color temperature.
Color temperature
The color temperature of light bulbs and LED lights are crucial when it comes to proper reading comfort. In general, they can be categorized and compared as follows.
| | |
| --- | --- |
| Temperature | Seen in |
| 1,700k | Flames, candle flames |
| 1,850k | Flames, sunset, sunrise |
| 2,700k up to 3,300k | Incandescent desktop lamps |
| 3,000k | Warm white, fluorescent lamps |
| 3,200k | Studio lamps |
| 3,350k | Photographic lamps |
| 4,000k | Cool white seen in fluorescent lamps |
| 5,000k | Horizon daylight, daylight white |
| 5,000k up to 5,500k | Daylight fluorescent lamps |
| 5,500k up to 6,000k | Daylight with the sun above the head |
| 6,200k | Xenon lamps |
| 6,500k | Overcast daylight |
| 6,500k up to 10,500k | LCD screen, CRT computer screen |
| 15,000k up to 27,000k | Clear blue sky |
Incandescent light
As its name suggests, incandescent light is inspired by the temperature of the light bulb. This means electricity heats up the tungsten filament to produce light. Of tungsten filament of around 2,700k has an equivalent temperature of over 2,000 degrees Celsius or 3,632 Fahrenheit.
Fluorescent and LED lights
The fluorescent light produces ultra-violet and blue light. Similar to LED lights, they convert light into different wavelengths. They're also very good at isolating a specific wavelength, which isn't possible with classic incandescent lights. As seen above, even the best lamp for desks can support adjustable hue.
What science says about color temperature, lights
When I first started investigating LED desktop lamps I was sure there was a correlation between their lights and the way I felt. But then, I struggled to put a finger on what the problem is.
Desk lamps don't emit ultraviolet radiation
Let's start with the positives. A desk lamp (even a desktop magnifying lamp) doesn't come with ultraviolet radiation. They pose no health risks at all. This has been proven in a study that also looked at different lamps.
Creativity is enhanced by warm light (around 6,000k)
A study was performed using student subjects, some of the users who rely on the best desk lamp led or incandescent, to read a lot.
Concentration is enhanced by cool light (4,500k – 6,000k)
The concentration is a bit different. Those who want to use reading desk lamps or study desk lamps are better off choosing the ones with a cool light. Unlike creativity, concentration is boosted after the 4500K mark.
Children learn better with more blue light
The previous findings are confirmed by another study. It shows that kids learn better with ambient illumination containing more blue light. Both attention and executive function skills have seen improvements with this type of light for the research's subjects.
How to make sense of this information
This information can simply be summarized in the following photo. The best desk lamp for eyes needs to be chosen according to the light bulb it comes with.
Realistically, most desktop lamps come with light between 2,700k and 5,000k. The lower this (Kelvin) number is, the warmer the light is. Warmer is to be interpreted as yellow here. The higher the number, the brighter the light gets. If for ambient light these numbers aren't as important, for desk lamps and the health of the eyes, the lamps need to be somewhere in-between.
Pro tip: choose a desk lamp that has the same color temperature as the ambient light around the room if you want the light to be linear.
FAQ
Where to buy desk lamp bulbs?
You can buy light bulbs for desk lamps nearly anywhere. Apart from the designs with built-in LED lights, you can find the right choices with the examples below.
Lohas 3W LED Light Bulb – best for low Kelvin at 2,700k
At 2,700k, this eco-friendly LED light bulb fits desk lamps with E26 compatibility. While the light is not dimmable, it offers good value for the money and it sits on the warmer side of the Kelvin spectrum.
T10 LED E26 Bulbs Daylight LED – best for high Kelvin at 4,000k
Another E26 option comes with these long light bulbs but with daylight illumination at 4,000k. At 360 lumen, it offers natural white light with a life expectancy of 25,000 hours.
AmazonBasics 60W Equivalent A19 light bulb – best for large desk lamps – up to 5,000k
The light bulb is available in 4 color temperature variations, from warm to bright white. It simulates daylight in the office space or even in the office room. The regular A19 bulb mostly fits floor lamps or large desk lamps and it can be a top option for those with vision problems who need the extra illumination.
Will the desk lamp fit my desk?
Most lamps above have a height of up to 18 inches. They should fit most desks and many of them are height-adjustable for extra functionality.
Which desk lamp is the cheapest?
The Kedsum 7W lamp is the cheapest. But all of the desk lamps above are also affordable.
Which desk lamp is more eco-friendly?
Made from wooden materials, the Pinson lamp is sustainable as it can be entirely recycled.
What desk lamp is best for the eyes?
The Fugetek 27 LED Desk Office Lamp is the best for the eyes. It comes with 3 lighting modes adaptable to various activities. Incandescent light lamps may also represent a more attractive alternative.
What is the best LED desk lamp?
The Eyocean Clamp Reading Light is the best-LED desk lamp.
How many lumens should a desk lamp have?
Up to 9 Watts, an LED desk lamp can have up to 500 lumens.
What is the best lighting for reading?
The Fugetek 27 LED Desk Office Lamp is the best lamp for reading as it features simple brightness adjustment modes.
Is a desk lamp necessary?
A desk lamp is only necessary for those who don't want to disturb workers around or for those who need extra illumination to type, write, or read.
What is the best desk lamp to buy?
The Eyocean Clamp Reading Light offers perfect ROI and plenty of adjustability given its affordability.
What is the best desk lamp for drawing?
The Phive LED Desk Lamp can be an excellent choice for paper-based on tablet drawing.
What is the best desk lamp for artists?
The ToJane Swing Arm Desk Lamp has been hailed as artistic in its design.
What is the best desk lamp for architect?
The Omnilight LED Desk Lamp With Touch Control is one of the artistic desk lamps inspired by modern architecture.
How tall is a desk lamp?
A desk lamp can be a few inches tall if USB-based but it can also be a few feet tall when made as decorative.
What is the best desk lamp for crafting?
A directional light such as the Ikea Ranarp can be the best lamp for crafting.
What is the best desk lamp for photo editing?
The Omnilight LED Desk Lamp can be an excellent choice for those into video editing or photo editing.
What is the best desk lamp for video calls?
The Zexmte Clamp Desk Lamp can be used as a directional light for quick video calls.
What is the best desk lamp for webcam?
The directional light of the ToJane Swing Arm Desk Lamp makes it an excellent choice for webacms.
What is the best desk lamp for college dorm?
The Kedsum 7W Dimmable LED Desk Lamp can be an excellent college dorm choice with its attachment base.
What is a LED desk lamp?
The Fugetek 27 LED Desk Office Lamp is an excellent modern LED desk lamp.
What is a gooseneck desk lamp?
A gooseneck lamp comes with an adjustable profile which supports directional light.
What is a non halogen desk lamp?
The Phive LED Desk Lamp proves a very popular design even without halogen lights.
Is it safe to leave a desk lamp on all night?
If the desk lamp is not heating up, such as the LED lamps, then it can be used for the entire night.
How much does a desk lamp weigh?
A desk lamp weighs at least 200 grams (7.05 ounce).
Final considerations
Finding the best desk lamp is now easier based on the ideas on this list. Most of these lamps are affordable and this is important for any user. The last thing workers want is an expensive lamp which is only used whenever there's not sufficient light around the desk. Made with various designs from classics to modern, these lamps can also be considered for their aesthetic value. Most of them also come with easily replaceable light bulbs or they already include long-lasting LED lights. Which is your favorite? Let us know below.