The best massage office chairs offer vibrating points in the backrest or the seat pan. They offer a minimum of 2 massage points to a maximum of 8 massage points, mainly based on vibration technologies and actioned through remote control.
Have you ever suffered from a stiff back or lower back pain while working at the desk? Massage chairs can be a simple relaxing solution to allows your muscle fibers to relax and to improve blood circulation, especially if you're seated for hours at a time.
The good news is office massage chairs are now more affordable. Just 10 years ago they were out of reach for the average desk worker. Today, they can cost as little as $100 and you can use them for a few years to work, relax, and to be healthier.
Types of massage chair zones
Not all massage chairs are made the same. Some are made as heated massage office chairs. Others come with simple massage functions also called 'points'. These massage points are circular rotating and vibrating
Lumbar massage is seen on most massaging office chairs. The massage points are only present in the lumbar areas which mean these are the cheapest office chairs with massage you can buy.
Back massage describes a massage function spread out through the entire backrest of the office chair. It massages both the lumbar area and the upper back.
Back, lumbar, and thighs massage
A full massage office chair also covers the things. Office chairs with an included massage function both in the backrest and in the seatpan are complex and typically the more expensive. However, the term 'office massage chair' is used in all of these 3 categories. You can easily find one of these types of massaging computer chairs in the following recommendations.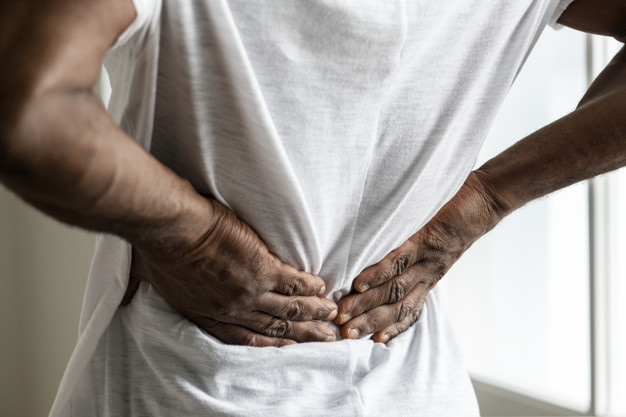 1. BestOffice Massage Desk Chair
First on our list is a popular massage office chair at a fair price. Not made by the big brands in the industry, this chair is still highly popular through its comfort and affordability.
It can be categorized as a lumbar massage office chair (it only massages your lumbar area). It allows you to sit back in a recline position (down to 125 degrees) for a deeper massage to relax as needed while working.
Fixed padded armrests are added to the chair for better comfort. These armrests aren't ergonomic but they do their job as you can lean your elbows eliminating upper back stiffness from long hours at the computer.
Pros
Made with a maximum load capacity of 250lbs
Based on class-3 gas lift height adjustments
360-degree swivel casters
Cons
Its armrests aren't height adjustable
2. Giantex Big and Tall Massage Chair
This Ginatex massage chair is very large as it's designed for heavy users. But it is used by various users since it comes with a full massage design that covers the upper back, the lower back, and the thighs.
It even features 6 massage functions or types of massage. This best massage office chair from Giantex massages by pulse, pressing, wave, automatic, or normal massage techniques in auto sessions between 15 and 60 minutes. You can also manually control these massage sessions yourself.
This office chair is also robust. It holds maximum weights of up to 400lbs which makes it ideal for just about any user and also one of the most durable office chairs as most give up under heavy weight sooner rather than later.
Pros
It massages the entire body
Controllable types of massage
Automated massage sessions of up to 60 minutes
Cons
Only available on black leather
3. Big and Tall USB Massage Wide Office Chair
This soft leather massage office chair massages your lower back. You simply connect it to your laptop via USB to have its massage function ready for action. Since its made by Big and Tall, it also has a large profile with an extra-supportive frame that holds weights of up to 500lbs.
Cushioning isn't bad either. This office chair has been made with layered cushioning. Soft cotton sits on top of a high-resilience sponge to offered cushioned relaxed sitting. Among its other benefits, the tension adjustment function is also worth mentioning as it controls the speed of the backrest recline.
Pros
Designed with padded armrests
9" height adjustability
Included lumbar massage function
Cons
4. Homcom Heated Executive Massage Office Chair
The Homcom heated massage office chair comes with 6 vibrating points in the upper backrest, lower backrest, and in the seatpan.
Characterized by thick upholstered and padding throughout, this chair is one of the most comfortable on the list. The thicker padding in the upper backrest also makes it supportive for your head. Interestingly this heated office chair works for the cold winter months as well.
With programmable massage functions, you can select from standard massages which last at least 15 minutes per program. Since there are 6 massage points on this chair, you will benefit from a full-body massage for maximum relaxation.
Wired remote control is used both for the massage and for the heating functions. You simply choose whichever option works best for you as needed without an app or computer software.
Pros
Available on brown, black, red, and cream white leather
265lbs maximum weight
Covered in faux leather
Cons
Sponge cushioning instead of memory foam
5. BestOffice Gaming Massage Chair
If you're after a good gaming massage chair, BestOffice has a budget-friendly solution for you. Inspired by racing chairs, this is one of the few massaging desk chairs with multiple recline stops at 90, 105, 120, and 135 degrees.
Made with a larger seat cushion, it makes you feel you're sinking into the chair since even the backrest is made with a hugging design. Ideal for sleeping, studying, or gaming, the office massage chair for gaming is one of the best when it comes to the ultimate comfort on a budget.
Pros
Useful for teenagers and gamers
Made with a massaging lumbar support pillow
Available in multiple colors
Cons
Conclusion
The BestOffice Massage Desk Chair is the best massage chair for lumbar relaxation. If you're after a full body massage, the large Giantex Big and Tall Massage Chair is the best massaging office chair. Both are very versatile. In a direct comparison, the BestOffice chair wins in terms of aesthetics while the Giantex wins for its multiple massage points and higher load capacity.
| | | | |
| --- | --- | --- | --- |
| Massage office chair | Weight capacity | Massage points | Heating |
| BestOffice Massage Desk Chair | 250lbs | 2 | No |
| Giantex Big and Tall Massage Chair | 400lbs | 6 | No |
| Big and Tall USB Massage Wide Office Chair | 500lbs | 2 | No |
| Homcom Heated Executive Massage Office Chair | 265lbs | 6 | Yes |
| BestOffice Gaming Massage Chair | 250lbs | 2 | No |
FAQ
Which brand of the massage chair is the best?
Both BestOffice and Giantex are solid massage chair brands for the money. Serious alternatives cost a few times more.
Are massage office chairs worth buying?
A massage chair stimulates blood flow and relaxes tight lower back muscles. Even if the message is mild, you can still benefit from a bit of relaxation in tight areas. Its benefits are mostly seen for those who sit 8 hours at a desk.
How much does a good massage office chair cost?
A good massage office chair costs between $200 and $300 for small brands and up to $1.000 when made by a large brand.
Should I use a massage chair every day?
A massage can help with low back blood flow but you will need to take frequent sitting breaks as it can't mitigate all the negative effects of prolonged periods of sitting.