You can use free software to create office floor planning. Without too much technical knowledge, you can add walls, doors, windows, desks, chairs, and other office essentials when creating your plan.
Creating an office is never easy as it's a functional space that often hosts more than one person. In this post, I discuss various office floor plans and the free tools you can use to create them yourself.
The 4 Main Office Planning Layout Categories – Pros And Cons
If you're unsure about the type of office you want to create, there are a few categories you can take into account. Eventually, an individual or a business needs the help of an architect. But even asking the help of an architect requires basic information about the type of office you want to create. Here are a few considerations.
The private office
A single office or a private office is usually seen as best for executives. These offices can be ideal for those who want privacy, people in HR interviewing prospects, programmers, graphic artists, or anyone who doesn't like to be disturbed.
Given the rising number of people working from home, the private office alternative can be a solution in homes where there's a spare room which can turn into an office.
Pros
Excellent for privacy
No distraction
No noise
Cons
Reduced transparency with superiors
Shared offices
Businesses work with shared offices today more than before. These small areas can include shared spaces where at least 2 people work together. This can even include cubicals that are shared by multiple people.
Pros
Great for small teams
Excellent for small group communication
Cost-efficient (heating, AC use, etc.)
Cons
The open space office
Seen in most large companies, open space floors are efficient for communication and even for the initial setup cost. If you're creating such a plan, you can save on dividers and walls. Perfect for teams, the layout has its drawbacks as well. For example, it's not the best for individual workers who need to focus.
Pros
Great for more than 10 people
It saves money on the initial setup
Perfect for inter-team communication
Cons
The flex office – co-working revolution
The flexible office is now widely seen in co-working spaces around the world. It's an open space office with no assigned seating. People come and go from the office without having a designated fixed desk.
Pros
Great for freelancers
Suitable for those working from home on occasion
Cost-efficient
Cons
Not best for file storage
Office floor plan layout examples – simple templates you can replicate
In this section, I detail the various aspects of office floor plans. I also include various examples which can serve as a starting point for small and large businesses.
Single office floor plan
A single office room doesn't sound as bad now with more people working from home due to Covid-19. I used the same Ikea builder tool to create an office floor planning both in 2D and in 3D. Interactive office floor plan free tools are few and far in-between and as a result, I appreciate Ikea's efforts here.
What I liked the most about this tool is that it also showed me the total cost of all the office furniture I put in the room. The office floor plan is easier to put into perspective as a result.
Shared office floor planning
You can create office floor planning as the ones listed below to build your shared working space. This type of office is efficient for small teams and in my example, it's a working space for up to 4 people.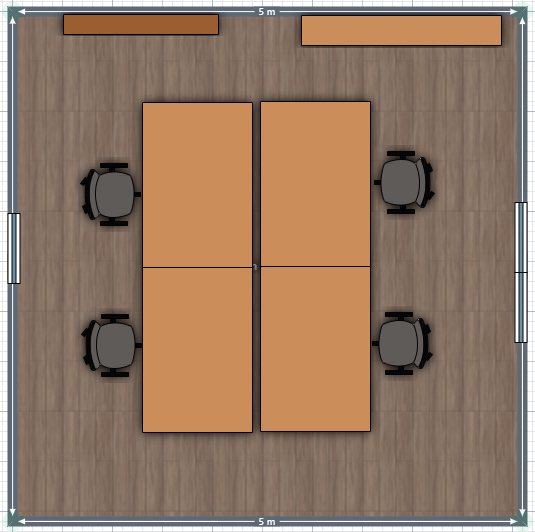 Open office floor plan
I made this open office plan using Ikea's builder tool. I added a large meeting room table for stand up meetings. In the left corner, you can see a lounge area with an office couch and armchairs. The right area is where I added 6 standing desks as the main working area with assigned chairs.
You can build your own space up using the tool. You adjust the room's dimensions on the right side of the screen. All objects and office furniture can be added from the left side of the screen where you find grouped products from the Ikea catalog.
Free tools to create an office floor plan
If you want to check out different office planning free tools, you may benefit from having a better idea of what to expect once space is finished. While there are many tops paid office planning tools, you can create very basic templates with free tools.
Ikea Planner Tool
What I like most about the Ikea planner tool is that it's very easy to use. I recommend my friends working from home to use it as it offers simple characteristics.
Room layout with wall sizing
It includes layouts for rectangular, corner, and diagonal corner offices
Floor view, front view, and 3D line view modes are unique for a free tool
You can add real Ikea office furniture to the planning
You can see the total price of all items in the room
Tips to create the office floor planning
When it comes to creating office floor planning as a beginner, there are a few tools to consider both free and paid. It's worth checking a few of them out as they are different and they have certain limitations compared to paid tools. Here are the tips to consider.
Choose the right software
If you want to create office floor planning, you need to consider the various tools you can use to create simple or complex designs. It's worth considering starting with the basic free tools.
The Ikea builder tools offer access to a wide range of 2D and 3D floor planning tools. They also offer full access to the range of furniture Ikea makes which includes desks, chairs, and storage options.
Most importantly, the tool is easy to use. Office floor plan layouts are going to be very minimalistic here. But they can be a starting point, especially for those new to such tools.
Planner 5D is another free tool that can be used for 3D and 2d floor plans. However, the tool only has a limited number of free objects as most are only unlocked with the paid version. However, given its free browser-based access, the tool is responsive and it's another started option for those new to planning.
With better 3D inventory, SketchUp is one of the most complex tools in this class. From simple one floor layouts to multi-level buildings, you can create impressive results and even architects use it as a result. The downside is that it costs around $119 per year for a personal subscription and $299 per year for a business account.
Try out various layouts
When creating office skecthups, it's crucial to try out different things. There's plenty of versatility with office furniture today and even small rooms can be maximized inefficiency.
The best approach is to create at least 3-floor plans from which to choose from. Visualization makes the choice easier and investing a lot of money into an office requires plenty of debate.
Consider floor shape
The floor shape or the shape of the room is what limits offices the most. If the examples in this standorsit.com post are based on rectangular rooms, there are plenty of other shapes to consider. Irregular shapes are the ones that require the most creativity. Round walls are also important as they limit the type of furniture to consider.
Take windows and doors into account
You also need to find the right office furniture and the overall layout taking windows and doors into account. If you're creating your office at home, you might overlook the type of furniture and its size to windows and doors.
Think about the overall budget
It's very easy to spend a lot on an office. Large businesses can benefit from modular office furniture which can be changed from one department to another. Small businesses can have the same approach to limit spending.
Home offices might have a bit more room to maneuver when it comes to the quality of the office furniture. This is why you can spend more on a desk when you only buy one. Given there's sufficient floor space, users can rely on some of the most robust chairs and desks at home.
Talk to an architect
Eventually, you will need to discuss with an architect for a professional's opinion. You can find architects online, or even on freelancing sites if you know the exact floor dimensions, wall length and height and other measurements such as the distance from corners to doors.
Final considerations
When it comes to office floor planning, there are thousands of tools and tips to consider. But it's always best to have an idea of what to ask architects to deliver and this is why these free tools are an inspired starting point. It's worth investing in paid tools only when postponing working with an architect.