We've selected 5 chairs you can sink into for reading or relaxation. Among them, we've also included one office-style solution to offer something for everyone. But is there more to a hugging chair than first meets the eye? Here's what we know about how it impacts posture.
The science behind the chairs you can sink into
When you seek to sit in comfort, there are many variables to think about. The materials, the cushioning, the design and the price of the chair come into mind. But there's more to the choice as science already tells us.
Cushioning under the buttock is better
A 2016 study shows tested various cushioning materials and positions on the body. For the ultimate comfort, you should always seek a chair that allows you to sit more on towards your buttocks than towards the thighs. These findings can be applied to other types of chairs as well. However, since many of the following options have an irregular seat pan, it's good to know what to look out for shape-wise as there's not too much room for ergonomics.
Focusing on lumbar support improves posture
A 2013 study shows healthy individuals using a lumbar support cushion improves comfort. Such cushions reduce lumbar flattening. The natural thoracolumbar curvature benefits from such cushions. This is the reason none of the following chairs has a perfectly upright backrest and while others even come with a lumbar support pillow.
The 5 best office chairs you can sink into without spending a fortune
Given we already know a lot about cushioning, that sinking feeling might not be as easy to achieve without damaging posture. However, there are a few chairs which fit the bill. They are not the most expensive as they are neither the most affordable. But it's reassuring to know that before sitting to read a book sunk into the chair for hours, posture doesn't have to suffer.
HomCom Single Person Folding 5 Position Steel Convertible Sleeper Bed Chair
This versatile chair is one of the best for that hugging cushioning. It comes with a soft-touch cover and it includes a lumbar pillow, just as the study above recommends. Most importantly, it is a modern chair. It has a timeless appeal which ensures you won't need to discard it a few years down the line.
Thick density foam is used for its cushioning. Foam is known to naturally follow the shape of the body while offering sufficient support as seen in other chairs and even in mattresses. Faux suede covering is used on this elegant chair. An overstuffed pillow is also added in the pack. You can use it to improve comfort and maintain a good posture.
This chair also turns into a makeshift bed, whenever that cozy feeling asks for a quick nap. Its armrests turn into supportive feet and there are no other adjustments to make when rethinking its purpose.
Pros
Made with supportive density foam
Uses high-quality faux suede covers
Includes an oversized lumbar pillow
Cons
Only available with gray covers
Christopher Knight Home Felicity Mid-Century Arm Chair
A more versatile option for the living room or common office spaces, this chair is fantastically-priced. It also offers an elegant tufted profile, suitable for a more professional environment. Made with extra padding, it is suitable for a relaxing sitting experience. Its backrest is also thickly padded as are its armrests. Entirely cushioned, it offers a pleasant breathable experience, unlike its leather-covered alternatives.
This chair also looks very good in various colors. You can choose the wasabi green for a joyful impact. Teal is suitable for offices as well. Purple might be a good option when used at home. However, this chair is also practical. Its high legs allow quick vacuuming underneath which means the floor is always going to be free from dust.
Pros
Made with full cushioning
Uses a breathable polyester cover
Sits on birch wood legs
Cons
Doesn't include a lumbar support pillow
Lexicon Fabric Accent Chair
This pocket coil cushion chair is one of the best chairs you can sink into. Without a doubt, it offers a unique experience with its timeless appeal. Inspired by retro designs, it may be used both at the office and at home. You may sit in it while reading a book or while working on your laptop.
With its 300lbs weight capacity, it sits on a solid walnut frame. For some, it may be hard to replace simply for its choice of quality materials. Even if there's no cushion, the backrest is angled properly so that there's sufficient support for the posture.
This attractive design is available in 5 colors. Orange suits rooms with plenty of natural light. Brown is suitable for natural wood furniture settings. Gray and dark gray options are good all-rounders. But its blue version has a certain retro feel to it.
Pros
Cushioned based on pocket coils
Retro-inspired design
Sits on a walnut frame
Cons
No cushioning on the armrests
Giantex Updated Folding Massage Lazy Sofa Floor Chair
This floor chair may come with a massage function, but its cushioning is relaxing on its own. Its thick padding is what makes it a perfect choice for that sinking impression. It even comes with 2 cushion seats. One can be removed for taller users.
Recycled cotton is used for its cozy cushioning. Even its armrests are padded. Most importantly, it comes with 5 adjustable backrest angles for a relaxing experience with legs straightened. Its lumbar support pillow turns to a headrest when fully reclined.
At 21lbs, it's also easy to carry. In the office, it may sit in the gaming room. But at home, it may be easily moved as needed either in front of the TV or in a corner next to the window or next to a reading lamp.
Pros
Excellent cotton cushioning
It reclines in 5 positions
Includes a lumbar pillow
Cons
Not suitable for outdoor use
YOH Soft Faux Sheepskin Chair Cover Seat Cushion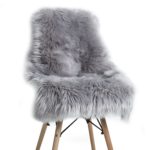 As mentioned at the beginning of the article, we're also recommending a simpler office solution for that sink in feeling. Not all employees can bring their chairs to work. This is why this synthetic sheepskin may be used on any chair to get that comfortable feeling.
This soft multipurpose faux sheepskin comes in many colors. It covers both the backrest and the seat pan. But its advantage is that it is also easy to clean, unlike many other chairs. You simply throw it in the washing machine at a low temperature to have it clean and ready to use at the office the following day.
Pros
Made from faux sheepskin
Available in many colors
Suitable for all types of chair
Cons
Doesn't come with a chair
Final words
All of these chairs offer a unique perspective for that comfortable feeling we all seek. Sometimes, they might even offer a bit more than expected. Some may turn into makeshift beds while others use foam for comfort and support.
But all of these chairs are as close to an ergonomic design as possible. As proven by research, these chairs might not be best for posture in the long term and this is why their shape is how the bad ones can be filtered out.
However, if none of these chairs work for you, why not check my guide for chairs you can curl up in for a bit more coziness?