These 6 chairs you can curl up in can be used at home or the office. If you want to sit back relaxed while watching TV, these chairs might be what you're looking for. However, we've also included an office chair for those who might not be able to sit long in a regular position due to health problems or personal preferences.
The chairs you can curl up in with their cozy materials
Memory foam is widely used for comfort. It has reliable qualities and it also lasts long. Also, various covers may be used to create special chai. This includes regular fabric, leather, and even machine-washable fabrics.
Memory foam
Various memory foam types are used to create the most inviting chairs. You do need to know these chairs are comfortable but they don't come with the best breathability during the summer. Depending on the foam's density, it may even prove uncomfortable with overheating.
Fabric and leather
Breathability is required for memory foam chairs. Natural fabrics are the best for this purpose. On the other hand, leather and synthetic leather alternatives prove not as great for breathability. These materials are most suitable for office spaces.
The 6 chairs favorites according to reviews
Most of the following chairs are slightly more affordable than their branded alternatives from stores such as Ikea. Here are the nominees.
Chill Sack Bean Bag Chair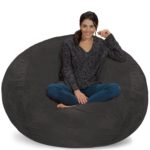 This fun chair is the definition of cozy design. It comes with shredded memory foam which means it can sit in all angles. No matter your curl up angle, it offers one of the best solutions for a custom sitting position.
Now, at a 60in height, this floor chair is not exactly compact. However, it is still used both at home and in some offices in common areas. Made with a removable cover, it can also be cleaner than most expect from a floor chair. You can simply add the cover in the washing machine with the rest of the laundry.
A few cheerful colors are also available in their variations. It can suit all types of home decor. But at the same time, this USA-made design is also one of the few memory foam alternatives for the summer days. Since it only comes with shredded foam pieces instead of a large single foam piece, it allows better airflow keeping you cooler for longer.
Pros
Sits in all positions
Available in 30 colors
Made with a machine-washable color
Cons
Christopher Knight Alisa Mid Century Modern Fabric Arm Chair
Cristopher Knight Home chairs are already popular in all categories. But this Mid Century-inspired chair is suitable for those who like to put their feet up. It offers plenty of a comfortable design both on the seatpan and on the backrest.
The upholstered chair can be used in the living room or the bedroom. It comes with high legs which means vacuuming underneath it is possible. This chair is mainly suitable for open spaces where it draws the attention properly. It might not work in corners.
The chair is easy to move as well. Assembly is kept to a minimum as you need to install the legs properly. At the same time, it comes with all the screws needed for assembly. But most users are mostly glad about how it looks.
Pros
Made with a retro design
Requires minimum assembly
Completely cushioned
Cons
Doesn't ship with a user's manual
Serta Style Ashland Home Office Chair
This memory foam office chair is among the most interesting options for businesses. They need to have comfortable chairs but they also need to maintain a professional unitary look in the office. It might be the reason why this Ashland chair is among the best for those who want to put their feet up whenever it's allowed at the office.
Sitting on an elegant metal base, this cushioned chair comes with fixed armrests. Both are also cushioned. The backrest is not tall and this is why it may not be suited for home use.
With 360 rotation, the chair is suitable for all types of desks. However, those who want to hang their coat on the backrest might need to look elsewhere. Still, we don't recommend hanging coats on the office chair under any circumstance.
Pros
Suitable for all desks
Offers memory foam cushioning
Stylish design
Cons
Christopher Knight Home Bagnold Desk Chair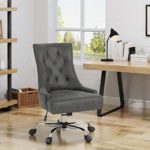 Without high armrests, this chair is suitable for offices. It works for all desks as it comes with plenty of space for the feet to curl up under the body comfortably. Some even find it easier to get out of since it comes with no armrests.
Mainly designed for functionality, the chair is made with thick cushioning and a softcover. Some may even consider it a retro design. But in terms of functionality, it is at the same level as the top alternatives. It has 360 swivel liberty and it also comes with height adjustability.
The chair is available in brown and slate colors. Those who like more vivid colors also need to look elsewhere. But the purpose of these two colors is to add functionality and versatility in any office space.
Pros
Made with a high back
Designed with no armrests
Includes height adjustability
Cons
Only available in 2 colors
Flash Furniture Bomber Jacket Leather Egg Chair
Egg chairs might be another category suitable for the ultimate hugging comfort. Without a doubt, this chair is made to stand out. Covered in leather, it suits those who need to read or to browse the web on a tablet.
With its curved design, it also offers lateral support for those who might even fall asleep while lying in the chair. Made with simple armrests, the chair offers one of the best solutions for practicality. You may even clean it with a cloth easier and faster than any other fabric-covered chair.
An ottoman footrest is also available with this chair. If you want to put your feet up, it might be just what you need. This egg chair is also available in interesting colors. Its black and brown versions are suitable in any environment. Its citron and golden alternatives are bright options suitable for sunny rooms.
Pros
Made for comfort
Includes an Ottoman leg rest
Comes with a removable cushion
Cons
Not available in softcover fabrics
6. Ikea Ekenaset
This classic chair has the advantage of having thick cushioning. It even comes with durable wooden materials, suitable for any modern office space. Stable with a solid wood frame, this chair also comes with a 10-year warranty.
Pros
Made with thick cushioning
Sits on a wooden frame
Covered by a 10-year warranty
Cons
Final considerations
For the top chairs you can curl up in, there are many inspiring designs to consider. Many find them particularly appealing at the desk. But they can also be used as stand-alone chairs to watch TV or to read a good book with tucked-in legs. It's also reassuring to see these chairs come in different colors, which can't always be said about their most expensive alternatives.
If you're looking for a bit more cushioning, why not check my guide on the Chairs You Can Sink Into as well?