If you're looking for chairs you can lean back in you came to the right place. Reclining takes the pressure off the back. It also allows you to relax from hours of sitting at the desk.
Before jumping to the chairs, we're going to understand why they lean back in the first place. This was not always the case and it's only over the past few decades that humans had to adapt their chairs the more time they spent at the desk.
What science says about chairs you can lean back in
There's plenty of data supporting the idea that a leaning chair is good for posture. Others show otherwise. But in all cases, a choice should be made at an individual level.
A 2016 study looked at how the sitting angle affects overall health. It found that a chair that reduces biomechanical load, such as a lean back chair benefits the proper use of the product with higher user comfort and satisfaction.
The same recline principles have been proven in other areas such as gurneys, not only on desk chairs. A 2005 study shows patients feel less pain and increased comfort when allowed to sit in a reclining hospital chair. Based on this data, we can assume a lean-back design is more than simply about comfort. It is also about posture.
The chairs you need to try yourself
The following chairs combine some of the benefits of recline with proper ergonomics. They all have different designs and materials. Here are they're pros and cons.
Steelcase Leap Chair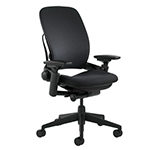 Leap is one of Steelcase's rising popularity chairs. It offers versatile ergonomics made for support and leaning back. Its recline function is among the best. It allows users to adjust the amount of push or force they get form the backrest whenever they lean back. This is made via a lateral knob in easy reach. It also supports 5 recline positions that can be locked for the comfort of the user.
Adjustable lumbar support is also added to the chair. It can be said that it merges the best of both worlds with adjustability for the curve of the lower back and the firmness of the lower back support which is also adjustable, just as the recline function is.
Also made with adjustable arms, the chair is made with entirely completely recyclable materials. Once it lived its life, it can be turned into other products. Most importantly, it offers proper ergonomics for the user as long as it sat on. Get it here on Amazon.
Pros
Made with lean back tension adjustment
Added lumbar support with tension adjustments
Made with recyclable materials
Cons
Herman Miller Mirra 2 Task Chair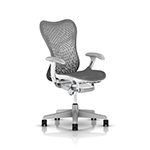 The high back design of the Mirra 2 Task Chair is instantly recognizable. At some point, we have to recognize the ergonomics of the chair. Seen across the corporate world, this chair is a worthy investment. It may not be as affordable as a few other designs, but it has plenty to offer.
Among its benefits, the dynamic ergonomic support seems to be the most important. There is a level of stretchiness in the backrest's materials. But many users are interested in its leaning function. It has 3 recline levels. It works with 92, 100 and 124-degree recline. It is not the furthest a backrest travels on an office chair. But it is sufficient to get that comfortable relaxing feeling when leaning back.
Another considerable benefit of the engineered backrest comes with its improved airflow. Practically, air travels at all times. The polymer materials used in the backrest's construction do their job particularly well during warmer months. Get it here on Amazon.
Pros
Made with a high backrest
Ergonomic hybrid polymer backrest materials and shape
Available in urban orange and lime green
Cons
Only reclines to 124 degrees
Duramont Ergonomic Adjustable Office Chair with Lumbar Support
Duramont's chair is known for its extra-large design. It is made for the heavier user or for anyone who hates having to deal with tight spaces. Its seat pan's width measures an impressive 26 inches. This is why this chair is mainly known to tall users. But it also reclines to 120 degrees allowing anyone to sit back for a bit and relax.
As the first chair with a mesh backrest on the list, it has a lot going for it. It also features a headrest. This is crucial when leaning back. Most chairs can't become unbearable to lean back in without a headrest.
Its installation process is also a bit simpler than you'd expect from such a large chair. An 8-step process is all it takes to assemble it. As expected from such a large chair, it also comes with a high weight capacity. It holds weights of up to 330lbs which means it also handles heavier users with their recline needs. Get it here on Amazon.
Pros
Made with mesh materials
Features an ergonomic headrest
Widest chair in its class
Cons
No angle adjustability on the armrests
Smugdesk Ergonomic Office Chair
This ergonomic chair offers full spin support both at 90 degrees and when fully reclined at 120 degrees. Apart from its backrest leaning backward, it also features a rocking function. This is the main reason this chair is so popular for maximum return on investment.
Designed with included lumbar support, the chair also comes with breathable materials on the seat pan. Cotton, mesh and sponge cushioning are used on the seat pan. They improve breathability and they keep the chair as comfortable as possible after a few hours of sitting.
Its angled armrests offer ergonomic support for the forearms. They support a neutral position which again, works mostly for those who need to sit a bit longer at the desk. Get it here on Amazon.
Pros
Made with lightweight materials
Features ergonomic armrests
Made with a rocking function
Cons
Armrests are not height adjustable
AmazonBasics Mid-Back Desk Office Chair
When the price is a serious concern, AmazonBasics Mid-Back chairs can be an option. This chair offers a supportive frame with breathable materials for a very low price.
It comes with a tilt-back function which is backed by height adjustability as well. There is not as much control on the tilt function as with the other chairs. However, this can't be realistic for its asking price.
Instead, the chair comes with mesh materials and sufficient ventilation. It holds users of over 200lbs and it comes with simple plastic armrests. Some padding would have been nice on the armrests to make it a complete package. Get it here on Amazon.
Pros
Made with soft materials
Backed by a 1-year warranty
Supported by pneumatic seat adjustment
Cons
No padding on the armrests
Conclusion
These chairs you can lean back in offers some of the best ergonomics for the money. From premium designs to value-driven chairs, you can certainly choose any of them for the ultimate comfort. When you want to lay back, you need to choose such a chair with a strong mechanism that doesn't crack within months.
These chairs have been tested and user feedback is vastly positive. However, to see such reliability you need to install them properly. This is the main reason you need to have the chairs installed according to the user's manual. All screws need to be tightened to avoid wobbly pieces which lead to the fast deterioration of their materials.
But not everything is about ergonomics. I've written a post on the best outdoor chair for the elderly where I list these comfortable examples which are not known for ergonomics.