The best chairs you can hang from a ceiling are cheap. They cost $30-$130 and they hold weights of 250-330lbs. They are hanged by a hook that is included with the best chairs.
When it comes to hanging a chair form a ceiling, most users know they change how a room looks. Made popular across Instagram and AirBnBs, these chairs are comfortable and supportive. They also have the benefit of a swing with a bit more room for relaxation.
Why buy chairs you can hang from a ceiling?
Who buys a chair which is hanged from a ceiling? Anyone looking to upgrade their home's style is going to benefit from these chairs the most, as seen with the best examples below.
The style of a hanging chair is unmatched. It immediately elevates the look of any room. Decorated or minimalistic, these chairs can fit any style both modern and classic.
The durability of these chairs is undeniable. Usually made from ropes, these chairs may even be easily washed to keep them clean and looking as good as possible for years.
The versatility of these chairs is impressive. They offer comfort when scrolling through social media or they can be a great place to sit back, read a good book and enjoy a good cup of coffee. Here are the best chairs you can hang from a ceiling that won't too much financial pressure on homeowners.
1. Bathonly Large Caribbean Hammock Hanging Chair
This hammock-style chair is simple to hang from a ceiling. Unlike many other alternatives, it has a net-style design. This means it allows good airflow and those who want to use it during the summer are free to do so. Without fearing for extra swearing, users can enjoy their comfort year-round.
The 330lbs weight capacity makes this chair supportive. Of course, this should be abided by as too much weight will inevitably brake it. Furthermore, it also elevates the look of any room. It has various colors to choose from. They include beige, blue, and rice white.
Pros
Made with a net-style design
High weight capacity
Made from durable polyester
Cons
Body-wrapping design is not for everybody
2. Hammaka Nami Deluxe Hanging Hammock Lounger Chair
Who knew chars which can hang from a ceiling can be elegant? This Hammake design proves this is possible and it elevates the style of these chairs to unprecedented heights. It even features solid wood armrests which means it suits classic furniture spaces. However, this also means the chair may not be hanged outdoors where direct sunlight damages its polished lacquer surface.
With 600 denier polyester, the chair is also durable. The combination of synthetic materials with the hardwood makes it hard to resist. Footrest support may also be added to this chair. This is why it may as well be one of the most comfortable in its price range.
Pros
Available in elegant colors
Suitable for leg support
Includes solid wood armrests
Cons
Not suitable for a patio or outdoor use
3. Caromy Hammock Chair Macrame Swing Hanging Lounge Mesh Chair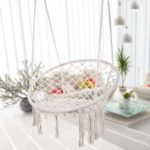 This style of a hanging chair is increasingly popular. It has a handmade appeal which means the chair is strongly efficient at elevating the design of any room. With or without a cushion, it is one of the most interesting of its class. It even represents a solution which works with multiple pillows for extra lateral comfort and impressive social media-like looks.
Since it doesn't feature any sensitive materials, the chair can be hanged both indoors and outdoors. It's not made to be left out in the rain, but on sunny days, it may easily be hanged off a tree. Its cozy design with a length of 80cm supports a maximum user weight of 265 pounds.
Pros
Handmade design
Can be hanged both indoors and outdoors
Works with or without pillows
Cons
4. Modway Abate Wicker Rattan Outdoor Lounge Swing Chair
This swing chair is a true beast. It supports swinging and it may be installed inside the house or out on the patio. Featuring a strong chain, it adds extra hanging support and it may be considered as a long-term alternative to many of the polyester alternative hanging chairs.
Made with a durable rattan weave, the chair is based on a steel frame. This means it certainly lasts more than simple designs based on fabrics. The chair may also be hanged from a stand for those who don't have a strong beam, bar or a sufficiently-strong ceiling to hang it from.
Pros
Includes comfortable cushioning
Made with a steel frame
Features rattan weaving
Cons
Only allows users to sit back and not straight
5. Komorebi Hammock Chair
This minimalistic hanging chair is characterized by a 2-piece cushioning design. It offers plenty of comfort without overpowering weaving and too many colors. Representing a strong solution for easy installation, it needs no handyman or professional help to install its hook and hang it off the ceiling.
A wood spreader ensures the chair does not wrap around the body. This is why users feel comfortable sitting in this chair and reading for hours at a time. Since it folds completely, it also comes with a handy carry case which can see it moved around indoors and outdoors to various hang locations.
Pros
Made with durable canvas
Includes a wooden spreader
Includes cushions
Cons
Only available in grey and ivory
6. CCTRO Hanging Rope Hammock Chair Swing Seat
Made for child-safe materials, this hanging chair may be a solution for the entire family. It holds users of up to 260lbs or up to 120kg which means it works for most family members. It even features breathable materials that don't overheat the body too much when sitting in it for hours.
Since it features such breathability, it can hang in front of the TV. But users may also consider it in the kids' room where it can be used as a differentiating reading space to get kids into reading more.
Pros
Made with child-safe materials
Breathable fabrics
Holds heavy users
Cons
Doesn't include a hanging hook
7. Sorbus Hammock Chair
Reasonably priced, this hang hammock-style chair is suitable for women. Its macramé design featuring flower patterns elevate its looks more than users expect. It even comes with a backrest to ensure those who sit in it don't fall out of the chair.
It's 260lbs weight capacity is sufficient to add a couple of pillows as well. These can be any type of pillows as the chair doesn't include cushioning solutions. As one of the few designs which are not cocoon-style, it also allows users who are smartly dressed to sit in it. Working on the laptop, while sitting is possible.
Pros
Suitable for small and large rooms
Made with a backrest
Includes macramé designs
Cons
Not the best option for men
8. Novogratz Poolside Gossip Collection Sally Patio Hanging Chair
This outdoor chair is perfect for patios. Those who want an outdoor chair to hang from a ceiling find it durable. Wrapped in woven wicker, it is specific to outdoor patio furniture. With elegant cushioning, this chair can serve as an inspired sitting area to enjoy refreshing drinks in the summer.
A few colors are also available for the pillows. They can be removed as well. Washed in the washing machine with the rest of the clothes, these cushions are always fresh and clean.
Pros
Made for patio use
Features woven wicker
Secured in 1 or 2 ceiling points
Cons
Final considerations
A metal hook, ropes or hanging cords are needed to hang these chairs from a ceiling. Most of them already include these accessories and they are installed in minutes. Before considering such a chair, users may only look at which design and which colors works best for their home. They are installed similarly to office hammocks. Our hammock chair instructions are handy to have them hang from a ceiling as soon as possible.