The best wall bookshelves are sturdy and generally made out of wood and metal. They are screwed-in for extra stability and they represent a simple design to help keep books organized.
Wall Bookshelves come in many shapes and sizes. Some are complex and they feature multiple symmetric or asymmetric shelves. Others are a simple floating shelf you can use to keep books on. Which one should you buy? The following best wall bookcases come in different designs. Make sure you check the dimensions table at the end of the post to see if they fit on a free wall in your home.
1. Befayoo 3 Tier Industrial Wall Shelf
These modern-rustic wall bookshelves are sturdy and they look good. Each shelf or wood plan comes with a tested weight capacity of 50lbs. This means you can store books of up to 150lbs once the shelves are hanged off the wall properly.
Based on industrial iron flat pipes, the structure of the floating wall bookshelves is very sturdy. You screw it in the wall in 3 points on each side.
Once the frame is installed, you can assemble the wooden planks. Unlike other cheap wall bookshelves, these planks are made from solid pine wood. There's no unsupportive MDF wood to worry about here. These planks are available in natural color or a brown version.
Pros
Made from steel and pine wood
12 screws for extra-strong wall bookshelves
Backed by a refund guarantee
Cons
2. Wallniture U Shape B Wall- Mountable bookshelf
These floating bookshelves from Wallniture are the minimalistic choice on the list. They switch the visual attention from the shelves to the books, which can be seen as a plus if you have good books.
Made with a contemporary design, these U-shaped shelves are very sleek. Most importantly, they help you save space which is always a premium in modern homes that are getting smaller and smaller.
These floating bookshelves are also multi-functional. They can be used for books, toys, DVDs, and other décor items.
Pros
Shipped fully assembled
Freestanding design made out of 17" wall shelves
Durable metal wall bookshelves
Available in black and white
Cons
3. Modrine 5 Shelf Bookcase
This 5-tier wall bookcase is one of the most affordable free-standing options for books and magazines. bookshelves metal construction with reinforced X-beams which keeps it sturdier. Made with MDF planks, the wall book rack is also lightweight but you can anchor it to the wall for safety reasons.
Made with a vintage design, it can be integrated into almost any room. If you only have limited spaces, there's even a more affordable 4-tier alternative that can help you create a distinct vintage storage space that isn't as vy to move as hardwood alternatives.
Pros
Multi-purpose construction
Open-shelves design
Included 0.5" MDF planks
Cons
Not made with hardwood shelves
4. Tianman Industrial Wall Mount Pipe Shelves
Inas industrial design wall book shelves are back. This time they're here to stay given the thousands of such shelves for books you can buy today.
Tinamn made this 4-tier wall book rack comes with a metal frame which is a combination of various pipes and wooden shelving. It might take a bit more attention to install, but it looks distinct when assembled.
The way you install these sturdy wall shelves for books is starting at the top. You need to ensure the frame is leveled and make your way down screwing down the 5 anchoring points on each side. You can do this yourself as the wooden shelves are added later when the frame is assembled so you don't need too much muscle power for the assembly process.
Pros
Durable iron pipes
Sturdy once the wooden shelves are fastened
Easy to hang
Available in 2 or 3-piece piping
Cons
Wooden planks sold separately
5. Ikea Billy Bookcase
This wall bookshelf Ikea makes is one of the simplest designs you can imagine. Available in white, birch, and black, it comes in a tower design that allows it to be stored in the smallest rooms. If you have a small office space, it might be the only practical solution you can count on.
With a width of just 15.7 inches, it still holds plenty of books and files. Strong wall shelves for books aren't easy to find and when you anchor it to the wall, Billy becomes one of the most durable options on our list. As with anything Ikea-made, you have to put it together yourself. Instruction, screws, and tools are shipped with the wall bookcase to make your life easier.
Pros
Adjustable shelves height
Available in 3 colors
Ideal for small spaces
Cons
6. Bayka Floating Shelves Wall Mounted
These wall mount bookshelves come in sets of 3. Available in multiple stains, they are made to showcase a limited number of books. But even if they're small, they can help showcase books and objects fairly easily.
These floating wall mount bookshelves come in paulownia wood, pine toffee, gray-white, weathered-grey, and pine-gray finish. The set of 3 comes in different wooden plan lengths and the main benefit of this approach is that you can arrange them on the wall as best suitable for your home.
Pros
Available in different stains
Quickly wall-mounted
Based on steel frames
Cons
Book stopper needed when storing books vertically
7. WG Willow & Grace Floating Shelves for Wall
These beautiful wall bookshelves are sold in sets of 2. You install them by first securing the supporting metal frame to the wall. The wooden part gets fitted to the frame at the end. Made from imported pine, the shelves are designed with a rustic look with different stains. If you're after a more modern look, all-blue and all-white versions of the wall-mounted shelves are also available.
Pros
Rugged anchor system
Natural wood planks with knots
2 x 24-inch shelves
Cons
Wall book shelves
Size
Type of wood
Befayoo 3 Tier Industrial Wall Shelf
31.5" x 7.75″ x 29"
Pine + metal
Wallniture U Shape B Wall- Mountable bookshelf
17 x 6 x 3.5 Inches
Metal
Modrine 5 Shelf Bookcase
0.9″ x 11.8″ x 31.6″
MDF + metal
Tianman Industrial Wall Mount Pipe Shelves
52" x 12"
Metal
Ikea Billy Bookcase
11 x 15.75 x 79.5 inches
Wood
Bayka Floating Shelves Wall Mounted
Large plank 16.5 × 6 × 4.8 inches

Medium plank 14.2 × 6 × 4.8 inches

Small plank 11.4 × 6 × 4.8 inches

Steel + Pine
WG Willow & Grace Floating Shelves for Wall
24 x 6 x 2 inches
Pine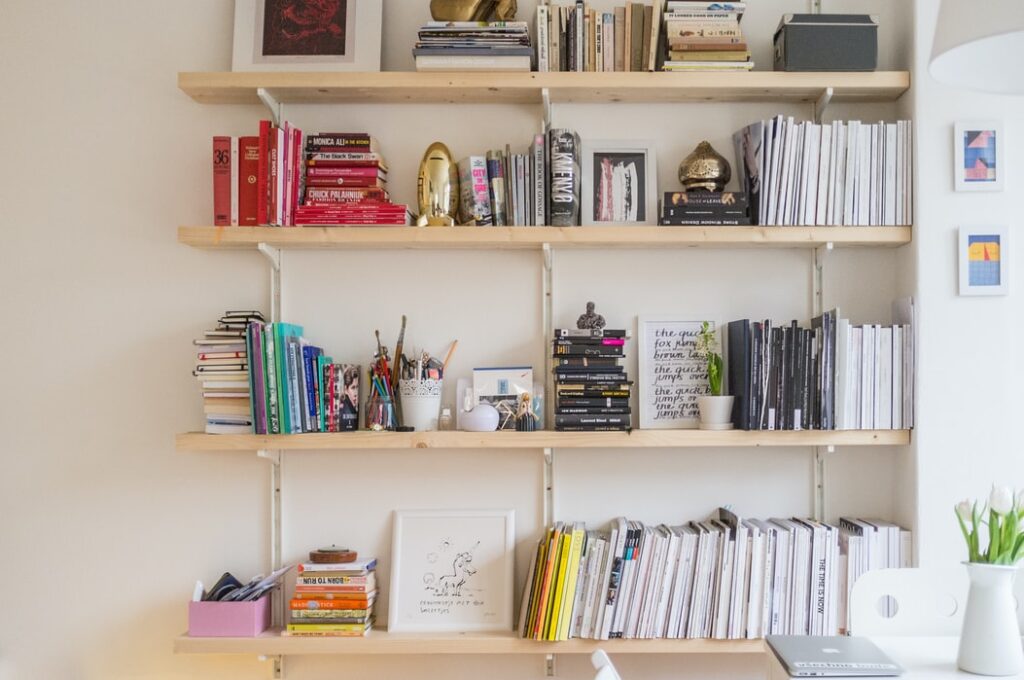 FAQ
Are floating shelves supportive of books?
Standard wooden wall shelves support around 40-50lbs per plank. The supported weight is also determined by the screws and the frame weight of the floating shelves.
How can I install bookshelves?
You can install bookshelves with a manual or electric screwdriver. All of the screws needed for the shelves are shipped with the product, at least with the wall bookshelves listed above.
How much does it cost to put in built-in shelves?
It costs around $50 to have your bookshelves installed by a handyman. You pay an hourly price for such services. The cost of building built-in shelves varies from around $200 up to $3000 for large shelves made from quality wood.
What is the difference between bookshelves and bookcases?
Bookcases are freestanding while bookshelves are mounted on walls. Manufacturers refer to bookcases as pieces of furniture that lie directly on the floor. Bookshelves are typically pieces of furniture or individual planks that are attached to the wall.
Where can I buy cheap bookshelves?
You can buy cheap bookshelves on Amazon. Facebook listings are another good destination if you're willing to shop for second-hand bookshelves.
What color should bookshelves be?
Bookshelves should be of the same color as the wall or have a contrasting color. Black shelves or dark-colored shelves are perfect on white walls.
Are Ikea bookshelves sturdy?
Ikea bookshelves are sturdy. But most of them are made from lightweight wood such as pine wood. You need to anchor your Ikea free-standing bookcase for safety reasons.