Gaming chairs are comfortable as they come with a hugging design that relaxes the body. Firm but cozy, gaming chairs are either made with high-density cold-cured foam or with a high-density sponge. These materials are responsible for the comfort of the chair together with posture adjustability features.
You've decided you want to invest in a comfortable gaming chair after using a task chair for years. But you aren't sure if gaming chairs are as comfortable as manufacturers set them out to be. This article looks into what makes these chairs comfortable. Surprisingly, it's not the cover of the gaming chair that it's most important.
What makes a gaming chair comfortable
Gaming chairs and comfort are mostly tied together through thick foam cushioning. These chairs use extra cushioning in comparison to office chairs. Large foam seats and backrests inserts are used instead of mesh seats and backrests in office chairs. This is why gaming chairs are comfortable. Point by point, here's what makes gaming chairs more comfortable.
You don't have to expect rigid cushioning on gaming chairs. While supportive, they are still soft enough to be comfortable. Gaming chairs are exactly as comfortable as memory foam bed mattresses. Both use the same type of material that allows users to sink in while contouring the natural shape of the body and while offering responsive cushioning. Some gaming chairs used sponge inserts instead of foam to save manufacturing costs. Sponge gaming chairs tend to flatten sooner than memory foam and they also tend to cost less.
Gaming chairs typically come with deep seatpans, specific to computer chairs that you have to sit hours in.
Seat height and seat depth are the most important comfort aspects of a chair.
Beyond the foam inserts that absorb much of the bodyweight of the user, gaming chairs are known for excellent height adjustability (typically from 3 to 6 inches) and seat depth (around 19 inches for the average gaming chair).
But why is seat depth so important and why do so many other chairs fail to recognize its importance? Seat depth adjustability has a lot to do with lower back support. It also has direct involvement in the comfort of your legs. A seat pan that is too long cuts out circulation in the back of your feet, eventually leading to long periods of discomfort.
For most users, the ultimate gaming chair is a chair with adjustable seatpan depth. This is what you need as a person who wants good adjustability, which is a characteristic of the most comfortable gaming chairs.
Lateral support with backrest and seat wings
Gaming chairs are inspired by racing seats. They come with wings or lateral panels that give you the chair you can sink in feeling. In gaming, this has little to do with true lateral support and more to do with comfort. No matter where you turn, your torso and your shoulders encounter cushioned areas that have a direct impact on coziness and general well-being.
No comfort seat can be complete without armrests. Gaming chairs exclusively use adjustable armrests. Height, depth, and angle adjustments are seen on comfortable gaming chairs with the best adjustability.
The arms represent 5% of the body's weight for men and 4.7% of the body's weight for women. This is why armrests can reduce a significant percentage of the body's weight by supporting elbows. In turn, this reduces the strain on the upper back, specifically on the shoulders and traps. While the overall impact is still small, armrests are also known to increase the feeling of comfort in a gaming chair.
Headrests have their place in the overall comfort picture. All gaming chairs come with built-in headrests, unlike most office chairs that don't feature one. A headrest allows you to sit back in an ergonomic position. In turn, ergonomic sitting allows you to feel more comfortable.
Headrests are also the simplest gaming chair accessory to fix forward head posture issues. You simply lay back whenever you want to realign your spine for ergonomic sitting. By reducing forward head posture issues you increase sitting comfort. Neck pain is eliminated when you have good head posture.
Almost all gaming chairs are made with a lumbar support backrest design. The natural S shape of the spine needs support in the lower back region for correct sitting. The right lumbar support can also eliminate low back pain.
Gaming chairs often come with lumbar pillows. While not ergonomically shaped, they still promote neutral sitting postures or ergonomic sitting which has its perks beyond comfort. For example, good sitting posture allows you to breathe better, even if there are plenty of gamers and reviewers saying posture is only a matter of aesthetics and even a non-problem.
Gaming chairs come in all types of materials. This allows you to select the type of material you feel most comfortable with.
Fabrics
Mesh
Leather
PU leather
These are the main types of gaming chair materials with a direct impact on comfort. A large person who needs a 300lbs gaming chair is going to feel better on breathable materials rather than on a leather gaming chair.
Those living in very hot areas in Southern states might want to look at gaming chairs covered in textile materials that are known for better breathability compared to leather. While they still come with foam cushioning, these chairs are more breathable.
Adjustable recline tension
Many gaming chairs recline to 180 degrees. The backrest reclines in different angles which can be used as a comfort advantage by gamers. If you don't play with a mouse and keyboard setup, you might recline a bit back while holding a controller. Such versatility offered by the typical gaming chair is impressive. Office chairs also offer a backrest recline but most don't offer a headrest, which limits the time you can spend in a reclined position.
5 ways in which gaming chairs enhance comfort
We can define comfort as a sense of physical ease or a lack of hardship. In gaming chairs, this is described as a sitting posture that enhances the mood of no physical hardship. There are multiple levels of comfort and they are often subject to personal tastes.
The thickest cushioning seen in chairs
Gaming chairs have the thickest cushioning. Task chairs and general office chairs lack the level of cushioning seen in gaming chairs. While only some office chairs come with memory foam cushioning, all gaming chairs feature thick (around 4 inches) cushioning.
The best armrests, backrest, and footrest adjustability
While only some office chairs come with adjustable armrests and backrest recline, this isn't the case with gaming chairs. Even the cheapest gaming chairs feature these adjustability characteristics.
Leading headrest designs
While only some office chairs come with a headrest, all gaming chairs feature a tall backrest that also serves as a headrest. You can find the ultimate comfort comes in these tall backrests.
A hugging feeling
The wings of the backrest and the seat pan ultimately create a hugging feeling. We know that humans love hugging from a young age.
Hugging relaxes the body and it even has a therapeutic effect on our body from early childhood.
Almost all office chairs fail to create a hugging design. However, gaming chairs come with a hugging design that acts to relax the body and to even offer a comforting therapeutic effect while sitting.
The psychology of this hugging design can never be replaced by a flat mesh backrest of an office chair, no matter how expensive its materials are.
Designed for long hours of sitting
Ultimately, gaming chairs are made for comfortable sitting for hours. Gamers are known to spend up to a full day at the desk which is why such comforting designs are needed in the first place. Otherwise, all gamers would buy cheap dining table chairs to sit on. This therapeutic design of gaming chairs is ongoing for the full period of sitting.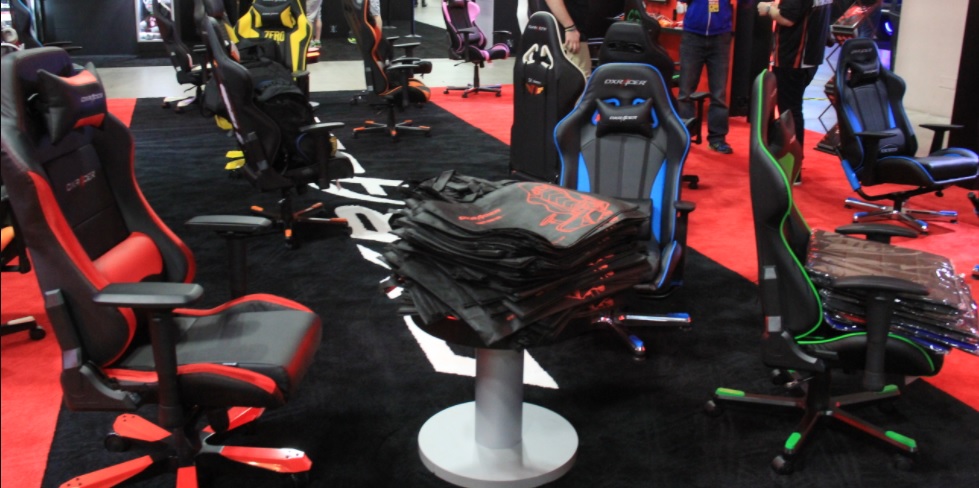 Are gaming chairs more comfortable than office chairs?
A comfortable computer chair uses a different design to a comfortable gaming chair, different materials, and different ergonomics.
At the current state of affairs, there is more ergonomics research in office chairs than in gaming chairs. At the same time, gaming chairs were only invented in 2006. DXRacer is the inventor of gaming chairs. The company used to manufacture racing seats. Office chairs have a much longer history.
It is believed Charles Darwin was one of the first people to create was is known as an office chair by adding casters on a classic chair to enhance functionality. There are 100 years of research separating office chairs from gaming chairs. This can be seen in the reduced ergonomic results of the gaming chair.
Final words
Gaming chairs are comfortable through known and unknown characteristics. The foam inserts and the adjustable armrests can be seen as 'known' elements as manufacturers add them for the ultimate posture. 'Unknown' characteristics that make gaming chairs comfortable include their hugging design which has a lot more to do with our psychology as humans from early childhood and with the 'cool factor' of racing seats rather than with some intentional comfort-giving design characteristics exploited by gaming chair brands.