Gaming chairs are good for programming if they are highly adjustable. Gaming chairs such as those from DXRacer are reduced neck and lumbar pain. They are suitable for programming as they offer long hours ergonomic support. Programmers can fix their bad posture with the right gaming chairs.
Gaming chairs are good for programming because they are highly ergonomic. Just as regular office chairs, they are all about posture. But unlike office chairs, they come with increased comfort, especially when dealing with long hours of sitting. Those working with the following programs are among the users who need to sit and focus at the desk.
Python
Java
JavaScript
C#
PHP
C/C++
R
Objective-C
Swift
Other complex programs are also used today and most of them are suitable for those sitting on a gaming chair. For example, Python is one of the most popular programming languages. It is at the core of various apps, web applications or network servers. It also requires considerable sitting time which on a typical desk chair is not the most comfortable and stress-free experience. Here are the main reasons a gaming chair might be the escape many programmers need.
Gaming chairs are the most comfortable solution for programmers
Many gaming chairs can help support correct posture
The style of the gaming chairs fits the programming world
They are suitable for long hours of sitting
Gaming chairs help fight bad programming posture
Gaming chairs support the lumbar area of the spine
Some gaming chairs are very durable
The price of gaming chairs ranges from affordable to expensive
Gaming chairs are highly adjustable
Programmers and their notorious bad posture
One of the biggest concerns when it comes to programming is just how bad the posture becomes. It's not that this posture becomes bad overnight, but that it becomes the worse as the years go by.
Programmers are avid computer users. They already spent a lot of time sitting in front of a PC during school, high-school and university. Now they are out in the workforce and they are starting to see the first signs of truly bad posture. This is why programmers begin to wonder if gaming chairs are really good for their type of work.
No chair can fix bad posture but it can certainly support good posture. Gaming chairs gave levels of adjustability not seen on any other type of office chair. They are height adjustable, depth adjustable, they have a recline function, they include adjustable armrests, they come with adjustable lumbar support, they can offer adjustable headrests, they come with an adjustable rocker function or they can even come with adjustable feet support. This is what gaming chairs are made of.
The benefits of cushioning
Apart from this long list of benefits, a gaming chair is also known for high levels of cushioning. Self-respecting brands use the best foam insertions to offer a comfortable sitting experience. For programming, this type of comfort is the best.
Just imagine sitting at the desk and coding
<html>
<head>
<title>Event!!!</title>
<script type="text/javascript">
A single bad character on the sequence above and everything comes crumbling. Is this a good enough reason for programmers to focus on coding instead of the chair and the pain it can cause?
Saying goodbye to bad posture also means saying goodbye at everything it comes with. From the occasional back pain to the more serious spine problems, programmers cannot afford bad health now that the world needs them more than ever. Even being constantly told to sit straight is a problem for many programmers who are simply not in a line of work to allow them proper body care.
Which gaming chairs are best for programming?
So which are the best gaming chairs for programming? The releases from DXRacer are very popular. Arozzi offers some of the most distinct gaming chairs as well. These two brands can be a good start for any programmer.
Many programmers now work under different time zones. An outsourcing team might be waking up on another continent while a programmer might be waiting next to the PC during the evening. This means that long hours and working unusual hours is more likely than in other professions. What can be more relaxing than a quick nap? Waiting for that Skype call at 1 AM might be easier with a gaming chair which reclines and allows programmers to take a well-deserved resting brake.
Conclusion
There are so many inspiring programmers working long hours that they should all get a gaming chair automatically. Ergonomics is something they cannot play with. Most programmers could also improve their health further. Here are a few ideas to help them fix their posture once and for all.
Joining and gym and focusing on stretches
Gaining lumbar muscles with compound exercises
Eating healthy meals and consuming healthy snacks
Sleeping on a supportive mattress to alleviated back pain
Eliminating sugary drinks which offer high energy and which can make them sit at the edge of a sit
Getting up and taking breaks from work as much as possible through the day
These are just a few applicable solutions for the busy lives of programmers. They do not require too much effort and the best part is they can be applied today. Are you a programmer? What do you sit on at work? Let us know in the comment section below.
Best chairs for programmers – Pick your winner
Now that you know what programmers or software engineers have to deal with, you can move on to choose a leading design. The best chairs for programmers are detailed below. The competition is fierce between Herman Miller and Steelcase. But there are a couple of surprises worth having a look at.
Programming chairs have to deal with long hours of working and they need to offer superior posture support to most other office chairs. As a result, the following chairs for programming have been selected based on their ergonomic profile and durability. Nobody wants to upgrade them anytime soon and they need to be supportive for years.
Herman Miller Mirra 2 Task Chair – Best overall
An ergonomic design makes this my favorite for long hours of sitting from Herman Miller. It's not as popular as Aeron but I like it's backrest moves with the user. Without a doubt, ergonomics and proper research on posture have been put in this chair. Only its recline system could rival more serious contenders and even overpass them in functionality.
A tilt limiter with seat angle adjustment and Harmonic tilt is what makes the backrest supportive and responsive. This tilt limit automatically adapts to the back but it also offers the right support. If you've been coding for a long time, you know that you simply need to move around a bit from time to time to avoid muscle stiffness. This best programming chair is made for such small movements.
The seat adapts to the back which means it's going to feel different as well. It's not a simple chair you sit on and you forget about it. The Mirra 2 chair reminds you it's there, giving you a helping hand to move freely.
A breathable backrest makes this comfortable for long hours of sitting. Yes, programmers earn a lot and they're the envy of the IT world. But they also work long hours which means they need to stay efficiently cooler than those who're out of the door as soon as they shift is over.
A pellicle mesh-style material evenly distributes back weight. With the right support in all areas, it even feels different from an entry-level alternative. Ready to offer a different type of support even on the breathable seat pan, it feels like a step up from classic office chairs.
Extra support gives the programmer a position 'on' the Mirra 2 Task Chair compared to the sink-in feeling on the Herman Miller Aeron chair. Since the seat pan is slightly elevated and breathable, the chair feels like you're sitting on it, which is what I like but I have to admit, it might not be the best for all programmers.
Characteristics
350lbs weight capacity
42lbs weight
Made from 45% recycled materials
Herman Miller Embody Chair – Best for spine support
If I can count the number of ads I've seen for the Embody Chair it would be a number in its hundreds. Herman Miller's Embody chair is a happy balanced option from the international brand. Let's say you're a programmer who suffers from poor sitting ergonomic.
You want to choose a Herman Miller because you trust the company. But you don't know which to choose. This is where the Embody Chair comes in.
Available in multiple colors, it puts ergonomics and aesthetics on a pedestal for many of its competitors. This chair is support and comfortable given its thick seatpan.
Its Embody name comes from its backrest design which is made to mimic your spine and back's posture. As a result, it features the right design for those seeking chairs for low back pain or for anyone who wants to prevent such issues in the first place.
If you think it's designed is simple you're right. But this simple design is the result of continuous research efforts involving physicians and researchers. Apart from support, it also sets new standards for pressure distribution.
Made to support even micro-movements of the body, this chair offers the floating sensation many users talk about in forums. However, this encourages movement when needed and it also helps proper blood circulation. In return, this helps you focus on your lines of code and hours of programming.
This functional chair is also different to many entry-level alternatives. My first chair had a backrest connected at the bottom to the seatpan. It flopped and moved around. But the Embody Chair even looks like a human back with a spine and ribs to the left and the right.
There is 4 position for the lumbar support of the chair. However, many users don't know how to set this lumbar support height and they think it's the fault of the chair. But the curvature of the low back is different from one person to another. Furthermore, there are a few key aspects which you need to take into account. If you're unsure about your lumbar support options, you can simply look in the mirror from one side to see how the curvature of the low back looks like and adjust the chair accordingly.
Since the chair's seat pan is also very comfortable, many tend to sit a bit too high off the ground and limit its posture benefits. But as with any chair for programmers, adjustability is key. The chair should sit at a comfortable level where the feet sit flat on the ground and the knees form a 90-degree angle. This is the only method of ensuring the ultimate ergonomic support.
Characteristics
300lbs weight capacity
51lbs chair weight
Backfit with flexible ribs backrest
Herman Miller Aeron Task Chair – Best for breathability
The Aeron chair is probably the best known to programmers. It has seen upgrades but it remains practical and a solution for low back pain which isn't yet another unbacked marketing claim. The chair features overall versatility as the backrest moves with the user.
What I like most about it is that it comes in different sizes. There are 3 sizes to choose from and the best part is it fits users of various heights. But it does have 1 flaw I want you to know about. There's no included headrest and it costs extra to buy one from Herman Miller. This is why it's important to consider the extra purchase, especially if you have many 12-hour working days when you need to rest your head from time to time.
Both the backrest and the seatpan are made from 8Z suspension pellicle. This allows programmers to remain comfortable and to avoid overheating as is the case with many leather chairs. Both heat and air pass through the thin pellicle which allows users to enjoy sitting a bit more.
Sure, it's not the most affordable chair but it certainly offers sufficient reasons to consider it for long-term use. It also features adjustable armrests with cushioning so that your elbows can rest when typing long lines of code.
However, you need to find the right size (A, B, or C) to sit comfortably and to rest your hands at the right time. The right size supports recline or what Herman Miller calls 'contemplative recline'. This allows the user to sit back and relax on a short break.
The standard B-size chair fits a person of around 5'10" but taller users certainly feel comfortable in the C-size Aeron as well. Furthermore, you can consult its official size to see which option is bad for you.
But it's not just about the way you sit on this chair as it also looks considerably better than most other entry-level office chairs. It features some of the most interesting colors which are normally planned for the office. Sure, you can have one of its colors for home use as well, but they're mainly considered for office use.
Carbon, graphite, mineral, and satin aluminum are its serious colors to choose from. I think the gray version is heavily marketed for a reason, however. Since it's closer to graphite than plain gray, it's also crucial to consider it if you have any matching office furniture or metallic-finish computers or monitors.
As a word of caution, overweight users should not expect it to be a squeak-free chair. It does make noise when moving around, especially as recalled by the heavy users which I think is primarily due to its thin pellicle design.
Characteristics
Weight capacity
37lbs chair weight
Made with a forward tilt function
OFM Essentials Collection Racing Style Office Chair – Best gaming chair for programmers
As previously discussed, gaming chairs can also be a very good option for programmers given their thick cushioning. While not necessarily award-winning in design, these chairs are highly supportive and OFM's Racing Style Chair is a solid name for anyone who wants that sink-in feeling.
The first thing that strikes me about the chair is its stitching. This immediately makes it one of the best and most comfortable office chairs you can imagine. It even looks like a premium design. There are premium stitching and double stitching in key areas which also makes it a durable design.
Padded arms are welcomed as well. IT workers can rely on them to support the hands during long days at work without adding pressure to the elbows or the forearms. Leather construction also characterizes the chair and it makes it one of the executive office chairs which certainly borders other types of chairs such as gaming chairs and regular computer chairs.
A built-in headrest with thick padding is also added to this chair. Ready to offer the right head support when leaning back or even while coding, this is the type of headrest I like the most. While I'm a fan of separate headrests, I like how the backrest moves together with the headrest in a uniform straight platform.
The soft padding also characterizes the chair. As its name suggests, this racing-style chair comes with extra lateral support. It does offer you the sink-in feeling and you need to be a fan of it to appreciate this style of sitting in its full glory. Since I've sat on many gaming chairs before, it seems comfortable to me.
The curved seatpan also makes the chair a bit more ergonomic. It's only when you move back to a chair with a flat seatpan that you start to realize how important ergonomics is for proper chair comfort.
A recline function is also supported. If you like to lay back or simply adjust the backrest from different angles, the recline function is going to be helpful. However, the recline isn't as fine-tuned as on the Herman Miller alternatives above.
Unlike a few other chairs, it does require assembly. My advice is to go with oversized wheels if your office features low pike carpet for a smoother roll. You'll need to assemble the base and the seat. Afterward, you need to screw-in the armrests but this whole process should not take more than 15-20 minutes.
The chair is available on red, black, and blue versions. However, I think there was a yellow version of these chairs I saw somewhere online. It might have been a reupholstered alternative but I'm sure the black-red combination is going to work for most users.
When it comes to its affordability, you cannot overlook its price. This chair is practically more affordable than other gaming chairs which make it a must-have for the fans of the style.
Characteristics
9lbs chair weight
350lbs weight capacity
Made with leather
Herman Miller Sayl Ergonomic Office Chair – Best for versatility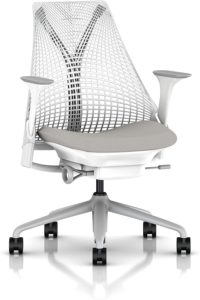 The Sayl Ergonomic Office Chair is my favorite form of my previous co-working space. While it's not the most expensive Herman Miller office chair, it has the durability required for programming. Its durable backrest is also easy to wipe clean, which I think it's a considerable advantage given the world of germs we now live in where cleanliness can be the main virtue in an office.
The 3D intelligent back design is properly made. How do I know this? Well, think about it. The plastic backrest isn't cushioned but still, you don't feel any discomfort. This is why I like these unpretentious designs well-made. I can even name 2 brands that have tried to copy it.
With proper sacral support, the seat pan is where the true magic lies, however. Soft and breathable, the seat pan is among the best for durability. However, I do think the seat pan could have even better breathability, especially for the long coding days or for the long summer days stuck at the office.
Height adjustability isn't bad either. Standorsit.com vouches for its 15.5in to 20-inch height adjustability as suitable for most people. I've only seen a couple of very tall colleagues struggling to find long-term sitting comfort on this chair, and there were over 100 people on the same floor using this chair.
In terms of aesthetics, the Y-design of the backrest is all that's needed to make it comfortable. I think it's elegant, in the limits of such a chair, of course. The Y-tower support works for most offices. I even think it can hold heavy coats. However, as discussed with other IT workers, I don't think the coat should hang off the backrest and maybe I'll publish a detailed post on this topic. Think about it, why would you reduce the breathability of the backrest by hanging a coat off it? Let's not even discuss how an office with tens of coats hanged off the chair backrests' looks like.
At a weight of 38lbs, it's among the lightest Herman Miller designs. Sure, most of the weight is concentrated in the lower part of the chair which is great for stability. But this is certainly a chair which easily slides from one location to another in the office. It's among the best when it comes to moving around at an L-shaped desk.
Made from 90% recyclable materials, it's also easy to repurpose once its life has finished. This is a few years down the line but with companies upgrading thousands of office of chairs today, I think many programmers are happy to know it's mostly repurposable.
Characteristics
38lbs chair weight
350lbs weight limit
26 x 24.5 x 37in dimensions
Steelcase Series 1 Office Stool – Best for leg support
Made with independent flexors, the backrest is as versatile as possible while moving together with the users on the Series 1. The budget-friendly Steelcase design is a programmer chair which is mainly suitable for average height and low height users. Since it's not as wide as other chairs (see the Arozzi XL on standorsit.com), it offers a bit more practicality without that sinking feeling you get in large chairs.
Armrests are adjustable for height, depth, and width. This means programmers are going to appreciate this chair the most. Typing at the keyboard usually has the elbows on the desk or the armrests. When the elbows rest on the armrests, users can find the right angle for support and feel truly comfortable without making too many changes and adjusting the chair closer to the table as with others to make up for the unnatural typing position.
A slim profile characterizes the chair. This means wide users might not feel comfortable with it. If you're considerably overweight, you might want to skip this one. If you've been into bodybuilding for years, you might also be better off with a wider backrest chair.
A circular leg rest completes the chair. It offers the leg support needed throughout the day. While I don't advocate sitting with the legs highly elevated on the leg rest at all times, it can offer relief from time to time when sitting for long hours.
Designed with a soft seat pan, the chair is also comfortable. The cushioning on the seatpan is a bit mushy compared to the one on the Sayl chair, but it works for most users given the chair isn't made for the heaviest sitter.
Available in multiple colors, it can also be a happy chair. If you're tired of the same plain black chair, you can find its bright orange, red, or blue chair as a nice change. For me, the tangerine color is the most unique of them all on this chair.
Characteristics
300lbs weight capacity
9lbs chair weight
Available in 8 colors
Steelcase QiVi Chair – Best lightweight chair for programmers
If you need a change, the pivoting backrest of the QiVi Chair can be it. The best chairs for programmers don't need to necessarily come with a reclining backrest. This is the main reason why I think the chair isn't made for 8 hours of continuous working. However, if you're a freelance programmer, someone who takes frequent breaks or simply someone who doesn't need to sit for that many hours at a time, it can be a comfortable chair for you.
It's minimalistic design certainly fits the modern office space. With its simple lines, it stands out among the simple chairs which can be used at any modern desk. It also comes with a breathable backrest and a thin seatpan which means it has a low weight. If you're programming from home, the chair is also easy to move from one room to another, unlike with many gaming chairs which are simply too hard to budge.
Made from 93% recyclable materials, the chair represents one of the interesting options to those who want to reduce their carbon footprint. Again, you can find it in Steelcase tangerine, which looks nice. But I think its green Wasabi color is certainly a bit more inspiring with its 70's throwback profile. If you want it to look similar to a Herman Miller, you also find in in graphite gray.
Characteristics
300lbs weight capacity
4lbs chair weight
06 X 22.5 X 38.12in chair dimensions
Chair
Options
Herman Miller Mirra 2 Task Chair
TiltLimiter Butterlfy back

TiltLimiter TriFlex Back

Standard Tilt

Herman Miller Embody Chair
15 colors
Herman Miller Aeron Task Chair
Size A

Size B

Size C

Headrest

OFM Essentials Collection Racing Style Office Chair
Red, black, blue, and black colors
Herman Miller Sayl Ergonomic Office Chair
No
Steelcase Series 1 Office Stool
8 colors
Steelcase QiVi Chair
6 colors
Final considerations
Programming is demanding as it is. It certainly drains your energy on long days at the office. But it's certainly rewarding. At the same time, it's one of the fields of IT which requires workers to sit long hours and this can negatively impact their posture.
As a result, I think the best chairs are the ones that allow you to sit with a minimum impact on the low back and posture. While focusing on writing lines of code, you don't have time to think about your posture. This is why these chairs for programmers are the best for overall posture benefits.
FAQ
I work in JavaScript, is a office chair right for me?
JavaScript is still going strong. There might be many lines of code readily available but they still require a lot of attention and many hours of sitting. A gaming chair is right for such purposes.
I work on the minimal Swift is a office chair good for me?
Swift might be newer and simple as it is only used since 2014. However, it is still programming and a good gaming chair can even help improve focus.
Why is it bad to sit for many hours as a programmer?
Sitting for prolonged hours reduces blood flow to the feet and it impacts the spine which becomes curved, a problem which can escalate to what is called scoliosis.
I'm conscious about my programming posture, do I still need a gaming chair?
Even those with perfect posture can still benefit from the added levels of comfort of a gaming chair. High-density foam is responsible for this added comfort.
I'm willing to invest in a good gaming chair, will it last or will it become loose?
All good gaming chairs should last for years. Many of them come with a long warranty to back their durability claims.
Do you really need a gaming chair?
Nobody really needs a gaming chairs. Programmers can buy any type of chair they want. However, a gaming chair is comfortable and it looks cooler than anything else out there.
Are gaming chairs better than office chairs?
Gaming chairs have thicker cushioning. This is why they can be more comfortable than many popular office chairs.