The best L-shaped gaming desk is the one that allows you to store one or multiple monitors with sufficient space for a keyboard and a gaming mouse.
These desks are not very easy to find and most gamers need to look for alternatives in the casual computer segment. But things aren't hopeless as I found both computer desks which can be used for gaming and office desks with an L shape which are highly versatile for any serious gamer.
The best L-shaped gaming desks you can order today with pros and cons
Without further introduction, I'm going to list all of the gaming desks I've found. Green Forest is a brand that often enjoys the most popular among gamers, but there are other notable options as well. One of my favorites is a combination of desks from Ikea, make sure until the end.
GreenForest L Shaped Desk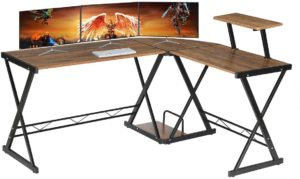 A large L shape and impressive finishing make this desk a gamer's dream. This desk is stable, modular, and it looks great.
What I like the most about the gaming desk is that it comes with movable shelves. You can adjust the longer side to the right or the left, as you like. This allows it to be stored in a corner, in the middle of the room, with any orientation. This great feature which is not present on most other computer desks, unfortunately.
Made from a new environmental P2 Class board, the gaming desk is easily a solution to those seeking that hardwood appeal, even on a budget.
A top shelf is also added either to hold a monitor or a small laptop. There's space for all types of gear such as gaming speakers.
With easy assembly, it's also ready to be used within minutes. All parts are marked correctly so that you can guide yourself after the user's manual for a simple setup.
A CPU stand is found at the bottom of the desk. It's not the smartest design choice but it works to keep the gaming PC off the floor.
Unique characteristics
Made with a contemporary look
It features X-legs for stability
Included movable shelf
Casaottima L-Shaped Desk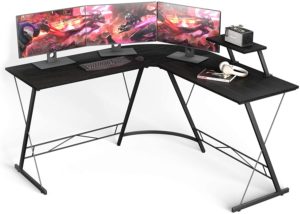 Made from E1 particleboard, the gaming desk is a similar option to the one made by Green Forest, but with different materials and Z-shaped legs. It may also be shifted to the left or the right, depending on where gamers plan to set in in their rooms.
The manufacturer calls the legs Z-shaped, but in reality, they're X-shaped, offering the desk stability even when typing and using the gaming mouse with vivacity.
Adjustable leg pads make the desk a bit easier to set up at home. They give the user a bit of freedom
when it comes to the overall adjustability so that its desk countertop is always leveled.
Curved corner design for added safety makes it a desk that can be moved away from the wall. It might have an L design, but the desk doesn't need to be crammed in a corner since it features rounded corners.
Available on black, sandalwood, teak, white, and black, the desk also looks good. I think those who choose matching gaming setup colors are going to create the smoothest visual impact.
Gaming desk characteristics
Versatile mobile shelf
Included assembly tools
Made with 6 adjustable leveling studs
DlandHome L-Shaped Computer Gaming Desk
Made with E1 particleboard, the desk is a lightweight gaming alternative. While it's only available on teak, the desk features a complete profile suitable for those interested in simplicity in natural wood finishing.
Characterized by a glossy countertop that looks like walnut, it might be an elegant option for gamers who don't like the old school desks which are heavy and often made with an outdated design.
With 300lbs weight capacity, the gaming desk is sturdy and it can hold a computer and its accessories. However, most users use it with only 1 or 2 monitors even if it features high weight capacity. If the colors are suitable for your room, it can be a minimalistic desk not to overlook.
Unique characteristics
Made from wood and steel
Resistant to humidity
Wipes clean quickly
Dakota L-Shaped Desk with Bookshelves
With similar dimensions, the desk offers one of the best solutions to those seeking to maximize their storage options. 2 side shelves are added with a weight capacity of 35lbs each. Cable management holes also come as standard so the desk is ready to deal with accessories and cables efficiently.
With plenty of room for a monitor or a desktop, it's L design is what makes it a practical choice even for gamers. The most debated aspects of the desk are given by its color options. While it does come in a black version, many think it looks very distinct on white. The bright color opens it up better and it shows its beautiful details better as well.
The limited 100lbs weight capacity is the biggest drawback of the practical computer gaming desk. You won't be able to store a heavy 3D printer on it, but you should be fine with a gaming laptop or 2 computer monitors.
Unique characteristics
A stylish classic design
Included storage shelves
Unique rustic oak color
Ryzer Height Adjustable Standing Desk
With a large desk countertop surface, the desk is the top choice if you have large gaming monitors. If you love monitors above 29 inches or if you love 40-in curved monitors as I do, it might be just a good gaming desk to consider, even if it comes at a high price.
Made with wood with a metal base, the gaming desk is sturdy and durable. It might be one of the most interesting options with a high 102lbs weight which is made to last for years.
But most importantly, it comes with a standing desk design which allows you to maintain proper posture even as a gamer that stays focused for the whole day.
Unique characteristics
Plenty of knee space
Height adjustable design for better posture
49" maximum height
DIY Ikea L-Shaped Gaming Desk
One of my favorite L-shaped desks for gaming has been inspired by a video I saw on YouTube. You need 2 Ikea Linnmon desk, an Ikea corner table, and 2 Ikea drawer unit to create this amazing text.
The maximum load of 50kg makes this a suitable option for gaming. Plus, you can benefit from the 5 drawers of the drawer unit to store your games, gaming headphones, PC controllers, and other gaming gear.
Another reason while I like the setup is that you can clean it easily. A damp cloth is all that's needed. Linnmon is one of those desks that always look good for years when you simply keep dust off them.
Unique characteristics
The legs are easy to assemble
Plenty of storage with 2 drawer units
Highly versatile, it can also turn into a U-shaped gaming desk
Eureka Gaming L-Shaped Pink Computer Desk
If you need an exact match for your gaming desk but with an L design, Eureka Gaming might offer the right option. Available on pink, it has the unique advantage of offering a suitable design for gaming girls.
Made from a P2 panel, it features proven materials in the gaming world. A hanging desktop holder is also added to the desk. You won't have your console on the ground which still works for quick vacuuming. An ABS plastic management tray is also added to the desk.
While it looks flimsy, the desk has a serious 330lbs weight capacity. While it fit corners, I think it's too beautiful not to set up in a visible area with its aesthetic keyboard tray and a coffee cup holder.
Unique characteristics
Unique cable management armor
Made with height-adjustable feet
Included cat claw mouse pad
Maciejewski Height Adjustable L-Shape Standing Desk
With impressive 500lbs weight capacity and a manual crank, the standing desk seems built like a tank. The ideal gamer of this desk is a person interested in multiple large heavy monitors and someone who stores plenty of accessories on the desk such as computer speakers or gaming headphones.
Large and easy to use, it relies on a manual crank instead of an electric motor to lift the desk's countertop to 39". It might also be an excellent choice for those interested in alternating sitting as standing. Many know sitting is the new smoking and might want to stay away from slouching on a gaming chair for the whole day.
Unique characteristics
Name
Dimensions
Maximum number of supported monitors
GreenForest L Shaped Desk
64"x50"

29" to the left

43.11in to the right

4
Casaottima L Shaped Desk
50.8in X 28in
4
DlandHome L-Shaped Computer Gaming Desk
55.1 x 55.1 x 29.5 inches
3
Dakota L-Shaped Desk with Bookshelves
53.63 x 51.31 x 28.31 inches
2
Ryzer Height Adjustable Standing Desk
95.4" W x 51.4" D
5
Ikea DIY desk
62 x 32 x 5 inches

47 1/4 " Width 47 1/4 " Height 29 1/8 "

22.8 x 14.1 x 27.5 inches

4
Maciejewski Height Adjustable L-Shape Standing Desk

27" H x 72" W x 72" D

5
Eureka Gaming L-Shaped Pink Computer Desk
61.93 W × 44.02 H × 30.12 L
2
The advantages of an L-shaped gaming or computer desk
L-shaped desks are among the best when it comes to saving space in small rooms. I've seen them in the middle of the room as well, however, I do believe they work best when in corners as they would waste too much room when away from them.
Better space efficiency
The L design of these desks makes the most of the space inside your room. For example, if you have a small room, you can use a corner desk which allows you to save space. At the same time, it might affect the rest of the room but you have to make the measurements to ensure it fits your corner.
Impressive productivity
Another impressive benefit of these desks is their top productivity use. While you are using them to play computer games mostly, you can also work on these desks or rely on them for studying. You can have your textbooks on one side and your monitor or laptop on the other side for the best practicality.
A few drawbacks of the gaming desks designed with an L shape
All is not pink in the L world of the corner computer desk. While it has plenty of benefits, you need to be aware of its potential drawbacks as well.
Difficult to fit with the best symmetry
It might be difficult to fit the desk perfectly in a corner. It might sit a bit awkward. However, the desk can also look a bit more cluttered. With more space to leave things on, it might require more cleaning and cleaning to achieve the same elegant look of its straight desk alternatives.
Final considerations
Your l-shaped gaming desk can be the best investment you make for a unique gaming setup. It doesn't take long to install and you can use them with more monitors and extra gaming accessories. The best part is all desks listed above can be installed without the help of a professional.