A gaming desk setup for girls is achievable. The Pink Robinette Desk is a good start. Razer, Giantex, and Nokaxus offer gaming chairs and accessories for girls. Many of them are available on pink and white.
A gaming desk setup for girls is never finished. There are many solutions to consider and accessories come and go at all times. However, things can be somewhat arranged if the basics are in place. This includes the following.
A gaming desk for girls
A gaming chair for girls
A keyboard for girls
A mouse for girls
Headphones for gaming girls
A gaming console for girls
Other products can also be chosen, such as a cool pink standing desk mat. But for this article, there are a few examples of this setup below.
Gaming desk setup girls need to know about
Starting with the computer desk, girls can find a few quirky designs to rely on. Most of these desks are a bit expensive but they will last for years.
Gaming desk for girls
A cool pink gaming desk is represented by George Oliver's design, the Robinette desk. With a mix of retro and modern lines, the desk features a pink desktop and a pink drawer. It has a size of 29.5" X 47.2" which means it will work for one or maybe two large gaming monitors.
A gaming chair for girls to compliment the desk
The Giantex Gaming chair almost looks out of this world. Its faded pink color and its coziness is perfect for gaming girls. There are even two pink pillows to support the head and the lumbar area. A full recline function is also in place, similar to other chairs. The chair reminds of DXRacer designs.
But all the girls love the cute pink footrest. Practically, the gaming chair is a good fit under the George Oliver desk which allows the feet to go up and ads to the relaxation needed after intense gaming.
Gaming mouse girls will love
If the desk and the gaming chair are in place, this gaming mouse can be a good addition. With 16.000DPI sensitivity of the optical sensor, it is responsive. Most importantly, it fits for left-handed and right-handed players. With rubberized edges and a rubberized scroll wheel, it looks quirky and it is the perfect fit for this setup.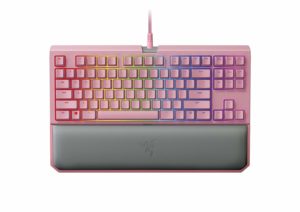 A gaming keyboard for girls
The Razer BlackWidow TE Chroma v2 Mechanical Gaming Keyboard looks fantastic. Being a magnetic keyboard the quality is there as well. Its tactile feedback is perfect for gaming. There's an included wrist rest as well. Girls can use it to keep those corns away.
Gaming headphones for girls gaming desk setup
The Razer Kraken Pro V2 is a top choice for audio quality. Made with a retractable microphone, they are suitable for all multiplayer games. Most importantly, these headphones are pink and stylish, something every gamer girl dreams about at certain times.
Gaming PS4 controller for girls
The Razer Raiju Tournament Edition is available on quartz pink. It has 4 programmable buttons and it can be stored in the drawer of the gaming desk. The controller is also customizable even further. All buttons can be remapped from the official app.
The total cost of the gaming desk setup for girls
The final cost for a complete gaming desk set up as the one listed above is $825. There are multiple other options to make the setup more affordable. All accessories such as headphones, keyboards, and the mouse can be bought cheaper, but with lesser quality. It's the desk itself which is going to be the most expensive in most cases, with the gaming chair coming in at the second place for financial investments.
Conclusion
The best gaming desk setup girls will love can be different from the one above. Not many gamer girls have the same vision when in fact they want a personal touch to their beloved gaming space. Have you tried these products or which alternatives have you found for the gaming desk setup worthy of a girl? Let us know in the comments section.