This article offers you 8+1 best recliners for sleeping. You can also sleep in reclining gaming chairs and office chairs that temporarily turn into recliner chair beds. The perfect sleep chair is the one that fits your lifestyle and you can choose one from the perfect sleep chair reviews below.
Finding the best recliner chairs to take a nap in might not be as easy as many would think. Taking a quick nap or even relaxing at the desk during a long workday can be easier with a sleeper chair.
Is it OK to sleep in a recliner chair?
Sleeping in a recliner chair is OK. The supine position (lying on the back) is best for sleeping in recliner chairs. The same applies to sleep in office chairs since sleeping on a side is impossible.
How to sleep in a recliner chair?
Lay back as much as possible by reclining the backrest. Lift the footrest if present. Reduce strong natural light or strong artificial light such as the one from the monitor.
Recliner Chairs You Can Sleep In – Are They Safe to Use?
Sleeping in an upright position might not be the best for posture and spine relaxation. However, this doesn't need to be overnight sleeping but rather a 20-minute power nap which some gamers are after. Sleeping upright has few studies.
Buddhist monks at the Dumfriesshire retreat sleep upright based on their dedication. However, gamers who want a chair to sleep in are not actually lying on their feet, which is what causes aches as shown by the monks.
Being sleep deprived has its own health issues. Deep vein thrombosis is just one of these problems. There are studies that show just how impactful losing sleep really is. So what can gamers do? First of all, they need to sleep at least a bit laid back, so there's some pressure relief for the spine.
A few positions to consider with the best recliners for sleeping
Properly sleeping or taking a quick nap in a chair is limited to the supine position, which is mainly sleeping on the back. But there are other positions to consider, depending on the chosen chair.
The supine position is the go-to option for maximum comfort. While the back is laying nearly horizontally, it actually promotes sleep in a position that is already familiar and natural.
The starfish position can be an option on a sleeper recliner chair. Similar to the supine position, it has the legs wide apart and the hands laying back on the sides of the head.
Other positions such as sleeping on one side are not possible, mainly due to the fact that most office or recliner chairs do not recline fully to a horizontal position. As a result, the pressure on the lower back is increased in this position. The following recliner, office, and gaming chairs are a great option for quick naps.
| | |
| --- | --- |
| Sleep Chair | Best for |
| Homall Single Recliner Chair | Cushioning |
| Herman Miller Embody Chair | Spine support |
| Steelcase Gesture Task Chair | Natural movements |
| Ficmax Ergonomic Gaming Chair | Full recline |
| Dowinx Gaming Chair | PU leather |
| Hbada Reclining Office Desk Chair | Limited budgets |
| Amooly Ergonomic PU Leather Executive Office Chair | Softness |
| Linccx Ergonomic Office Desk Chair | Breathability |
| Younbo Office Chair High Back | Minimalism |
Homall Single Recliner Chair
At the border of a recline and a chair, Homall offers the perfect sleep chair among the leading options for napping time. It represents a valuable design suitable for all-day comfort. It is a bit more than the average user needs. This is why we'd see this chair as the right option for a dedicated gamer. It would even be one of the right options for someone with a dedicated TV room. It's not even possible to have such a room without such a chair. On the other hand, it can sit in your private office as well. Right next to your desk, you can keep this chair as the go-to solution when napping is on the horizon.
With a large footrest, the best recliner chair offers one of the most comfortable napping experiences. Its backrest goes down to 150 degrees offering a cushioned surface for a quick nap during the day. Those who might have a hard time falling asleep during the day can also rely on its massage function. We haven't found a massage function in a more traditional chair and this is another reason to consider it according to free space in the office for a true napping champion.
Covered with PU leather, this chair is already an interesting option if you are interested in the overall look of your office or living room as well. With double stitching, it looks elegant, timeless, and more expensive than it is. Furthermore, this chair can also be placed just about on any surface as it sits on oversized rubber feet.
Its curved armrests are interesting as well. These best recliners for sleeping might not work for those sitting in the chair with a laptop, but they certainly represent a solid option for gamers holding a controller. Its cushioned armrests also ensure you don't fall out when asleep.
As with any chair, it has its drawbacks as well. Its backrest is not the highest in its class. But this is balanced by the thicker headrest cushioning compared to the cushioning of the backrest. This chair doesn't rock. This means you will stay in place when sitting and you will need to get up to move a bit after some time sitting. You can check it out here on Amazon!
Pros
Suitable for automated recline
Covered in PU leather with double stitching
Includes a massage function
Sold in beige, black, brown, and gray
Cons
2. Esright Convertible Chair
The Esright recliner bed chair looks elegant and it's comfortable as well. This popular sleeper recliner chair has a convertible design. As a chair that
turns into a bed, it offers a comfortable sleeping position and it might as well be your top choice for late nights watching TV.
Not many recliners to sleep in your foam cushioning but Esright uses this type of material to offer the ultimate support that follows the contour of your body.
The recliner chair bed offers 3 levels of the adjustable backrest. You can sit up right as in a normal chair, you can lay back in for a quick nap, or you can turn the chair into a full bed for sleeping.
2 back cushions are even included with this sleeper chair that reclines and as a result, you can take a nap as soon as you get it. Find out more about this sleep chair here on Amazon.
Pros
A bed recliner with 300lbs weight capacity
Made with breathable materials and foam cushioning
A steel frame recliner bed chair
Cons
It should come in more colors
3. Herman Miller Embody Chair
Herman Miller does a great job at simply designing ergonomic chairs. Their Embody Chair might not be the first option to come to mind, but it is actually great for naps at the office as it is made to offer spine support for those sitting for more than 4 hours per day.
The best part is that its breathable materials prevent extra heat buildup. This is why it can be one of the suitable options for longer sleep. Its build quality is also right up there with the best and when taking into account its unique color options, users can find something to match their office room.
But by far, the most considerable advantage of this chair is its interesting ergonomic design. Herman Miller has always been known for its ergonomic designs. It is also the case of the Embody chair which follows the natural shape of the spine and on the back. Just like the back, it has 'ribs' that move. The backrest is the most advanced design in this class and it may as well be the top nominee for the best chair for those with back pain.
With adjustable lumbar support, this chair is made for working and it offers an ergonomic platform to rely on while napping. This lumbar support stays with the user both when the backrest goes forward and when it goes backward. It's also important to note that this chair needs the right adjustment to maximize its benefits.
There are a few tips on how to adjust the lumbar support. However, none of them should be universal. You should try out different lumbar support positions with the use of the adjustment knob yourself. Your back should not be resting on a perfectly flat backrest. But it shouldn't be resting on an overly-curved backrest either.
The armrests are adjustable as well. Once you're done with the lumbar support adjustments, you can move on to adjusting the armrests. They have an important role as they can reduce shoulder pain in time. They adjust vertically from 6.5" to 11.5".
But the angle of the armrests can be adjusted as well. It goes from 12" to 21" apart and it offers plenty of adjustabilities. Inward adjustments are suitable for keyword typing. Outward adjustments are suitable for mouse use and gaming.
When it comes to materials, they are represented by a distinct mesh. The backrest is a bit more durable than the average entry-level backrest due to the choice of materials. Herman Miller even covers this chair with a 12-year warranty.
There are a few drawbacks to this premium design as well. Apart from its price, the chair does come with some wiggle. Users note it's not as solid as expected from a top brand. Another issue is with the cushioning of the seat pan. Not being the thickest cushioning means there's not as much comfort as many would hope for.
But the overall ergonomics of this chair transitions it from gaming to general office work swiftly. It always makes its user think about the right posture which in itself, is what this chair manages to do and where others fail. You can check it out here on Amazon!
Pros
The perfect sleep chair with spine support for the office
Micro-adjustable lumbar support
Includes a graphite frame base
Cons
Some parts wobble
The price
4. Steelcase Gesture Task Chair
The Gesture Task Chair is easy to use. Its backrest actually moves with the user. But its recline function is easy to adjust by tension using a lateral knob. This is why taking a quick nap on the chair is fully supported.
All materials of the chairs are made to last. Using the chair in all angles comes with no wear issues. Coupled with the impressive 12-year warranty, it really leads to a top choice for sleeping while working.
This chair can be slept in as it follows natural body movements. There are not many chairs that come in different sizes as this Steelcase release. It stands out with the support it offers to the upper and the lower back. Unlike the Embody chair, it also offers thick seat pan cushioning. This means this chair is perfect for a quick nap for those who sit more than 8 hours per day.
If you're looking for a type of chair that rises above the competition in ergonomics, this might be the right choice. It also allows users to recline in various positions. There are adjustment knobs that allow you to set the resistance level you want to work with. At the same time, this chair reclines while adjusting other elements as well.
For example, its armrests may be adjusted in various angles. Apart from vertical adjustment, they are also adjustable horizontally. These armrests allow users to set their desired angle towards the interior of the outer edges of the chair.
Its popularity also means this chair is already familiar to many potential users. We've seen it in livingrooms as we've seen it in offices. But it also comes in interesting colors to match any personality or décor. Its buzz blue is immediately recognizable.
But this chair also comes in canary, coconut, scarlet, and tangerine colors. These vivid colors are suitable for all ages and they represent a unique approach that reminds us that a chair also has to make us feel good on the inside. With all of these specifications, it can be easy to forget just how important the look of the chair is in how proud we are of its purchase.
But it also comes with its limitations. It is not as breathable as the Herman Miller chair above. It is also a chair that is inclined more towards office use. But the fact it has no leg rest can turn some users away as well. In the end, it's difficult to expect such features from Steelcase and such chairs may only be found in other brands. You can check it out here on Amazon!
Pros
Available in 3 heights
Made in 15 colors
Features adjustable armrests
Cons
5. Ficmax Ergonomic Gaming Chair
OK, so the Ficmax sleeper recliner chair will not put a hole in your wallet. But its included leg rest might be one of the best options for those who sit for many hours every day. As seen above, varicose veins are caused by standing. This is why the feet should be up at least while sleeping.
Head support and lumbar support pillows are also added to make it a perfectly comfortable option for gamers. However, the chair is one of the few which comes with full lying adjustability. Sleeping longer and better is a direct result of this lying mode.
This chair fully reclines to 180 degrees. It is very suitable for sleeping. It helps it features a footrest as well. It is why so many users already rely on it both for gaming and for office work. But this chair also comes with a few adjustability functions which put it in front of the competition.
For example, thus chair for sleeping features a lumbar support pillow that adjusts up and down. For some, this means there's plenty of support to rely on. Furthermore, there are a few other accessories inside the pack, such as an included headrest pillow. With extra comfort while napping, it can be one of the coziest chairs on this list.
A massage function is also added to this char. However, it is not a fully powerful massage as many would expect. It sends out low-level vibrations which mostly act for added relaxation when hours are starting to pile up while sitting.
A rocking function is also supported by the chair. Keeping things moving is essential for blood flow. Even those who might love rocking functions for pure fun may still like this chair a bit more than others.
Covered in PU leather, this chair looks more expensive than it is. Of course, the leather is not as premium as on other more expensive chairs. But it does its job and it offers one of the aesthetic chairs with such considerable padding.
All of these accessories might already sound intimidating to those who are scared of the assembly process. But things are not complicated at all. It has its instructions and it also includes everything needed for the assembly process. Tools such as screws and bolts are already in the pack. Its gas cylinder is also easy to adjust to the seat.
When it comes to drawbacks, there are a few things to consider. Among them, the lack of height adjustability on the headrest pillow is the most important consideration. Taller users might have a particular problem in this area. This is important as they will need to remove the headrest pillow as it sits somewhere right next to the upper back in their case. Otherwise, the chair is a top choice for both teenagers and adults. It's solid cushioning offers the right napping platform.
What we consider to be the biggest advantage of this chair from the perspective of a novice in the field is its price. At such an affordable price, it offers a serious look into the world of ergonomic designs. With adjustable lumbar support, it shows users how important posture is. For napping time, this lumbar support pillow can be removed to lay in a correct position, which means this chair is also versatile.
The thick cushioning also takes some time to get used to. The seat pan has a 4.8in of cushioning which makes it even more comfortable than a few of the more expensive alternatives. Inside the chair, there's memory foam. This type of foam is known to follow the contour of the body which says a lot about what comfort to expect.
What we have liked to see is this foam used in armrest insertions a bit more. Its armrests are harder than expected and it would be nice to see this upgrade in its upcoming releases. But those who want even more comfort can move from this Large design to its XX-Large or XXX-Large Ficmax alternatives. You can check it out here on Amazon!
Pros
Sustainable and comfortable for hours of sitting
Comparable to the best recliners for sleeping in cushioning
Quick assembly
Cons
No height adjustment on the headrest's pillow
6. Dowinx Gaming Chair
This PU leather sleeper chair comes at an affordable price, considerably below what you'd expect it to cost. With its thick cushioning and adjustability, it is a must-have for quick naps.
Sleeping in the chair proves easier than expected. It comes with a massage function which only acts as a muscle relaxer. Sitting for hours can cause stiffness, as gamers know. This is why this chair is even better suited for sleeping.
But let's start with the basics. It sits on a strong metal frame in the backrest. This metal frame runs from the span up to the headrest. It is the right platform to sleep in. As you can see from the pictures, it has a built-in headrest. This is why when reclined, it sustains the body in the right sleeping position. For sitting purposes, it offers a rigid platform where the back sits comfortably and where there's plenty of support for everyday gaming.
The seat pan features overly-thick strong foam for extra support while napping. It is also a type of foam that favors a harder chair profile, characteristic to all areas of this chair. This foam is known for maintaining its support for longer compared to thinner alternatives.
Right beneath the seat pan, you'll find the expandable leg rest. Whenever you feel you need to rest, you can simply extend this small platform to put your legs up. It is also cushioned and covered in the same impressive leather as the rest of the chair.
Up to 300lbs, this chair can support your weight without any issues. Even if the leg rest looks small, it only takes a smaller bodyweight as the bulk of the weight still sits on the seat pan.
The two armrests are also made with plenty of attention to detail. They're cushioned with the same foam and covered in elegant PU leather for a soft touch. They're not adjustable, however. If you're the type of person who rests the right arm on the armrest when holding the mouse, it might not be the best chair to consider.
But the backrest is where the magic happens with this chair. It reclines to 120 degrees and down to 170 degrees for longer naps. It also supports 15-degree rocking. Its ergonomics are not bad either. The chair comes with a natural low backrest curvature to reduce the pressure on the lower back while at the desk. It also features a pillow on the headrest for extra comfort.
As with most gaming designs, it also includes sufficient lateral support. You won't fall out of the chair while sleeping, that's for sure.
Other benefits include attention to detail such as elegant stitching. Black, brown, and gray leather are on offer and it may suit most desks by these versatile colors.
A lumbar support pillow with a massage function is added to the pack. You simply plug it in the computer via a USB port to have it ready for a relaxing massage. There's nothing more the chair could add for comfort purposes. You can check it out here on Amazon!
Pros
Made with elegant PU leather
Features one very thick cushioning
Includes a USB-powered massage function
Affordable given its features
Cons
The lumbar pillow can't go up the backrest
The massage function is limited to the lumbar support pillow
Office sleeping reclining chair alternatives
If your gaming chair is too bulky, an office chair alternative is the right way to go. The following 5 chairs are already used for quick naps at work. Our bet is on the chairs which offer sturdy construction at a reasonable price.
1. Hbada Reclining Office Desk Chair
Hbada might not be the option to include on the list as it can be just another generic name for some gamers. However, its fully breathable backrest allows it to be a great option for long naps. With an included 7-inch footrest, it supports the feet as well.
With adjustability between 90 and 150 degrees, it is actually an office chair more than a gaming chair. However, its included headrest allows for some degree of comfort on a chair many would not dare sleep in.
Those who don't need a gaming chair can easily be considered this ventilated alternative. Made with a lightweight profile, it says goodbye to this backrest cushioning while welcoming mesh materials. This is one of the main reasons we'd choose this chair when sitting a lot. With improved breathability, it limits overheating and it allows the skin to breathe a bit better than it would do on leather and synthetic leather alternatives.
This office chair is instantly recognizable due to its large supportive plastic frame visible on its back. It has a futuristic design apart from its practical design. It is why it's such a nice combination with modern office desks.
What we like the most about it is its backrest height adjustability. Short people have a difficult time finding the right angle for lumbar support due to this reason. Those around 5'10" know exactly what this problem means to them. But since the backrest is adjustable from16" to 19.5" in height, it represents one of the most valuable designs for those who want this extra adjustability.
The neck support is guaranteed for all heights as a result. Even more, the built-in headrest makes this chair look better than on many other chairs you can sleep in which come with detachable headrests. With a thickness of 6cm, the headrest is still thin but sufficiently cushioned for a quick nap. It also acts to protect the neck and the upper back from pain or simple discomfort while sitting.
There's a recline function on the backrest as well. It goes down to 135 degrees. It's not a perfectly flat 170-degree recline but it is enough for short naps at the office. Interestingly, even the armrest recline with the backrest. This is one of the rare examples of these types of armrests on such affordable chairs. Interestingly, even the armrest recline with the backrest. This is one of the rare examples of these types of armrests on such affordable chairs.
The seat pan is based on sponge cushioning. While it's not foam, it's the type of material that enhances breathability further. You'd have to look hard for a better chair for breathability and adjustability. But it has a few drawbacks as well. Its maximum weight capacity is 250lbs. Its assembly instructions are not going to impress anyone either. You can check it out here on Amazon!
Pros
Made with a height-adjustable backrest
Includes self-adjusting armrests
Mainly made to favor maximum breathability
Recliner sleeper chair with a headrest
Cons
Only reclines to 130 degrees
You can't count on the assembly instructions
2. Amooly Ergonomic PU Leather Executive Office Chair
This chair is a combination of a sofa bed and an office chair. The hybrid result is a comfortable sitting design which certainly supports sleeping. It uses 2 layers of cushioning to offer the softest experience. Compared to others, it is soft indeed but its thick leather balances its sink in feeling a bit offering a balance between comfort and the right support.
Both the seat pan and the backrest are made with two types of cushioning as a sleeping chair you can use for work. The base cushioning is a standard pp cotton choice. We've seen this material used in other chairs and it is a bit firmer than the second layer of foam cushioning. Made with a pillow-like design, the second layer of the backrest and the seat pan offers that special napping profile you might be looking for.
Even if it comes with head support, the backrest still feels like a unitary sofa-like platform. With the extended footrest, it becomes one of the most unique chairs in the industry.
3 levels of adjustability are supported by its backrest. In its upright mode, it is suitable for working at the computer. A reading mode is then supported with a slight recline. When you decide to take a quick nap, you can recline the furthest to 155 degrees.
With a height of 26 inches and a width of 20 inches, the backrest becomes one of the must-haves in this space for taller users. Those with a wide back such as those who go to the gym will also enjoy its extra lateral support.
The seat pan is even wider. At 22.8 inches, it is one of the widest in its class. It suits sitting in various angles and it offers one of the most cushioned seat pans we've seen. Trying to balance this type of cushioning with some type of breathability seems very difficult. But air cell designs means both the seat pan and the backrest allow some air circulation.
The armrests are also smartly designed. They coordinate in all recline positions. Even if you work or if you lay back, you can still comfortably rest your arms on them.
Now let's see its drawbacks. Such a hybrid is not made for everybody. Its breathability cannot be compared to the one of a mesh-made alternative. Breathability also dictates your body temperature. During the hottest months of the year, it may become pretty difficult to sit on it for more than a few hours. Those working 12-hour shifts will need to take breaks from sitting just to cool off. But on the other hand, it's detrimental to sit so many hours regardless of the chair.
It's also covered in synthetic leather. We applaud this choice but we also recognize some users still seek natural leather covers. But for its ingenious hybrid design, it might be worth having a look at, especially since its more affordable than many of its top brand alternatives. You can check it out here on Amazon!
Pros
Made with cotton and foam cushioning
Features a wide seat pan and a wide backrest
Reclines and holds the feet up
Cons
Not best for comfort during the hottest months
Only available in synthetic leather
3. Linccx Ergonomic Office Desk Chair
90 to 130 degrees is the recline range of this elegant office chair. It stands out compared to others with its self-adjusting recline system. As you lean against the backrest harder, it starts to go down. Without too many buttons or levers to worry about, it allows users a simpler mechanism for quick naps or simple minutes of relaxation.
This mechanism is not one that requires a lot of effort. Anyone with a weight of over 40kg can simply push the backrest to make the chair recline.
But what we like the most about this chair is its ergonomic design. It's clear it already uses a proven design that supports the natural curvature of the spine. Furthermore, it supports the back in a natural 90-degree working position by taking some pressure off the lower back.
This simple chair also comes with a footrest that unfolds from underneath the seat pan. It is another accessory used for quick naps. However, the footrest is not heavily padded to maintain the overall lightweight direction of the product.
The manufacturer also placed attention on the design of the armrests. This office chair comes with multi-directional adjustability. Its armrests go up and down but they are also adjustable by angle. Those who need to type a lot will find the orientation adaptability of the armrests a major advantage.
But like others in this class, this chair is made to be breathable. Its ventilated materials are suitable for the hottest months and for offices where the temperature remains high throughout the year. It also features a mesh headrest that can be removed for those who'd like a simple backrest.
When it comes to possible drawbacks, users should know that its backrest doesn't recline to a flat position. However, this might not be such a good idea in the first place as many users already noted. Reviews of this chair show that its 135-degree recline is sufficient for most users. You can check it out here on Amazon!
Pros
A reclining sleeping chair made with breathable materials
Its armrests are multi-directional
Uses bodyweight to recline
Made from heavy-duty steel
Cons
No tension adjustment on the recline
4. Younbo Office Chair High Back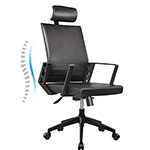 With its square design, the Younbo chair is an interesting choice when you need to maintain appearances. At the end of the day, not everybody can bring a pillow to the office. But this office chair stands out with its useful design which maintains a slim profile with plenty of benefits on looks based on its leather cover.
The backrest has a 10-degree rocking angle. You'll be able to keep moving when you want to keep a bit of blood circulation back from the hours of sitting. Covered in synthetic leather, this chair is also one of the rare design which is truly easy to clean and keep dust-free.
Designed for lumbar support, it is also an ergonomic choice. It might not be the softest backrest design, but its correct shape makes you forget about the otherwise thin cushioning soon. A tilt function is added on the backrest as well. You can go further back reclining into a sleeping position. Furthermore, there's a tension knob underneath the seat that allows users to set the desired tension of the recline.
When you receive this chair by post, you need to assemble it yourself. Putting it together should not take more than a few minutes. But the good part is this chair has a simple profile with intuitive installation even without relying on assembly instructions.
In terms of drawbacks, there's are any major considerations to look at. Some say that the 18.9in backrest is not the widest. But for an office chair, this is a standard width and anything wider would already have to come with a bulkier design. This is why for most users, the chair is sufficiently-potent. For taller users, it might be the case that one of the above-mentioned chairs with a backrest width above 20 inches would be better.
Another possible drawback comes with the armrests' design. These armrests are not adjustable. They don't have a self-adjustment system as others which fully recline. Users should also note the armrests are not padded. Simply sitting with a gaming controller on the armrest might come with a bit of discomfort after a few hours. This is why it's not such a versatile design and it may only be useful to gamers who play up to 4-5 hours each day. But its profile is mainly targeting office workers who need a bit more recline adjustability.
The padding on the chair is thin. This is not necessarily a drawback. But those coming from thickly-padded chairs might think they are missing out on a bit more comfort. In reality, the chair needs to be as lightweight as possible. Put it this way, if you have strict rules about chairs at the office, it is right for you. If you can get away with any chair at the desk, you can consider other chairs with extra cushioning. You can check it out here on Amazon!
Pros
Made with a modern ergonomic design
Suitable for office spaces
Supports rocking movements
Cons
Thin cushioning on the backrest and the seat pan
Conclusion
Sleeping chairs you can sleep in are limited by their recline adjustability. While gamers can fall asleep on most chairs, it is options such as those above which allow at least some level of comfort.
While certain features are not present in some premium chairs for sleeping, they are found on cheaper alternatives and at microbrands. These features include the much-appreciated footrest accessory. But it can also include massage features, which are rare in premium designs.
However, these chairs to sleep in from above are among the most interesting as they combine aesthetics with functionality. Most user feedback on these chairs is positive. All users say they don't regret their purchases and this says a lot about what they can offer.
It is also important to understand that they can replace a regular supermarket chair with success both in posture support and in comfort. Sleeping in these chairs proves easier and better for the spine as a result.
Disclaimer: Sleeping on a chair is not recommended for long periods of time, such as overnight sleep. These chairs are a solution for quick naps only. Any type of longer sleeping session can lead to neck and shoulder pain, which is responsible for poor sleep quality. You can also check out our Chairs That Turn Into Beds post as an alternative.
Are you using a recliner chair you can sleep in? If so, are you experiencing any muscle or joint aches? Let us know in the comment section below.