As one of the large gaming chairs, the Arozzi Torretta XL is a favorite option of those unwilling to embrace tightness. This is an actual problem. Tight chairs with lateral support can prove uncomfortable for a number of users and for them, going a size up is the only alternative. But is the Arozzi Torretta Xl just a large chair? Or is it a gaming chair which can hold its own place in the manufacturer's lineup?
[cmtoc_table_of_contents]
Cushioned with high-density foam and covered in textile materials, the gaming chair certainly has more to offer apart from its size. It can actually be a real alternative to PU leather seats as well. Most importantly, it is made with an ergonomic design which is supportive and which can do wonders for posture, especially when coming from standard entry-level office chairs. Will it fix poor posture on its own? Probably not. But it will definitely offer the incentive to think more about posture, which is half of the battle.
Arozzi Torretta XL gaming chair review – feature by feature
Since it comes with a racing profile, the gaming chair looks impressive. The good news is that its looks are also backed by a supportive and practical chair, which can be used on a daily basis. Given its choice of materials, it could also be used for longer periods of time in the day. However, taking breaks from gaming is still advisable. Here are its basic strengths and weaknesses.
Reasons to buy the Arozzi Torretta XL
Impressive size, suitable for tall and heavy users
Made with an extra-large size, a bit unusual for the average gamer
In figures, made with an 820mm backrest height
Designed with a 545mm seat pan width (410mm effective seating length)
Made with height adjustable armrests (295mm to 395mm expandability)
Unlikely covered with textile fabric compared to other Arozzi gaming chairs
Somewhat more advisable in warmer climates due to the extra breathability
Recline ability added to the backrest (12° maximum recline)
Quite supportive for heavier users (220lbs or 100kg maximum weight capacity)
Fully ergonomic design superior in proper posture control
Included lumbar support pillow with height adjustment straps
Shipped with a small headrest pillow (uncomfortable for some gamers)
Reasons not to buy the Arozzi Torretta XL
Textile fabrics stain easily
Considerably heavier compared to other Arozzi chairs at its 46.2lbs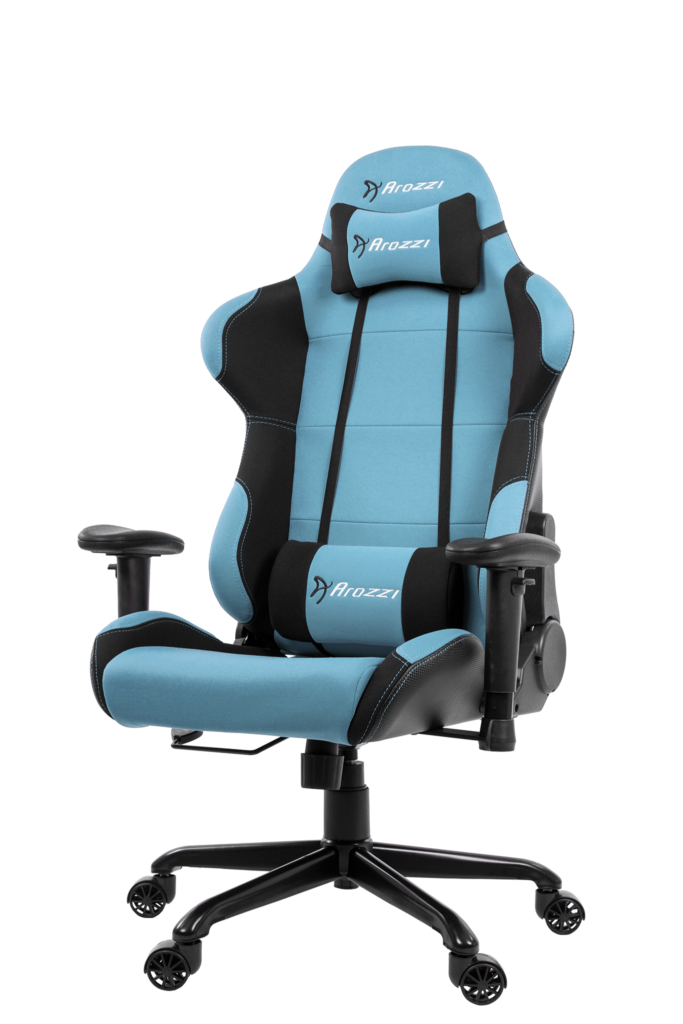 All the important features and positives of the Arozzi Torretta XL
There are many great benefits to suing the Torretta XL on a daily basis. It offers a more relaxed feel compared to other chairs. It bridges the gap between the Arozzi Enzo with its open design and the Arozzi Verona Pro V2 with its hugging backrest and seat pan. Even if the gaming chair is still designed with lateral support, it actually offers a distinct feel, with a wider shoulder area of the backrest, which is also comfortable when in full recline.
Ergonomics and foam cushioning comfort
When it comes to full comfort, all gamers need to know just how good its foam cushioning is. This foam is nothing unseen but it actually abides by a simple principle in which the same type of foam is used both for the backrest and for the seat pan. This is not the case with most other gaming chairs. Arozzi chose a 46 kg/m³ foam density to offer comfort for its gamers. Of course, this foam is already denser than many of the cheaper alternatives in this class. This means that the foam will also maintain its support better, especially for heavier users.
Since many gamers like to use the recline function as often as possible, having the same supportive foam density on the backrest can be important. Together with this type of foam, the ergonomics of the chair is impressive. Based on a higher backrest, even taller users can consider the Arozzi Torretta XL for extra support. A headrest is included in the backrest, even if gamers can still benefit from an additional head support pillow.
There is a lumbar support emphasis as well. The chair comes with a natural curvature of the lower backrest which is well-received in a community where posture can suffer too much. The seat pan is also part of this semi-hugging design. The sink-in feeling users get is indeed distinct. Since the seat pan is deep, users can feel as if they are truly in a racing chair.
Posture and the role of the added pillows
But the posture on the gaming chair can also be customized further. The Arozzi Torretta XL ships with two additional foam pillows. They are installed for lumbar support and head support. A couple of straps also need to be added on the backrest to connect the pillows and allow them to be height adjustable.
Are these pillows any good or are they simply a marketing addition? The lumbar pillow can certainly play its role to offer extra support to the lower back. Since it can be adjustable, it can serve users of different heights. Even the headrest pillow can be useful, but it needs to be properly installed to avoid forward head posture, which is an increasing condition and which needs the practice to be fixed. Most gamers would be advised to do extra research on how to maximize the potential of these support pillows and how they can be used for proper posture control.
A steep recline function with rocking freedom of movement
Let's go back, all the way! The Torretta XL reclines up to 145°. Of course, it is not the place to take a nap, but it offers enough flexibility in order to take a break from the same sitting posture. This is specifically useful to the point above, related to posture. Allowing the body to stretch can be useful. It can also improve energy levels. Since most people can feel down on some days, extra movement is always recommended for higher energy and even improved mood.
Together with the rocking function which can be locked in place, Arozzi offers this giant the possibility of actually staying more active. For most users, it represents one of the viable options for that long gaming session which is starting to take its toll on how the body feels.
Armrests to tackle any type of keyboard
"2D" is what is used to describe armrests which can be adjusted in two directions. The armrest of the chair adjusts vertically. Gamers can find the right height to fit the chair under the desk when sitting closer to it. They can also find the position to fit the armrests higher, especially when their desks already come with a lower keyboard tray.
The second adjustability option for the armrests represents the angle of the forearms. They can be kept parallel. But the forearms can also point towards the inside of the body with the help of the adjustable armrests. The right angle depends on the gamers' preference. But at the same time, gamers can also use different angles depending on how they feel at a particular moment. However, having the ability to adjust the armrests is one of the benefits of choosing a more expensive gaming chair.
An extra-large design with a higher weight capacity
As its name suggests, the chair is based on a large design. It handles a maximum users weight of 220lbs or 100kg. This limit needs to be respected as a few Arozzi Torretta Xl gaming chair reviews point out it doesn't take too much extra weight to impact the armrests. For most users, the chair is just enough.
Since the chair is extra-large, it will need a bit more space in the gaming room. Buts its large design also means it can also be seen as a more universal gaming chair, so more users can sit on it comfortably.
I want a black chair; I want a green chair!
The color options for the Arozzi Torretta Xl are great. Unlike the regular Arozzi approach to colors where only a small portion of the chair is actually colored, the Torretta XL has vivid colors covering the entire surface of the chair.
Black
Gray
Blue
Green
Orange
Red
These colors can be chosen to fit any type of gaming space and to even be matched with a gaming desk. Of course, the green, the orange, and the red colors will need a bit of extra cleaning to avoid stains, but it should not be too complicated to do it once in a while.
Areas for improvement for the Arozzi Torretta XL
Since the Torretta XL has its own identity and is not a type of unsuccessful hybrid, many gamers see nothing wrong with it. In fact, its drawbacks are only partial drawbacks as follows.
Textile breathability and textile cleaning issues
One of the constant issues brought up in user reviews is just how different the textile materials are when it comes to cleaning. Since they require a bit more effort to clean when compared to PU leather alternatives, the cover of the gaming chair comes with the issue of cleaning for some users. However, the chair needs to be cleaned on a constant basis to keep odors and bacteria away. This can easily be done by vacuuming the chair with a dust attachment and they wiping excess dirt with a sponge dipped in a mixture of soap and water.
Why is this chair so heavy?
At 46.2lbs, the chair is not the lightest in the Arozzi lineup. This also means the gaming chair can be among the designs which are not as easy to move around as gamers would like. However, its extra size and its features don't actually allow it to be any lighter. The only area where weight could be reduced would be from the backrest's foam cushioning. But give gamers want the same form as, on the seat pan, the chair is stuck with its actual weight. Of course, with a bit of practice, handling the chair should not be too complicated.
The extra weight of the chair can impact hardwood floors to a higher extent. Since the casters roll great on any surface, gamers might be tempted to overlook this issue. But using a mat or any type of carpet should be a good alternative to simply waiting for expensive hardwood floors to be damaged.
However, there are benefits to this extra weight as well. For example, the chair feels more like a premium design than a regular office chair picked up together with the weekend groceries. This is why even if it comes with a larger shipping weight and actual weight, the chair has a special feel to it which can be hard to quantify.
Final considerations
With a profile strongly orientated towards comfort in the conditions of higher weight capacity, the gaming chair impresses with its overall structure. It is fun to use, which can't really be said about a number of racing chairs which can be uncomfortable for taller or overweight users.
Apart from coming with this relaxed vibe, the chair is also supportive for long gaming sessions. The cushioning materials of choice impress with their unitary design as they do not approach the seat pan and the backrest comfort with different materials.
In addition, the added support pillows can be used and mastered for a perfect sitting position. This position is different for all gamers. This is why plenty of attention needs to be given to the area of the lower back to offer more suitable support.
The Arozzi Torretta XL is definitely not a large beast with nothing to offer. It is a chair which comes with its unique design and breathable materials. Those tired of sweating on their gaming chair during the summer already know what to expect. But the gaming chair can also be a much-needed upgrade for the tall users coming from low backrests. It offers these users the support they need, which includes a headrest with an extra comfortable and adjustable pillow.