The Ikea Markus is an office chair with breathable or leather materials with an ergonomic design. It's considered an affordable office chair and it represents one of the first choices for an ergonomic design on a budget.
Many see the Markus chair as a bit limiting though its lacks adjustable armrests. But this office chair is much more affordable than others in its class. Is it work the hype though?
Ikea Markus office chair dimensions
24 inches wide base
20 7/8" backrest width
55 1/8" tall (ground to top)
18 1/8" to 22 ½" height adjustment
Ikea Markus features
Made with a comfortable polyurethane foam seat
Aluminum star base
100% polyester mesh backrest
10-year warranty
Ikea Markus chair review – just how good is it?
We have to recognize this office chair for what it is straight from the beginning of this Ikea Markus chair review. Made on a budget, it looks and feels better than other cheap ergonomic office chairs in its class.
You can get the Ikea Markus at a very low price at Ikea stores or online on Amazon. It represents one of the simplest choices in its class when it comes to overall ergonomics and building a desk set up on a budget.
For many of those interested in office chairs, the price remains the first step towards the purchase. Is Markus worth its price? Yes, most find it correctly priced.
Alternatively, you can choose an entry-level office chair with limited or even no warranty at all. You will replace it in a matter of 2 years as most statistics show.
Tilt recline adjustability
The Markus doesn't recline to 180 degrees. Its backrest only reclines to around 120 degrees. But this can be sufficient for those who want to stretch their body while taking a work break.
There's even a tilt recline tension adjustment knob. It adjusts the tension or the difficulty level of the recline. Further Ikea chair releases such as the Järvfjället and the Hattefjall office chairs lack this function. For some reason, Ikea decided to cut costs on this adjustment knob with other chairs.
The wide cushion of the Ikea Markus is perfect for users of various sizes and weights. You can easily interpret it as a robust seatpan that's stiffer than most other alternatives. Rather flat, it also lacks that bucket-style office chair seat which means it can work for big and tall users as well. The Ikea Markus office chair weight limit is 242lbs or 110kg.
The fixed armrests of this office chair are both a blessing and a curse. They seem like a blessing given other Ikea office chairs lack the function. At the same time, they are a true curse when it comes to the overall versatility needed in the modern office chair given their fixed design.
Some users find these armrests to sit too low. A small number of users find them too high. Whichever the case, they aren't the most robust armrests but they work in the absence of a better alternative from the brand.
The armrests of this chair have also proven a bit problematic for overweight users. It seems many overweight users prefer to remove their armrests to get a bit more room for their legs. Most users don't have this issue but it's something to consider if your body weight is much higher than the average for your height.
Another issue comes with the armrests that aren't height-adjustable. You might need to lower your armrests if you work very close to the desk as the high armrests might prevent your seat from sliding under the desktop. Lowering the seat might be the only option here as there's no height adjustability on these armrests. Otherwise, the armrests feel sturdy and they last as proven by countless buyers.
The Ikea Markus is available in leather and mesh materials. Most people choose its breathable fabrics to the detriment of leather given just how much you can sit on this chair for work.
Apart from how these materials look, you need to consider if this leather office chair is right for 8 hours of sitting. If you sit all day, the breathable fabrics prove a better option.
9 reasons why the Ikea Markus chair is good
The Ikea Markus is an affordable office chair
It's designed by ergonomic principles for a neutral sitting position
One of the best looking minimalist setup office chairs
Tall office chair with plenty of back support (55 inches from the ground to top)
Made with a waterfall seat edge for sitting comfort
Available in multiple colors
Great customer service and the ability to send the chair back if needed
An opt-in option for the Ikea Family card with customer rewards (not offered by other office chair brands)
10-years warranty to exceed the typical coverage of an affordable office chair
4 reasons why the Markus chair is not so good
The armrests are a bit high for low desks
If you're a tall and heavy user (over 240lbs) you won't have enough leg space (most users move the armrests 1 screw back)
While the lumbar support is fair, it's not quite there with the best
The PU leather tends to become shiny from sweat, it requires regular cleaning to avoid having a chair that looks old
Ikea Markus vs Aeron
But how does the Markus office chair compare to the Herman Miller Aeron? In a direct comparison, the Aeron office chair wins in terms of overall versatility and ergonomics. It stands high in its adjustability and small posture adjustments.
On the other hand, you can buy around 5 Ikea Markus office chairs for the price of one Aeron chair. This is something to think about. Both get a 10-year warranty, the true testament of a high-end office chair brand that sits behind their product. For most users, the Markus office chair proves a more realistic purchase.
Ikea Markus vs Järvfjället
Järvfjället is similar to a Markus office chair but it comes without armrests. Released after Markus, Järvfjället comes with adjustable lumbar support and an adjustable headrest.
These small adjustability gains are impressive. You can even purchase armrests for this chair separately. But it's not made for long hours of sitting given its backrest gets narrower towards the top, leaving your shoulders directly on the metal frame in discomfort after too many hours of continuous sitting. You can get the more versatile Järvfjället if you work 4 hours or less at a desk every day.
Ikea Markus vs Secretlab
Ikea Markus is more affordable than the Secretlab office chair. If you're debating between the Markus and Neuechair, the price difference can speak for itself. Secretlab also makes gaming chairs that you can consider as a gamer. For pure ergonomics, the Ikea Markus is superior to a gaming chair such as the Secretlab Omega. Almost every time, the Ikea Markus is superior to a gaming chair in ergonomics.
Ikea Markus vs Steelcase Leap
While Ikea Markus hacks show us this office chair can be tweaked for adjustability, it can't compare to the Steelcase Leap. The Leap office chair is better for ergonomics and if you can afford it, it represents a better option than the Markus.
Ikea Markus vs Staples Hyken
The Hyken chair is comparable by price to the Ikea Markus. It gets adjustable armrests and plenty of ventilation for long hours of sitting. The Hyken chair also gets a reasonable 7-year warranty but it has lesser resale value.
Ikea Markus vs Autonomous Ergochair
Ergochair 2 is superior to the Ikea Markus. It has a better backrest and a similar seat but impressive armrest adjustability. However, even Ergochair isn't perfect as you can't lock its armrests further or closer to the desk once adjusted.
Ikea Markus vs DxRacer
The DxRacer has a gaming style design inspired by racing seats. It has superior cushioning for long hours of gaming. But it doesn't work in an office environment for how it looks. If you need higher comfort at a higher price, the DxRacer gaming chair is a superior option to the Ikea Markus chair. The only way to justify the Markus in this case is if you're buying an Ikea gaming desk to go with it at the same time.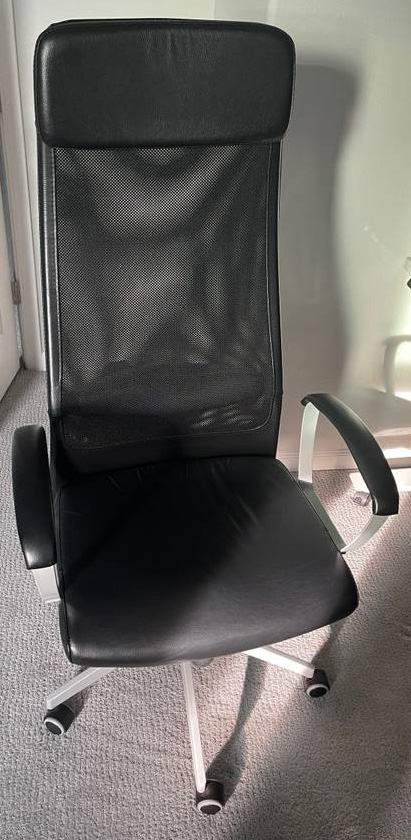 FAQ
Is the Ikea Markus good?
The Ikea Markus office chair is good for ergonomic sitting on a budget. It was designed for those who sit at least 6-8 hours per day at the desk. It also comes at a fair price.
Why is the Ikea Markus chair so popular?
The affordability of the Ikea Markus is what makes it so popular. This office chair is even used in the gaming space given it's more affordable than a nearly any good gaming chair.
How to clean Ikea Markus's chair?
Only water and soap are allowed on your Ikea Markus for cleaning. You need to use a dry cloth to wipe it clean after surface-level cleaning with soap and water. You can't order these cleaning items from Ikea. Even if you could, this could increase already expensive Ikea shipping costs, however.
Is the Ikea Markus good for gaming?
The Markus chair is one of the most affordable offices and gaming chairs you can buy today. The only downside is your elbows are going to sit lower if you play using a controller due to its low armrests. If you play with a keyboard plus mouse setup, your elbows will again be under the desk's counter level which is not ideal ergonomics, but which can work if you get used to it.
Will the Ikea Markus headrest wear in time?
If your Ikea Markus is already out of warranty and you see signs of headrest wear to the slow buildup of body oils, there are options at hand. You can buy fabrics and have them fitted on the headrest. Alternatively, you can buy a piece of PU leather to have it fitted on the worn headrest of the Markus swivel chair.