If you're after a folding desk, you probably don't have too much storage space. A desk that folds is normally used by those who don't have sufficient storage space when they finish reading, writing, or using the computer.
You might think the days of folding desks are over. But thousands of desks fold you can consider using at home. Most of them are also supportive. Suitable for small spaces, these desks are going to make your life easier.
Here's why you need a folding computer desk
If you aren't sure these desks are for you, there are a few main benefits to consider. You need to see these desks as versatile and as an alternative for the areas or situations where a classic computer desk simply won't fit.
Save space
The main idea of the design that folds is to save storage space. All of the desks listed in this article can even slide under the bed when you're done with your work tasks.
Work in small areas
Squeezing a desk in your bedroom can seem complicated. But one of these solutions presented in the following section makes it easier to continue using the space in your home without being limited by a desk.
Organize play areas
Multiple folding desks can easily create a large play area for your kids. If you're inviting their friends over for a party, these desks can create an area where all of them can exercise reading and writing.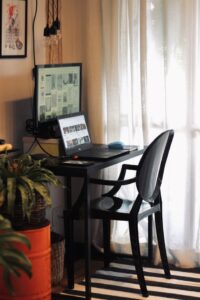 1. YJHome Folding Computer Table
No assembly is required on this folding computer table. With a desktop length of 31.5", this computer table is also height adjustable.
Made with 30mm steel legs, the folding computer desk is very sturdy.
It's one of the few desks of this kind that comes with a weight rating. It holds a maximum weight of up to 300kg, which makes it the most durable option on this list.
But users are also happy with its materials. The desktop is waterproof, fireproof, and scratch-resistant. This is why it's one of the best in its class, especially since this table isn't the most expensive foldable design.
Pros
1-3cm heights adjustments through the legs
Space-saving design with no tools required for easy assembly
It uses high tension springs for folding
Cons
Only available in a natural wood beige
2. 4NM Folding Desk
If you live in a small apartment, the 4NM Folding Desk is among the leading solutions you can count on. It requires no assembly but you can fold its legs inwards which allows you to fold the desktop as well. The desktop is attached to a back wooden piece by 2 hinges.
Since there are no tools needed for assembly, you can have this desk fully set up in seconds. Its reduced sizes are among the most important aspects of daily practicality.
With a desktop length of 31.5 inches and a width of 15.5", it represents a compact solution for both kids and adults.
Pros
Made with a particleboard desktop
Designed with anti-rust hinges
Available in multiple colors
Cons
3. JSB Folding Computer Desk
If you need a larger desk with storage space, this can be the right option for you. It comes with a long 39" desktop for more space to read and write. But this is also one of the modern folding desks which manage to offer plenty of good storage space options.
A lateral textile storage bag is shipped with this desk.
It represents a simple solution to store pens, paper, and markers. 3 metal hooks are added to this computer desk and they represent a top option for those who need to easily store headphones and backpacks. You only need a comfortable office chair and you're ready to make the most of the desk.
Pros
Large 39.3" x 19.6" desktop
White frame finish
Available in 3 colors
Cons
4. SOFSYS Modern Folding Desk
You can always choose a smaller folding desk for kids if you're not the one using it. You don't need a long computer desk if you want your kids to have a learning area. This small desk comes with 2 practical levels. The base desktop is the writing or typing area when using a laptop.
The upper level acts as a hutch and it can be used to store books and crayons.
While it seems flimsy, the X-style frame of the folding desk comes with a high weight capacity. It holds more than 120kg which makes it perfect for kids and teenagers as a desk for homeschooling.
Pros
No assembly required
2-level storage
Rubberized legs
Cons
Too small for a desktop computer
5. DoBee Folding Computer Desk
If you need a small folding laptop table, this might be the right option for you. Typing on other similar tables seems a bit uncomfortable due to excessive wobbling. But with a reinforced frame, the DoBee Folding Computer Desk is sturdier than others.
With grid-style lateral panels, this desk can also help you stay a bit more organized.
These grids can be used to hang bags, hats, and earphones. You can consider this sturdy table with storage options if you have a place for all of these items when you fold the desk away for storage. While it's not a desk with a printer shelf, it still offers some storage options with its grid design.
Pros
Extra-sturdy construction
Made with standard desktop sizes of 31.5" x 17"
Designed to hang bags and headphones
Cons
Final words
All of these folding desks are affordable setups for those who don't have sufficient space for a typical office setup at home. You can consider the affordable desks if you're not after a premium hardwood desktop. The reason these hardwood desktops are replaced by alternatives such as MDF particleboards is their low weight. A hardwood desktop would add unnecessary weight to these mobile setups which also need to be lightweight for you to easily move them in and out of storage.